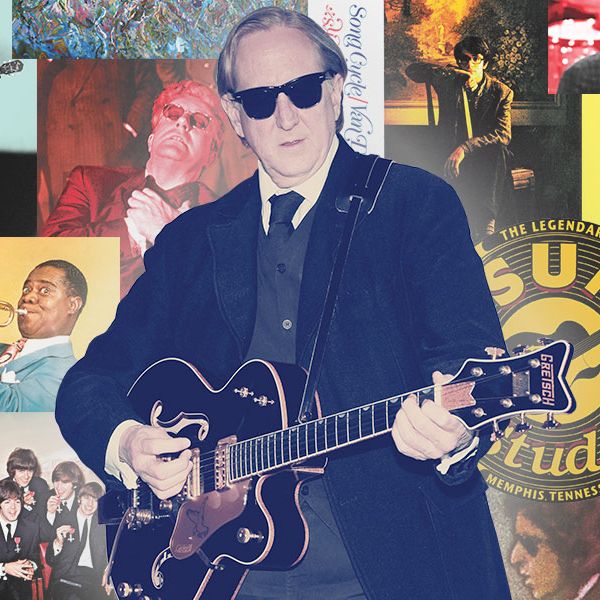 Photo: Alberto E. Rodriguez/Getty Images for LAFCA (burnett); Michael Ochs Archives/Getty Images (Reed, Rodgers and Hart); Rolls Press/Popperfoto/ Getty Images (The Beatles); Everett Collection (Dr. Strangelove); Courtesy of HBO (Treme); Martinie/Roger Viollet Collection/Getty Images (Artaud);Harry Warnecke/NY Daily News Archive via Getty Images (Armstrong); Mary Keating Bruton (Bruton); Everett Collection/Rex usa (Carter)
In a career spanning more than four decades, T Bone Burnett parlayed success as a songwriting, session-playing producer into a lucrative side gig as Hollywood's foremost supplier of rootsy TV and movie soundtracks. He now serves as the executive music producer for ABC's Nashville and the Coen brothers' upcoming sixties-folk-boom film Inside Llewyn Davis. In no particular order, these are the artists who shaped his musical development.
1. Howlin' Wolf, "Smokestack Lightning"
Howlin' Wolf's real name was Chester Burnett, and I like to fantasize that we're related. "Smokestack Lightning" is the greatest single ever made—the extra burst of energy, the flatted fifth—and that guitar just sends chills up my spine.
2. Bob Dylan, Blood on the Tracks
It was written during one of the most painful periods of his life, and Dylan took the form to an unimaginable place—something brokenhearted and isolated—and tore it down, one great song after another. "Tangled Up in Blue" is the greatest pop song ever written. And Blood on the Tracks is one of the two best albums ever made. The other is …
3. Frank Sinatra, Frank Sinatra Sings for Only the Lonely
It's the first concept album, the first one that hung together as more than just a collection of songs. It's like a concert.
4. Stephen Bruton
He was my closest friend growing up in Fort Worth, and his parents owned a record store. We had a 50-year conversation about music. We turned each other on to so much stuff. I'm not a musicologist—people think I am, but he was the musicologist.
5. Rodgers and Hart, "Where or When"
Hart's lyrics had the same intensity that Dante had in his poetry to Beatrice. Unrequited love is something that resonates so deeply in all of us, and Hart had the ability to talk about it in an elegant way.
6-7. Maybelle Carter and Arnold Shultz
Her "Wildwood Flower" was the first song I learned to play on guitar. Everyone who's ever played American music learned from Maybelle Carter and her fingerpicking, directly or by osmosis. There are no recordings of Arnold Shultz; he's lost to the mists of time. Chet Atkins and Merle Travis learned to fingerpick from him, which is the very beginning of rock and roll, the style that came to be known as Travis picking.
8. Flannery O'Connor "Parker's Back"
She writes more truly about the South than any other writer, even Faulkner. This short story is about a wife who is very religious, and her husband gets a tattoo of Jesus on his back, and she screams, "Blasphemy!" That, to me, is the South in a nutshell.
9. Ogden Nash
For years, my hotel name was "Ogden Nashville." I spent a tremendous amount of time studying the way he played with words, made up words, with a light touch, like a twinkle in his eye. I look at most of my songs as musical versions of what Ogden Nash did.
10-12. James Thurber, S.J. Perelman, and Robert Benchley
So much of my work ends up being dark, so I keep trying to bring light out of the darkness. My parents used to read me Benchley in bed. The New York humorists, there's not that kind of scathing genius being written anymore.
13. The Beatles
If it weren't for the Beatles, I wouldn't be doing what I'm doing. I worked with Paul McCartney on Elvis Costello's Spike, and he's probably the most musical person I've ever met. Music comes out of his pores. He played bass on a couple of tunes, and it was completely effortless. He wasn't trying to do anything. From him, I learned something about ease and grace.
14. Dr. Strangelove, or: How I Learned to Stop Worrying and Love the Bomb
During the Bay of Pigs, I was at a golf course and someone said, "We're at war with Russia," and I thought I would not make it through the round. So I was raised with that, and this movie told a true and damning story to a wide audience.
15-16. Once and Treme
Once is a great movie. Treme is a great TV show. I aspire to make a music movie as good as Once, and I aspire to make a music TV show as good as Treme.
17. Antonin Artaud
In addition to his theater work, Artaud was a great painter. When he would draw people, he wouldn't see the person—he would see the person's skull. So from him, I learned to look right at the skull of a thing and not worry about the surface.
18. Marshall McLuhan
For my generation, he was one of the most interesting philosophers. He said that the previous medium surrounds the present medium and turns it into an art form. So the advent of TV turns film into an art form, for example. The Internet is filled with junk and low-quality music, so high-quality music becomes all the more important.
19. Louis Armstrong
Billie Holiday tried to sing like him, and Frank Sinatra tried to sing like Billie. There was no more profound musician of the twentieth century than Louis Armstrong. He's the United States' greatest cultural export for the last 100 years.
20. William Butler Yeats, "When You Are Old"
It's the most elegant love song. It's in iambic pentameter, and it's so gracefully done. It's obviously done to an unrequited love, but he never turns up in it—there's no I. I aspire to that. I'm a long way away, but I better get it quick.
21. Sam Phillips, Sun Studio
He is the one who turned the drums up. Before him, drums were always in the background, but he turned the trap sets up louder and had the whole room vibrating so loud you could barely record. That's the beginning of rock and roll.
22. Jacques Ellul
He's a twentieth-century philosopher. The core thing I took from him is we should look at any new development and ask, "Will it dehumanize us or make our lives better?" The biggest mistake made with the Internet is allowing anonymous comments. People act like the Vandals or the Huns. Teenage girls are bullied. People post nude pictures without consent. It's a complete junk medium.
23. Larry Poons
He's one of my closest friends, and he's one of the last great Abstract Expressionists. Larry is at the end of the line, after Pollock and Newman. I have big Poons paintings all over my studio. He paints the way I want music to sound.
24. Van Dyke Parks, Song Cycle
It's an extraordinary flight of imagination and creativity, which I had never heard before, and from someone of my own generation! I listened to him as a kid, but I met him later in life. I don't think I've ever told him how much of an influence he's been. He might say, "You did the wrong thing with the influence!"
25. Jimmy Reed, "Big Boss Man"
It was big-time sex music. When we were teenagers in Fort Worth, we could dance to Jimmy Reed all night long. If you want to have a quiet evening at home with somebody, put on Jimmy Reed.
*This article originally appeared in the March 11, 2013 issue of New York Magazine.