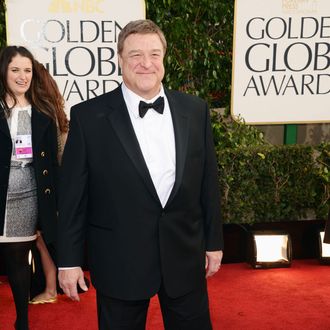 Photo: Jason Merritt/Getty Images
Broadcast and cable networks — as well as new TV player Amazon — are all participating in the current pilot season, which means that more than 100 new shows are scouting A-list actors and directors simultaneously. As a result, 20th Century Fox TV chairman Dana Walden says that it's been "an unusually difficult pilot season for everybody." The talent run means that shows like Bravo's The Joneses, USA's Horizon, and NBC's Donor Party had to be shelved because they couldn't attract suitable actors. And some ended up in a lurch even after successfully recruiting a big name: While ABC's Pulling signed up Mandy Moore and NBC's Girlfriend in a Coma snagged Christina Ricci, both actresses ended up walking away from the projects, possibly because a desperate scramble for stars produced some bad matches.
Meanwhile, several cable and digital shows were pleasantly surprised by their ability to lock in attractions such as John Goodman (Amazon's Alpha House),  Kyle Chandler (Showtime's The Vatican), Amanda Peet (HBO's Togetherness), and Alicia Silverstone (Lifetime's HR.) Though the broadcast networks still got their fair share of stars (Robin Williams joined CBS's David E. Kelley comedy, while Greg Kinnear went to Fox's Rake), the stress of this year's competition has given executives like Walden hope that "networks will look at the success that their cable competitors are experiencing and change [the casting] process a little bit," though overhaul is not likely until number 1 network CBS does it first.