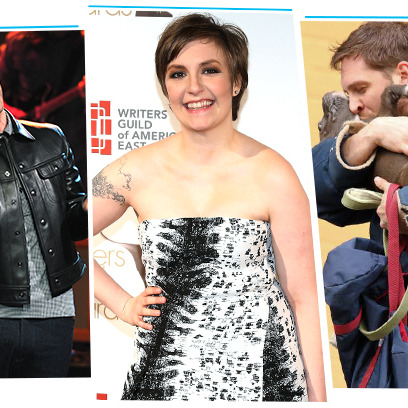 Every week, Vulture faces the big, important questions in entertainment, and comes to some creative conclusions. This week, we said goodbye to some fallen sitcoms, debated Justin Timberlake and Lena Dunham, and fell in love with Tom Hardy as he cuddled with a puppy. You may have read some of these stories below, but you certainly didn't read them all. We forgive you.
Q: Which two shows are moving on to the final round of the Sitcom Smackdown?
It all comes down to Cheers vs. The Simpsons on Monday … which means that several comedy titans bit the dust this past week, including Seinfeld, Roseanne, Sex and the City, and Community. Yikes! Call it now: Which show do you think will win?
Q: How was Justin Timberlake's week?
Pretty notable! After reprising his fan-favorite characters on Saturday Night Live — where he sort of dropped a mild Kanye dis — Timberlake's new album began streaming on iTunes. Here's what we learned about it. Also worth discussing: Does Timberlake have a male-celebrity hall pass?
Q: Wait, Justin Timberlake did his Dick in a Box and Omeletteville characters again? Really?
Get over it. Saturday Night Live will never stop milking old characters.
Q: Boy, that was an uncomfortable episode of Girls, wasn't it?
Sure was. And then there's the whole question of Adam and consent …
Q: What's this about a Veronica Mars movie?
After an unprecedented Kickstarter frenzy, it looks like the Veronica Mars movie is a go! But what's powering this Mars movement? And what eleven things must the movie have to make us happy?
Q: Is Spring Breakers one of the perviest films ever made?
Very possibly. But let director Harmony Korine explain himself.
Q: How do you hug a puppy?
Let Tom Hardy show you.
Q: What does Liza Minnelli think of Arrested Development, Cabaret, Williamsburg, and Oz the Great and Powerful?
Well, why not let her tell you? Though we'll spoil her Oz thoughts for you: "Oh! Great! Whatever."
Q: Did we ever really know the characters on Community?
And is that one of the reasons that the fourth season has been so lackluster?
Q: How can it possibly be the 15th anniversary of the immortal Britney classic "Baby One More Time"? Am I that old?
You are. But you can work through the pain with this list of fifteen random thoughts inspired by the landmark commemoration.