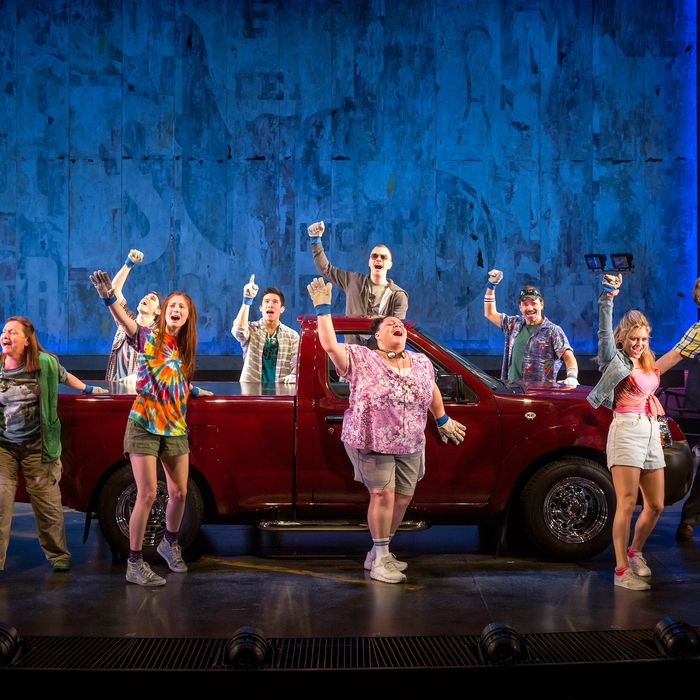 Cast (and Nissan) from Hands on a Hardbody.
Photo: Chad Batka
One kind of source material rarely exploited for musicals is the documentary. I'm not looking forward to a singing version of Capturing the Friedmans. But Doug Wright (who pulled off the trick with Grey Gardens) must like the grit and rhythm of real-life drama. His adaptation of the 1997 film Hands on a Hard Body into a musical of almost the same name (The last two words have mysteriously become one) features tough times, moral uplift, and alt-country songs by musical-theater royalty Amanda Green and Trey Anastasio of Phish.
The story is vastly and smartly tightened; instead of giving us two dozen Texans competing in an endurance contest to win an Aztec-red Nissan (quite unsexy, but it gets entrance applause), the musical focuses on ten. Each struggles to keep a paw on the prize; the last to drop from exhaustion or dementia after several days will go home with the keys.
But how do you replace documentary reality with coherent drama when there's virtually no forward action except people collapsing? Hardbody's model seems to be A Chorus Line. Songs about the group ­ordeal alternate with those examining the motives and backstory of one contestant at a time: the veteran, the minx, the old man, the Bible-clutcher. Even the difficulties of the dealership are given their due. We are meant to consider the connection, if any, between individual ambition and group cohesion.
The production is earnest and solidly performed by a cast including Keith Carradine and Hunter Foster under the direction of Neil Pepe. But all of their skill, and the authors', can't finesse a problem of emotional scale. How much can even a Texan want a truck? When the opening number ("Human Drama Kind of Thing") announces that the winning contestant is "bound for glory," you feel the workings of a giant air pump artificially swelling the characters' motivations to singable size. For all the worthy effort to valorize lives not usually depicted in musicals, this has the opposite effect: It makes them seem petty.
But then something happens near the end of the first act: The Bible-clutcher (Keala Settle, sublime) gets the giggles. This leads to a bravura laughing aria and, eventually, a mostly a cappella gospel number called "Joy of the Lord" that successfully combines the personal and communal and lifts the show into musical-theater heaven. It hasn't much to do with the truck, but it's daring and thrilling and wins some sort of contest, hands down.
Hands on a Hardbody is playing at the Brooks Atkinson Theatre.