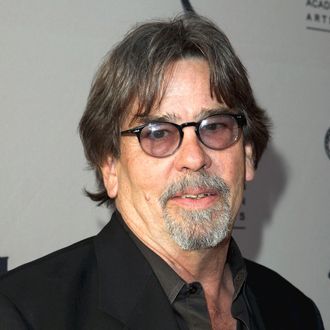 Henry Bromell.
Photo: Charles Harris / AdMedia ./Corbis
I'm going to miss Henry Bromell. The 66-year-old writer, who died yesterday of a heart attack in Los Angeles, didn't do dumb. If you saw his name in the opening credits of a series, whether as a producer or writer, you knew there was a chance that you were about to see something smart, surprising, and psychologically astute. Look over the man's résumé: It's an embarrassment of riches.
Bromell broke through twenty years ago writing for Northern Exposure and Homicide: Life on the Street; he worked on Chicago Hope, Brotherhood, Carnivàle, and the promising but short-lived That's Life. Whatever their virtues and faults, these were all character-driven dramas, a cut above — sometimes many cuts above — TV's usual.
Two of Bromell's most notable gigs came late in his career: AMC's Rubicon and Showtime's Homeland. Both shows drew on his personal history as the child of a CIA officer. The former, on which Bromell served as executive producer, was one of the most original espionage shows in TV history, a one-season wonder that explored the link between spycraft and puzzles in a playful, understated way; at its best, Rubicon had the mournful intellect of such seventies paranoid thrillers as Three Days of the Condor and The Parallax View. After AMC pulled the plug on Rubicon because of low ratings, he joined Showtime's CIA show Homeland, a drama from 24 co-producers Howard Gordon and Alex Gansa that often felt like a slowed-down, psychologically driven answer to Jack Bauer's derring-do.
Although Homeland became increasingly silly and soapy in season two, it still aired superb episodes, the best of which was "Q&A," which Bromell wrote. Essentially a glorified two-character hothouse piece, its heart was an extended interrogation scene pitting brilliant-unhinged heroine Carrie Mathison (Clare Danes) against her ex-lover and quarry, Sgt. Nick Brody (Damian Lewis). In my recap, I wrote, "Bromell's active participation here is significant: Almost twenty years ago he worked on NBC's Homicide: Life on the Street, in which entire acts — and it least one case, an episode, 'Three Men and Adena' — were set inside a police interrogation room colloquially known as 'The Box.' More than half of Homeland's 'Q&A' is set in the Box." In some ways, the episode felt like the continuation of Homicide by other means.
The Hollywood Reporter's article on Bromell's death goes into detail about his career as a producer and talent-wrangler. "In recent months, Bromell had been particularly involved in luring new staff members to Homeland's writers room ahead of the show's third season. Among the hires: James Yoshimura, who had worked with Bromell on Homicide during the 1990s." Bromell is gone, but it's nice to know that his legacy will continue, in small ways and large.