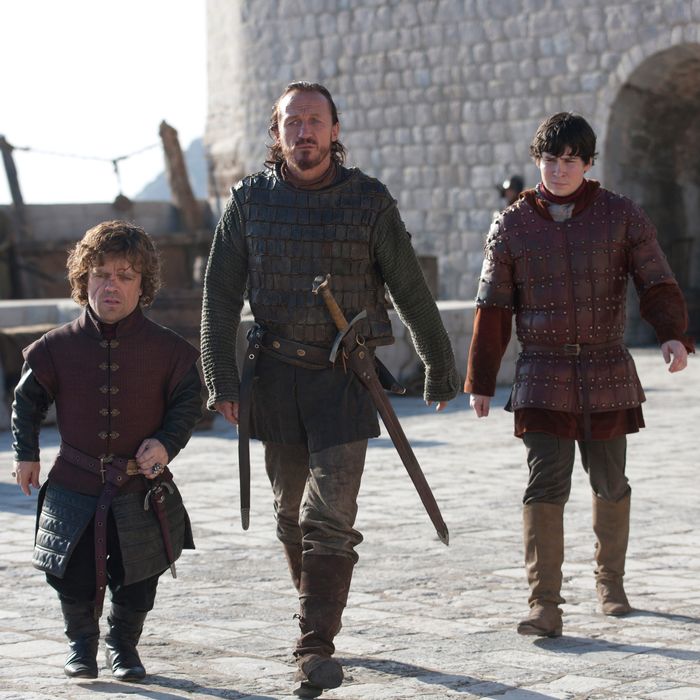 Photo: Keith Bernstein/HBO
Game of Thrones is, if nothing else, one of the most meticulous, ruthless plot engines ever devised for TV. Of current dramas, only Breaking Bad and Boardwalk Empire are more obsessed with who's doing what to whom and why. Although the series never feels unnecessarily hurried, it doesn't meander, either; it can't, because there's just too much to get across, and only ten episodes to do it in.
The downside, if you can call it that, is that a world this huge doesn't get revved up all at once. It takes season three of Thrones (which starts this Sunday on HBO) several episodes to get going, because that's how long it takes to maneuver several dozen characters spread out across various bits of terrain into the appropriate configurations. (The show's co-executive producer and frequent writer David Benioff has likened the series to a giant jigsaw puzzle.) Of course, if you watch the show, you already know that's how it works, and you're all right with it. And you're probably inclined to accept one of the paradoxes of a review like this, which seeks to avoid spoiling a drama that's effectively pre-spoiled, since it's based on bestselling fiction.
No matter: Sunday's pilot starts with a sequence of snow-swept supernatural mayhem — undead white walkers; like you didn't expect that! — then ramps down into exposition mode. The world of Westeros is still reeling from the events of season two, particularly the siege of King's Landing by Stannis Baratheon (Stephen Dillane), which was repelled by the resourceful Tyrion Lannister (Peter Dinklage). You'd think that would have made Tyrion both beloved and complacent, but he's beleaguered, marginalized, in a rather foul mood, and still recovering from an attack that scarred his face. The hideously bratty king Joffrey Baratheon (Jack Gleeson) is still on the throne, guarded by his increasingly exasperated mother Cersei (Lena Headey). The clueless boy monarch, who I wouldn't mind seeing eaten alive by piranhas because he's just so unrelievedly awful, is being circled by a new potential queen, Margaery Tyrell (The Tudors' Natalie Dormer). Margaery is a poised, wise, young woman who seems more comfortable among the poor than anyone in House Baratheon.
Margaery has brought her grandmother*, Lady Olenna, along to King's Landing; that's a good thing, because she's played by the incomparable Diana Rigg, and because the frank conversation between them and Joffrey's previous queen-to-be, Sansa Stark (Sophie Turner), is one of the best single scenes the show has done. Season three is adding new characters by the bushel; they're played by superb actors, including Ciarán Hinds as the King Beyond the Wall, who confronts the infiltrator Jon Snow (Kit Harrington). And Noah Taylor shows up as … well, maybe I should let you find that one out for yourself.
Daenerys Targaryen is still plotting to retake her kingdom. Although she's emboldened by the growth of her dragons (they swoop and screech like leathery seagulls), her Dothraki army isn't handling the seaborne life very well; but she's convinced they'll be fine in the long run, because they're a race of warriors. Robb Stark (Richard Madden) keeps plotting war while his mother Catelyn (Michelle Fairley) waits for her loyal knight Brienne of Tarth (Gwendoline Christie) to swap Jaime Lannister (Nikolaj Coster-Waldau) for Sansa. The show's knack for grubby Chaucerian comedy really shines in the Brienne-Jaime scenes. They're a great wiseass/straight woman combination, and their constant bickering sets up a thrilling confrontation near the end of episode two. I like that, for all its heavy expository lifting, Game of Thrones still gives its cast a chance to really act. There are some performance gems in the first four episodes, including a monologue by Catelyn that will bring a tear to the eye of any parent who ever failed to properly appreciate a child.
Game of Thrones isn't a particularly deep show, and by this point I think it should be clear that it's not obsessed with being one. Its characters tend to fall into three categories: essentially good, essentially evil, or weak/opportunistic/confused. In its visual pizzazz and psychological simplicity, it reminds me a bit of Boardwalk Empire, another lavish HBO series, only Thrones isn't nearly as full of itself. It has some of the same problems as Boardwalk, including a tendency to conflate a very white, straight, male point of view with a universal one (its actors of color notwithstanding), and when it tries to address criticisms of its "gaze", the resulting scenes can feel inorganic. None of them are deal-breakers, and a few (notably the Brienne-Jaime scenes, and anything involving Natalia Tena's Osha, the wildling protecting Bran Stark) are sublime. But I think you'll know what I mean when you watch this season; some of the gender studies moments have a touch of Boardwalk's Margaret-Thompson-in-the-women's-health-clinic, in that you appreciate the show's conscientiousness even as you realize that the series is more comfortable in pubs and brothels. In Thrones' defense, it has a number of strong, complicated women characters, and a few are ferocious. Rigg's Lady Olenna is a great addition, and Carice van Houten's Red Priestess Melisandre has an electrifying scene in which she reduces a man to a quivering ball of helpless rage with words alone, effectively turning his own machismo against him.
More than anything else, I appreciate Game of Thrones' degree of difficulty. In terms of scale, it's the most awesomely ambitious series since HBO's Rome, and it might have more recurring characters; and yet the storytelling is so measured and confident that the dramatic flowchart rarely becomes so tangled that you can't keep up. And throughout, there are cunningly staged action scenes, earthy bits of slapstick, and unexpectedly lyrical images, such as the shot in Sunday's premiere of Daenerys standing on the deck of a ship, watching a dragon pinwheel in the sky above her. The physicality of the visuals and the performances helps power Game of Thrones past any rough patches – not that there have been that many. This show knows what it is – Lord of the Rings with gonads – and its confidence and ambition are growing as quickly as Daenerys's dragons.
* This post has been corrected to note that Lady Olenna is Margaery's grandmother, not mother.