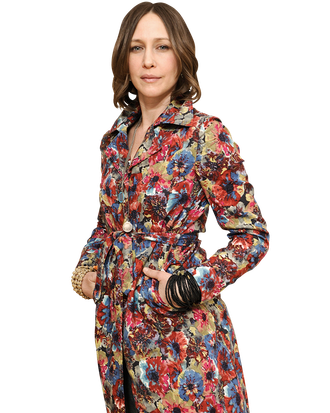 Vera Farmiga.
Photo: Getty Images
Norman Bates and his mom were just really, really close, okay? That's the jumping-off point for A&E's Bates Motel (premiering March 18 at ten), a sort of prequel to Alfred Hitchcock's 1960 classic Psycho in which mother and son have set up shop in Northern California following the mysterious — and bloody — death of Norman's dad. But rather than going back to the fifties, Norman's coming-of-age story is set in the modern day, by way of Twin Peaks with an Oedipal twist. As played by Vera Farmiga, Norma Bates is haunted, protective, sexy, and her relationship with Norman is at once innocent, intimate, and smothering. Following the Bates Motel press tour panel, Vulture caught up with Farmiga, who talked about playing mothers and becoming best friends with co-star Freddie Highmore.
You get this script and it's called Bates Motel. What's the knee-jerk reaction?
I knew there'd be a pressure that came with it. There'd automatically be a microscope held up. I'd also just read the Anthony Hopkins Hitchcock. So I kind of had to brace myself before reading it. But as soon as I did, it obviously became its own thing. It wasn't trying to be Psycho, it wasn't trying to be Hitchcock. Yeah, we borrowed the name, but it's a completely different story. I was just so blown away. The character was just head-turning.
How so?
To me, it was kind of a queer and wonderful new rendering of maternity as far as exploring what it means to be a mother in its victories and defeats and longing and love and agonies. And if you look at my career, I've made a career out of playing mothers. If you actually take a look at it, from Orphan to Down to the Bone, it's like I have. I always gravitate to those portraits.
You said Norma reminded you of the Edvard Munch painting Madonna, which is quite eerie.
The script was as weird as the painting. It had that kind of thwarted, askew, but holy at the same time kind of feeling. It read to me like a really bizarre love letter between a mother and a child.
I like how everyone's talking about this show, without talking about how truly frightening it is. Executive producer Carlton Cuse [Lost] says it's really a tragedy because we all know what happens to Norman —
I know, so esoteric! "No, no, it's about the beauty of maternity!"
I was surprised to hear you were doing a TV series.
It took me by surprise, too. I've done a lot of independent film, you know, and you pour your heart and soul into it and it doesn't get the audience. But there's really no difference. When you see an epic role, when you see something stimulating, creatively, you do it. It's the same process. People are like, "You're doing television?" Well, yeah! There's a camera, there's a crew, there's a script, there's fellow actors. I also loved the boutique nature of ten episodes. It felt like a miniseries. I wasn't interested in 22. It just felt like the right move, not only for me creatively, but for my family. I have a 2-year old and a 4-year old, and we were globe-trotting. I just needed to be anchored.
Talk about working with Freddie Highmore [Charlie and the Chocolate Factory], who I still can't believe is 21 years old now.
He is my best friend.
He said the same thing about you.
He did? He's my best buddy. We spend eighteen hours a day together. We were going to be incredibly close or enemies. He's the guy you want as a son. Great guy, great sense of humor, great depth and honesty, just as a human being. And you can see he fuses that into his roles. I saw him in Homework at Sundance, which they ended up calling something else …
The Art of Getting By. With Emma Roberts, right?
Yeah. He stuck out in that film for me. I saw it the same year my film Higher Ground was in Sundance. We were both in competition. My baby sister Taissa wanted to go see him. Oh yes, she did. [Laughs.] So, anyway, when I saw his audition tape, I could see it. I made it clear to Carlton that he was the one and that he would have his Norma Bates if Freddie was Norman.
Did you do anything special to get comfortable with each other quickly?
Well, we're playing such emotionally intense characters. It's like you're baring your soul, so an intimate friendship with the person helps. I care about him a lot. And he's sharp, I admire his perspective, and I require it as a collaborator. I love bouncing ideas off of him as far as infusing the piece with humor and affection. There's a lot of Dostoyevsky-like turmoil in the show, so balancing it with shtick and the beautiful aspects of a mother-son relationship, which is affection and joy, all of that is important to us.
There's a darkly comedic sequence where Norma and Norman are having trouble carrying a body around.
That was ridiculous. We kept asking for it to be made heavier and heavier.
So Method.
Well, as the night went on, we kept asking for it lighter and lighter. [Laughs.] There was actually so much more that we shot, and the scene originally just went on and on. It was so funny. Too funny. It had to be pared down because we didn't want to take away from what happens to Norma just prior. But, yeah, it's that black comedy that you shouldn't be laughing at but you can't help it because it's funny.
Also funny: Carlton mentioned the show films next to a garbage dump.
It stinks so bad. So bad. And it's so cold and so rainy, and I love Vancouver, but this site is pretty tenacious. It's not ideal circumstances, and sometimes it really adds to my character's frustration, which is great. The wafting. You find ways to use whatever.
Taissa is returning to American Horror Story next season. What did you think of that show and how does it compare to the horror of Bates?
I saw several episodes — that's my baby sister! I'm so proud of her. I think it's a different kind of psychological terror just by the very fact that we're grounded in reality and American Horror Story deals more with the afterlife and the spirit realm and negative mysticism. Our terror is really emotional terror.
You said you did an exhaustive Hitchcock marathon a decade ago. What prompted that?
I have a flimsy film history and it must have been … I'll tell you what it was: It was working with Scorsese on The Departed. Every film he referenced I had no idea what he was talking about, and so it was out of embarrassment that I did that. Marty is amazing, and every film he referenced that I didn't know, the next morning I would have a FedEx package with that film. He is so lovely in that respect.
Which of Hitchcock's films did he talk about?
I wish I could remember. It's so vague now. I just remember being embarrassed. I grew up watching television. There were seven kids. It was just cheaper to turn on the television than take everyone to a movie.
Since you marathoned most of his films, do you have a favorite?
Probably Strangers on a Train … maybe. I don't have a favorite. I did watch Psycho right before doing this.
If I remember correctly, there's really nothing about Norman's mother in it.
Yes. There were just no clues as to who this woman may or may not have been.
Was there anything useful in terms of informing your performance?
I mean, maybe a hairstyle. [Laughs.] Maybe I stole an updo.