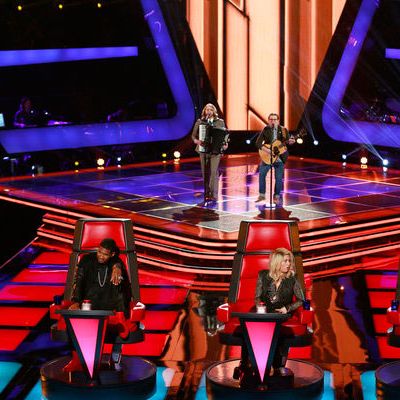 Welcome back, my musically inclined friends! We return like Pavlovian dogs for night two of The Voice's grueling blind audition process. In case you were wondering, this episode was far less intense than Monday's. There was no harrowing musical number, and the whole experience was only an hour long, which I feel is some kind of victory. It started with a brief montage explaining the understandably confusing point of The Voice and stark images of Carson Daly, chortling like a young Falstaff in a somber undertaker's jacket. Carson was in a satirical mood this evening.
This was followed by a commedia dell'arte–like scene in which Adam and Blake talked about hazing the new judges. Then, however, they did not haze the new judges. It is these types of dramatic jokes that keep me coming back — they really do.
Tanya Reynolds, "Mama Don't Let Your Babies Grow Up to Be Cowboys"
Tanya described herself as "country to the core." She was wearing cowboy boots and lived in Nashville, so we understood immediately that this was not just an empty threat. Such cultural signifiers usually mean that she will be a foregone conclusion of modern-day–Huey Long Blake Shelton's, but this was not to be. In fact, everyone turned around for Tanya, who sounds like a huskier Dolly Parton, except for Blake, who sat there solidly with his chair pointing to the wall. Shakira made quite a point of her country credentials, even saying at one point, "I reckon that you want to join team Shakira," and it worked! Tanya did pick Shakira, but she still seems depressed at the end, more depressed even than when she was while talking about the desultory hell of the Nashville music biz. Perhaps she missed Blake.
Josiah Hawley, "Sunday Morning"
Josiah usually works as a male model to pay the bills, and as such, is quite a good-looking man and had his shirt unbuttoned to his navel. He sang "Sunday Morning" by Maroon 5. He sang it slower and a fair bit lower than the original (Adam Levine happens to be quite an acrobatic vocalist). Adam turned around for the man (as did Blake and Usher), but he also said, "There were parts that were not working for me," in a very faint and negative tone and so it is hard to say why he turned around in the first place. Josiah ends up going with Usher, who slow-clapped and also danced to his own song in celebration. Usher is a fun guy.
Midas Whale, "Folsom Prison Blues"
Midas Whale is a duo from Idaho that sings sing folk music and wears elaborate suits. Do you get that Midas Whale is an allusion to the phrase "might as well?" How do you feel now that you know that? Before they auditioned, impish Carson Daly showed Midas Whale images of themselves on a very prominent Sprint tablet (where did he buy it?) and Midas Whale seemed vaguely bemused by this liberty. Eventually they sang Johnny Cash while accompanying themselves on an accordion and a guitar. I don't know, everyone; I just don't know. They gave a fine performance, although the harmony slightly overpowered the melody for my taste, but no one asked me. All four judges turn around and try to convince Midas Whale (might as well, do you get it?) to go with them. Midas Whale speaks a brief spate of Spanish to Shakira, but eventually goes with Adam. I guess we will be seeing a lot of these people.
Abraham McDonald, "Best Thing I Never Had"
Abraham may have won a karaoke contest on the Oprah Winfrey show, but in his Voice audition, he had some pitch and control problems, and no judges turned around for him. Abraham was incredibly gracious when this happened and said, "I think they give some great advice and not everyone's going to love what you do." Nice guy! Even Genial Wordsmith Carson Daly, surrounded by Abraham's many female relatives, told him that "all us ladies don't understand" why Abraham was not picked to be on the show. Oh, Carson. He should win the Mark Twain Prize for American Humor.
On the commercial break, something amazing happens. It's revealed that Carson Daly is going to host the Today show for an entire week sometime soon, apparently while wearing a gigantic diamond earring. He is truly the Gloria Vanderbilt of network television. I am so excited I am going to die.
Cathia, "No Me Doy por Vencido"
Cathia is a 19-year-old from the Bronx. She sings a very difficult song in Spanish with a lot of melismas, and the judges really like it. Although she calls Usher "Ursher" at one point, she ends up going with Shakira, after Shakira maintains she can take Cathia global. I like Cathia! She might go far.
Sarah Simmons, "One of Us"
Who doesn't remember this song? It's a song redolent in modern meaning, because the only person God can call is the pope, maybe, in Rome. (Hello, Francis!) Sarah, sporting an odd ring that stretched all the way up her finger, did a great job and sounds a bit like if Adele and Courtney Love had a baby. All four judges turn around, but Sarah ends up going with Adam, as the last singer of the night usually does this.
One wonders, of course, what Cee Lo and Christina Aguilera were doing during this hour of their lives. Was Cee Lo buying non-domesticated foul for his smoking room? Was Christina Aguilera wearing a muumuu, drinking a high-ball, and reading The Secret? I'd certainly like to think so, but it is unknowable.