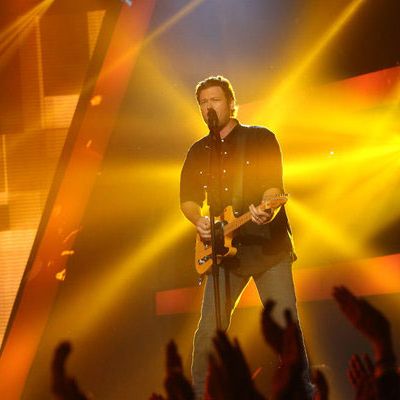 Occasionally, there are eras in history in which the free-wheeling eccentricity of a former age contrasts sharply with the staid, more functional formality of the modern cultural climate. Such is unfortunately the current problem with The Voice. Although the new judges, Usher and Shakira, are pleasant and even blandly witty sometimes, they do not have the genuine strangeness of a Cee Lo, or the Liza Minnelli jazz-hands of a Christina Aguliera. The show, after its revamp, is a stolid and functional music judging show, as opposed to what it was before, an oddly petty music-talking show starring a man with a parrot on his shoulder and a spunky former showgirl holding a fan. It is just a regular old show now, okay?? It's just a show that exists in the world. Let's get started with Vulture's first Voice recap, shall we?
Shakira and Usher are introduced to us in a montage where Carson Daly (unseen so far but still present in our minds) tells us that Usher is "one of the greatest performers in American music history" (Is this because of the song, "Climax?" If so, yes!) and Shakira released her first record when she was 14 (impressive!). Finally, Carson comes onscreen. He looks so sad and drawn and is wearing a leather version of a Victorian blouse. Carson Daly is the same Carson we have always known. This at least is unchanged.
In the eminent tradition of previous Voices, the judges commence judging by singing a musical number — this time, it's "Come Together" by the Beatles. This is where the contrast to the old regime is most apparent. Even though this number reveals that Adam Levine can play the drums in the style of Ringo, that Usher cannot play the guitar in any way, and that Shakira is really good at the harmonica, I still miss the way Christina used to show up to do these numbers wearing a star-spangled bustier and singing the harmony so loud that it drowned out the melody and became the melody. I long for Cee Lo to appear, swathed in a long white poet's blouse like the Ghost of Christmas Past. Et in Arcadia ego! Or some such sentiment.
The Morgan Twins, "Falling"
The Morgan Twins are the first twins that have ever appeared on The Voice. They are blonde and dressed in the exact same red dress. This fascinates Sickly Victorian Poet Carson Daly, who asks the twins if they always dress alike. "Yeah!" they tell him, with two Starbucks lattes positioned prominently in front of them. Double the product placement! The Morgan Twins are pretty good, but they miss a lot of opportunities for interesting harmonies. Roches, they are not, I guess you could say. The judges, however, are very charmed. Blake tells the women, "This is a dream come true for most men," in a super-creepy way, yet the twins still end up going with him, which makes me worry for the twins and America.
Jess Kelner, "Can't Help Falling in Love"
After Adam tells Blake that "his wife is going to kill him" for picking "hot twins" to be on his team and then proceeds to mimic a phone call to said wife that would make Susan B. Anthony roll in her sad grave, another woman improbably decides to participate in this show! Her name is Jess Kelner, and she is a hairdresser in Austin, Texas. She has a raspy voice, and both of the new judges, Usher and Shakira, turn around for her. Despite Shakira's contention that she has a "less raspy" voice than Adele, Jess ultimately decides to go with Usher, who is wearing two huge rings like a vampire.
Later, there is a super-staged scene of Shakira talking to Usher backstage about how they are both new judges. It is terrifyingly embarrassing! I watched it peering out of a crack in my hands.
Mark Andrew, "Knockin on Heaven's Door"
Before he came on The Voice, Mark was in a band. But two of his bandmates died. It's a really sad story, actually, and I got a bit choked up. He has a nice warbly voice with pitch problems, but Shakira loves him anyway. She tells him she "feels passionately" about him and that she has "never felt this way before," although she feels "this way about my boyfriend, of course." Adam also turned around for Mark and says of Shakira that "she's a lot prettier than I am, but don't be blinded by lust." Mark goes with Shakira.
Jenetza Miranda, "Titanium"
Jenetza is excellent at making bird calling sounds. This is shown in her interview with Sorrowing Young Werther Carson Daly, who seems very amused by it. Unfortunately, no one turns around for Janetza when she is singing. She has slight pitch and rhythm problems, and "Titanium" is actually a pretty hard song! Adam, dressed in his usual James Dean outfit (with slightly more elaborate back pockets), comes up and hugs her. Usher sits and looks at her pityingly, with one of his leather-clad legs on his chair.
Danielle Bradbury, "Mean"
Danielle is an adorable 16-year-old who has the worst overcoming-adversity story in Voice history, namely "I was teased because I had crooked teeth." Now, I realize that narrative is important to suspense on The Voice, but some people have some really sad stories! "I was teased because I had crooked teeth" is not one of them. She sings "Mean" by Taylor Swift, which is actually an incredible song. Three judges turn around, and Usher even name-checks Justin Bieber for the millionth time and calls Nashville a state, but unsurprisingly Danielle chooses Blake because she is wearing cowboy boots.
Vedo, "Boyfriend"
We return now to The Voice office park — a magical place where everyone auditions to be on a show that is actively putting back the last 100 years of feminism. Except the office park is now revealed to be — you guessed it — a Starbucks! Apparently they are all auditioning inside a Starbucks? We see the faint outline of the Starbucks logo and people actually waiting in line for coffees. This is crazy, but it makes sense. Starbucks is a great place to audition for a reality singing competition.
Vedo is the next person in the Starbucks to audition for The Voice. He sings "Boyfriend" by Justin Bieber, and unsurprisingly, only Usher turns around, because, well, Usher is the man behind Justin Bieber. Vedo's mom, who has stage IV lung cancer, is so happy when he gets picked that I get choked up again. God, this show!
Christian Porter, "Sexy and I Know It"
After John Keats/Carson Daly says his last words, namely that he is a "huge fan of Revolution by J.J. Abrams," Christian Porter, bar musician, sings a jazzy and unrecognizable version of "Sexy and I Know It" by LMFAO. It's pretty catchy, to be honest, and the women love it. Usher says, "It was like Magic Mike up there," with both legs behind his head, yet Christian picks Blake for no reason. Later, Christina Milian emerges from the makeshift cage they keep her in down in the Starbucks basement and advertises videos that you probably don't want to see of the judges talking about nothing.
Leah Lewis, "Blown Away"
Leah Lewis is an endearingly mature 15-year-old. She wants to be on The Voice to help her aging parents, which is really nice, if you ask me. Her voice is low but a little bit under-developed. She's young! No judges turn around for her. Adam Levine says, "If you are 99 percent amazing and you are 15, you got nothing to worry about," and I basically think he is right.
Kris Thomas, "Saving All My Love for You"
Kris Thomas sings the Whitney Houston classic "Saving All My Love for You" and sounds quite a bit like a girl. I actually think he might have the best voice of the night. "Saving All My Love for You" is an incredibly hard song and he shows really good vocal flexibility and pitch. However, only Shakira turns around for him because all the judges think he is a mediocre girl, as opposed to a boy with a really high voice.
James Irwin, "The Man Who Can't Be Moved"
James Irwin is another guy with a tremendously sad backstory. He had two 5-month-old twin daughters that died. He now works as a carpenter but wants to make it in music full time. He is good but not quite there, and no judges turn around for him. He seems crushed when he gets offstage, and is confronted with the ghoulish visage of Carson Daly, who asks him, "How are you feeling?" Disappointed, obviously.
Judith Hill, "What a Girl Wants"
Carson, wandering lonely as a cloud, drives his KIA to meet Judith Hill at her parents' house. She is too good for the regular Starbucks everyone else auditions in! Judith, who is the daughter of musicians, rehearsed with Michael Jackson right before he died. She's tremendously good, and everyone wants her on their team. Eventually she goes with Adam because he is by far the most enthusiastic, threatening to "claw his face off" if she doesn't join his team. But she does! And we are all left wondering, What does Christina Aguilera thinks of these shenanigans? Does she think of them at all? Or is she just out to dinner, glad she is free? I would like to think she has escaped to a better place.