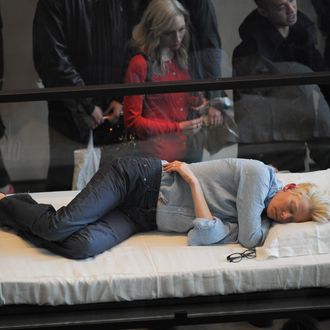 This weekend's news that Tilda Swinton was sleeping in a glass box at MoMA wasn't exactly met with mouth-agape befuddlement. Even those oblivious to the fact that she's done the piece before in London and Rome weren't particularly surprised. It's just the type of out-there yet chic thing Tilda Swinton would do. She's always been like a stunning alien who really understands the aesthetics of this planet (and has an AOL e-mail address). She has the type of eccentricity you want to take a long bath in. So we assembled a bunch of videos that allow you to do exactly that. Fill up the tub; Swinton will provide the arty bubbles.
1. In 2003, Swinton worked with fashion designers Viktor & Rolf on the "One Woman Show," which was a runway show where all of the models were made to look like Swinton and Swinton read a poem. You know, like a normal runway show.
2. Swinton performed spoken-word pieces as "The Voice of Hope" on Patrick Wolf's 2009 album The Bachelor. She described the project like this: "My feeling is that we all but certainly come from the same planet: kith and kin. His music sounds like the great unexpressed soundtrack of a great film I want to see — and try to catch every night before I go to sleep. It's a lovely thing to be part of that magical landscape."
3. If we were to thank George Clooney while accepting an Oscar, we probably wouldn't do it in this manner. But, you know, that's what makes Tilda Tilda.
4. In 2009, Swinton mounted a very large portable cinema on a truck and drove it around the Scottish Highlands as a traveling independent film festival. The project was featured in the documentary called Cinema Is Everywhere. She did it again in 2011 just for fun.
5. It's not uncommon for a movie star to create her own perfume. It's rare for them to base it on a poem by a twelfth-century Sufi poet.
6. This is what a Tilda Swinton advertisement for a clothing company looks like. It's not exactly "Sarah Jessica Parker for Gap."
7. Roger Ebert has an annual film festival called Ebertfest, at which he gives out Golden Thumbs. Swinton … really appreciates hers.
8. This is how Tilda Swinton handles the paparazzi.
9. Also, there's this: