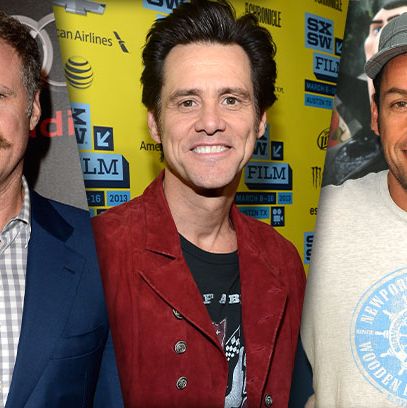 In The Incredible Burt Wonderstone, much is made of the fact that the titular magician, played by Steve Carell, is now too old to draw a wide audience. "You need a younger crowd," the casino boss tells 50-year-old Carell, warning him that a new, hip magician is stealing his thunder with crowds ages 18 to 39. The role of the rival magician feels like it was written for a young comic superstar who could provide a youthful, meta contrast to the aging Carell. Instead, they filled it with someone even older: 51-year-old Jim Carrey.
Why did they pick a peer of Carell's when the role clearly calls for someone younger? It's entirely possible that the young comic stars they offered the part to turned it down — maybe they could smell the whiff on Wonderstone of a box-office flop — but if a big studio comedy can't fill the role of a young male superstar with someone who actually is a young male superstar, it raises the question of whether we even have any these days.
It's fair to wonder, then, whether the persisting young actor drought that we've written about before is now mirrored by a dearth in new A-list comic superstars, formerly the most bankable type of leading man. Things aren't nearly so dire on the distaff side: Young actresses like Jennifer Lawrence, Emma Stone, and Anne Hathaway are in the middle of a boom time, and the only bona fide comic star to come along recently is a woman: Melissa McCarthy, whose February release Identity Thief grossed $34.5 million in its opening weekend, even with terrible reviews. Oscar-nominated for Bridesmaids, McCarthy is poised to add another hit to her résumé with this summer's Sandra Bullock buddy cop movie The Heat, solidifying her current reputation as Hollywood's most bankable funny person.
Even so, McCarthy is 42 years old, and by the time Jim Carrey was 42, he'd made Dumb and Dumber, two Ace Ventura movies, The Mask, The Truman Show, Batman Forever, The Cable Guy, Liar Liar, Man on the Moon, How the Grinch Stole Christmas, Bruce Almighty, and Eternal Sunshine of the Spotless Mind. Compare his record — or the résumés of Old Guard comedians like Adam Sandler, Will Ferrell, Eddie Murphy, and Ben Stiller — to that of the contemporary crop of young bucks who could take the comedy reins, and you can't help but find them wanting.
Take, for example, Apatow alumni like Seth Rogen, Jonah Hill, and Jason Segel. Solid actors all, but when it comes to the box office, they're hardly comic superstars: Rogen hasn't starred in a live-action hit that grossed over $100 million since 2007, Segel's recent Five-Year Engagement couldn't even break $30 million, and while Hill had a bona fide hit with 21 Jump Street, it was bracketed by two bombs in The Sitter and The Watch. Though The Cable Guy was once considered Carrey's nadir, it still doubled the gross of The Sitter by taking in $60 million … and that's in 1997 dollars.
Even the three actors anchoring Hollywood's biggest comedy franchise, The Hangover, haven't really parlayed that success into comic superstardom: Bradley Cooper is going the respected-actor route, Ed Helms hasn't yet been able to break through in another comedy, and though Zach Galifianakis comes the closest to comic superstardom of the three, he couldn't even get The Campaign (where he starred with Will Ferrell) to $100 million, which used to be considered the bare minimum mark of a true A-lister.
What's to account for this comedy superstar drought? Television may have sapped some of these stars of their big-screen appeal: It used to be a big deal when Carrey would transition to movies after a stint on In Living Color or Ferrell would make the jump from Saturday Night Live, but Helms and Segel are still yolked to their heavily syndicated sitcoms while concurrently pursuing big-screen stardom (so far, only Melissa McCarthy seems to have made it work). Or maybe it's just that the ambition to be a comic superstar doesn't burn as brightly for these folks. Performers like Carrey and Eddie Murphy demanded huge salaries for broad studio comedies in the heyday of their stardom, and their films felt like major events because of it; meanwhile, stars like Rogen (with Take This Waltz) and Segel (with Jeff Who Lives at Home) are more likely to seek out indie movies than budget-busting paychecks. (Another potential superstar, Kristen Wiig, has toplined only one studio movie since Bridesmaids — this winter's The Secret Life of Walter Mitty, where she plays Ben Stiller's love interest — while spending most of her free time making indie after indie.)
Or maybe we've simply burned out on the Old Guard, and the new comic superstars won't look anything like what we're used to. Seth MacFarlane has taken a nontraditional behind-the-scenes path to stardom, but after the success of Ted and his high-profile Oscar stint, he's putting himself in front of the camera for his next directorial endeavor, a comic western. There's also a lot of buzz on up-and-comer Kevin Hart, who scored a big concert film success with Laugh at My Pain and followed that up with Think Like a Man; though he's an attractive casting prospect these days, he'll soon have to leave the ensembles behind to topline his own studio comedy in order to prove his superstar worth.
Comic sensibilities change over time, and our taste in comedy superstars must as well. As we come to the end of a period when comedy felt smaller and more observational than it ever has before, is it possible that big movies will return, and big stars with them? That's a question Hollywood must answer soon, because if they fail to find a new crop of flop-proof superstars, it'll be more tragedy than comedy.