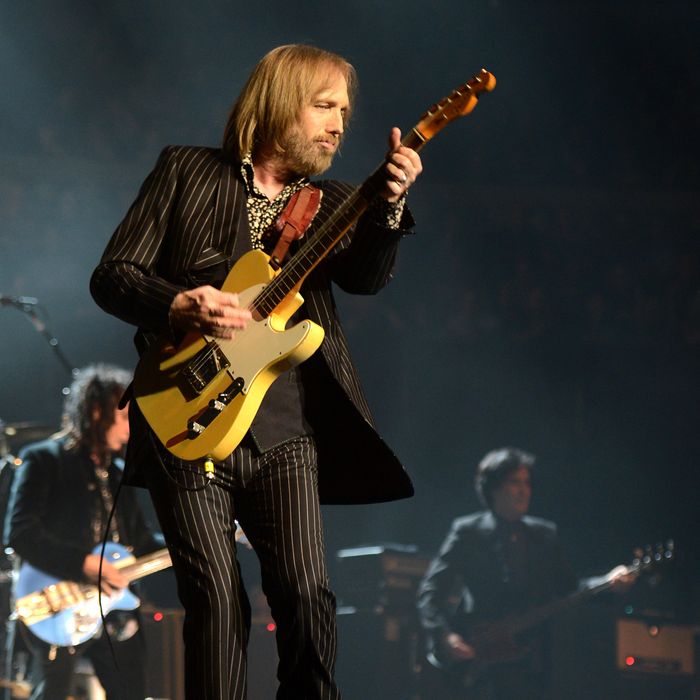 Tom Petty And The Heartbreakers perform at Royal Albert Hall.
Photo: Rune Hellestad/Corbis
Tom Petty has raised his fan base on promises that he'll keep on touring. However, this summer, he and his Heartbreakers are switching things up, playing some theaters instead of their usual stadiums. He'll be doing five dates at New York's Beacon Theatre (May 20, 21, 23, 25, and 26) and six at L.A.'s Fonda Theatre (June 3, 4, 6, 8, 9, and 11). If you want to be one of the select few who gets a seat, Vulture's here to help you out by giving you a chance to win a couple of tickets to one of those Beacon shows. All you need to do is write a Tom Petty–inspired haiku. This poem can be about one of his songs, one of his albums, or his general lore, but it must be in 5-7-5 structure. Here's an example:
Hoosier Mary Jane
She dances, grooves, kills pain — Wait!
Is this about weed?
Put your submissions in the comments below. We will judge each on the quality of the poem and how well it captures Petty's essence. There will be two winners; each will get two tickets to whichever of the five Beacon shows they choose. Only haikus submitted by midnight tomorrow, March 22, will be considered. We will reveal the winner on Monday, March 25. Full contest rules are available here. Good luck!