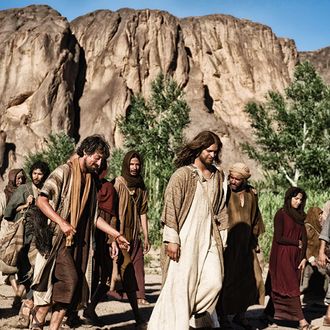 Photo: Joe Alblas/?? Lightworkers Media / Hearst Productions Inc.
Holy Moses: The first installment of History's miniseries The Bible debuted to divine Nielsen numbers Sunday, drawing a whopping 13.1 million viewers from 8 to 10 p.m. That's more than any show on broadcast or cable Sunday, and the biggest entertainment telecast on cable so far this year. It even beat AMC's megahit The Walking Dead, which drew 11.3 million viewers at 9 p.m. And it also boosted History's new series Vikings to a very solid debut audience of 6.2 million viewers at 10 p.m., making it the most-watched series premiere of a cable show so far in 2013. One caveat for The Bible: Of its 13.1 million viewers, only about one third (4.1 million) were in the advertiser-coveted demo of adults under 50. By contrast, The Walking Dead drew 7.7 million viewers in the key demo. Nonetheless, The Bible's 4.1 million adults under 50 translates into a 3.3 demo rating, which is bigger than anything that aired on network TV Sunday.
And indeed, the pain continues for the broadcast networks. Despite mounting a massive, months-long marketing campaign, ABC's two-hour debut of Red Widow managed only a 1.4 rating among adults under 50, the demographic group the network targets. That ties the already-dead Zero Hour as the lowest-rated in-season premiere ever for an Alphabet drama. It didn't help that Red's lead-in, Once Upon a Time, sank to its lowest demo rating ever (2.1) in same-day viewing. (Once typically soars more than 50 percent once DVR viewing gets factored in). Over at NBC, the return of Celebrity Apprentice was greeted with a massive yawn from viewers: Its 1.6 demo rating plunged 38 percent from last winter's debut and was the lowest-rated premiere of the celeb franchise. Amazingly, the top-rated broadcast series among viewers under 50 Sunday was CBS's ancient reality franchise The Amazing Race, which averaged a 2.4 rating in the demo.