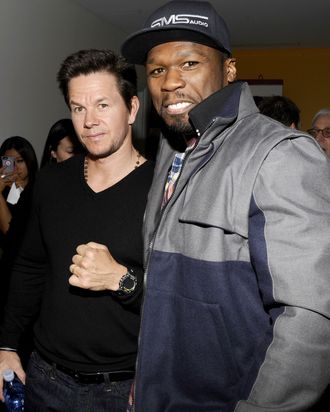 Mark Wahlberg and 50 Cent.
Photo: Clint Spaulding/PatrickMcMullan.com
Justin Bieber's been getting a lot of flak for writing in the Anne Frank House guest book, "Hopefully she would have been a belieber," but 50 Cent's got the teen dream's back. While at the Cinema Society premiere of Mark Wahlberg's new film Pain & Gain last night, the rapper told Vulture, "She probably would have been [a belieber]." We're still not clear if that means Frank would have been, had she lived to a ripe old age, or if she were a teenager now, or if she mastered the art of time-travel, but Fiddy's not concerned with those kinds of pesky semantics. He did say, however, that he thinks Bieber's audience is growing up alongside him, and he projects a career trajectory along the lines of Michael Jackson: "He can be one of those guys who can eventually transition like that." But to get through the more immediate future, Wahlberg — who is friendly with Bieber — thinks the singer just needs a break. "I think it's best to put down the phone and Twitter and all that stuff, and just be a little more low-key right now," Wahlberg told Vuture. "Because they're watching every move he makes, everything he says, and less is more. Go take a vacation." Preferably away from any World War II landmarks.