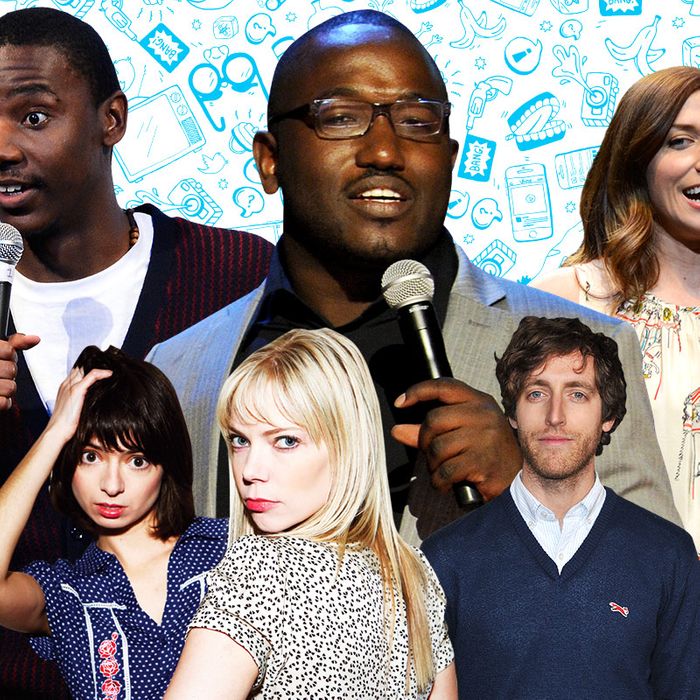 Photo: Getty and Patrick McMullan
When this post was originally published in 2013, it was a slideshow, as was the fashion at the time. Subsequent CMS migrations have turned it into a standard post — and deleted all the text that accompanied the videos below. You'll just have to take our word that we made very persuasive arguments on behalf of each of the comedians we thought you should know.
There's a comedy boom going on, and this one is far different from the skinny-tied, rolled-up-blazer-sleeved one in the eighties. That boom was all about proliferating comedy clubs vaulting comics into traditional sitcoms, but today's explosion is fueled by the web, growing new stars on Twitter, web series, and podcasts. The big improv theaters (UCB, Groundlings, iO, Second City) are feeders for sitcom casts, and stand-up comedy is still strong, but the comedians are no longer singlemindedly focused on getting a watered-down family sitcom: Now they want to follow the path of their Buddha, Louis C.K., and make a show that reflects their own sensibility, not network executives'.
This time next year (and in some cases, next week or month), there will be another wave of sharp comics and performers who will break out with major TV or film projects, and the media will write many "Where did s/he come from?" stories. Comedy fans will roll their eyes, having known for a long time that it was inevitable that these talented people would make it big. And now you will be able to knowingly roll your eyes with them: After huddling with a panel of journalists embedded in the comedy beat, we have assembled a list of the 50 Comedians You Should and Will Know.
This list, which kicks off a week of Vulture stories about all things comedy, will school you in the laughter landscape in the funniest way possible, short of spending every night in the UCB basement. We've got everything you need to know about these next big (and currently hilarious) things, and we've handed some entries over to such reigning big names in comedy as Patton Oswalt, Adam McKay, Casey Wilson, Aziz Ansari, and more to let them give their personal endorsements for their favorite funny people.
But first, our ground rules for assembling this non-ranked, randomly ordered list: We considered stand-ups, improvisers, writers, sketch teams, and podcasters who may have made a name for themselves in comedy circles and even had some TV credits, but have not yet appeared on their own show or as a series regular on a full-length TV comedy that lasted more than thirteen episodes. (A couple of people here have been sidetracked into supporting roles on more dramatic series, but have not yet landed a regular part on a show more in their comedy wheelhouse.) Some are already cast in shows that will be debuting soon, so all the more reason to get to know them now; each entry has a definitive clip of their act or performing, so you'll be well schooled in their sensibility. Plus, you'll get to laugh a lot.
(And special thanks to our panel of experts: New York Times comedy writers Jason Zinoman and Megan Angelo, We Killed: The Rise of Women in American Comedy author Yael Kohen, Time Out Chicago comedy critic Jason Heidemann, Splitsider's Adam Frucci and Bradford Evans, Huffington Post Comedy's Katla McGlynn and Ross Luippold, the A.V. Club's Steve Heisler, Laughspin's Dylan Gadino, and the Comedy Bureau's Jake Kroeger.) Now click on to get your glimpse of laughter's future.
John Mulaney
Ron Funches
Chelsea Peretti
Katie Dippold
Baron Vaughn
The Birthday Boys
Amy Schumer
Kumail Nanjiani
Rory Scovel
Broad City
Kyle Kinane
Moshe Kasher
June Diane Raphael
Matt Jones
Megan Amram
Jerrod Carmichael
Thomas Middleditch
Issa Rae
Jason Mantzoukas
Jon Daly
Kay Cannon
Julie Klausner
Jonah Ray
Lauren Lapkus
Hannibal Buress
Garfunkel and Oates
James Adomian
Chris Gethard
Elaine Carroll
Pete Holmes
Echo Kellum
Gil Ozeri
Lauryn Kahn
BriTANick
Michael Che
Jake And Amir
Gabe Liedman
Megan Ganz
Cristela Alonzo
Mike O'Brien
Joe Mande
Deon Cole
Tig Notaro
Betsy Sodaro
Paul Rust
Bo Burnham
Angela Trimbur
Harris Witters
Paula Pell
Nick Thune