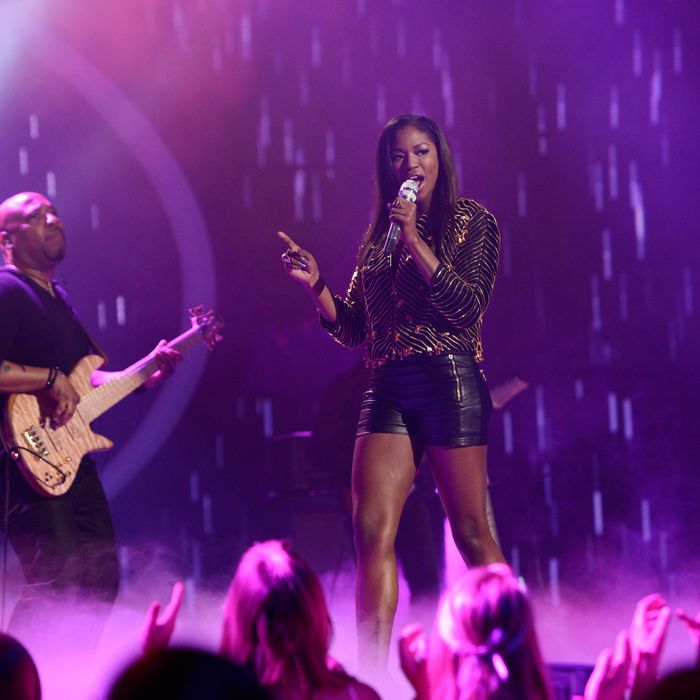 Amber Holcomb on American Idol
Photo: Michael Becker / FOX
In 2013, even as American Idol's ratings are slipping to all-time lows, its alumni are enjoying more cultural visibility than ever. Carrie Underwood and Kelly Clarkson still turn out top-ten singles; Katharine McPhee and Jennifer Hudson are working our nerves on Smash; even non-winners like Blake Lewis and Stefano have dance hits; plus, last year's coronation song "Home" is now officially the best-selling song by any Idol alumnus ever. These kids are defying our expectations and showing that they can create something new and relevant out there in the real world.
So obviously what we should do is trot this year's top seven out and make them fumble through 40-year-old songs they've never heard, for the third week in a row. Tonight is rock night! Or, as I call it, countdown to "Crazy Little Thing Called Love." Ryan promises us rock classics from the likes of Queen, the Rolling Stones, Janis Joplin, and … Evanescence. One of these things is probably exactly like the others if you're Angie Miller's age.
An odd but welcome rule is that ballads are not allowed. Time-wasting duets and group numbers, though? Mandatory. It is another two-hour show.
Tonight brings us the first of the "finalists dish about each other" packages, and we open with the "subtle racism" one. Seems nobody can understand Burnell when he talks. Sure, he does have a bit of a bayou drawl, but he is clearly speaking English. I feel a little bad for him, until he comes out and does "You Give Love a Bad Name" and is utterly swallowed up by it. Where in the last few weeks he's found a way to make unfamiliar songs sound like his, he can't find a way into the Jovi. It comes off like a joyless exercise, which of course it is. The judges agree with me. That's always a strange feeling. (He's wearing a spiked black leather Thriller jacket over a sensible, masculine plaid shirt. Burnell, tonight you are giving me a Buzz Bissinger effect.)
Well, at least we get it over with early: Lazaro and Angie duet on "Crazy Little Thing Called Love." Okay, here's the thing about this song: It's obviously intended as a little piss-take on Elvis, a kind of rockabilly genre parody. But these kids don't understand the context, so they have no choice but to play it straight, which with lyrics like "it shakes all over like a jellyfish" is pretty much impossible. And so it is tonight; this is right out of Simpson Family Smile Time Variety Hour. Again, Lazaro's lethargy brings the proceedings down. And again, he forgets the lyrics and sweats like he's being interrogated. (The best part is that the lyrics he forgets are "BE COOL, RELAX.") But they get through it, entirely because of Angie's effort. Lazaro whispers something into her ear at the end, and we can't hear what it is — it's like if Allan Carr directed Lost in Translation. The judges agree that Angie carried it. Nicki says: "Laz, you seemed to be comfortable up there until you forgot the lyrics again," because she is ice cold. Ryan asks what Laz whispered to Angie, and … I mean, we've all heard Lazaro speak, right? She would AT BEST have heard a word fragment. Angie sidesteps it charmingly and immediately wins my respect. (If by some act of God Lazaro did get a whole sentence out, my money's on "It was your fault.")
Oh! Hey! Tonight's guest musician is Orianthi, the Yngwie Malmsteen–esque guitarist who scored a semi-hit a couple of years ago with "According to You," a song that still sounds like something a guest star would sing on a sweeps week Gimme a Break.
Kree Harrison does Janis Joplin's "Piece of My Heart," as people who have never heard of her, Janis Joplin, or American Idol suspected she would. It's great, obviously! There's not much to say about it! If you've heard her, you can imagine this with 100 percent accuracy. No surprises. She has stepped up her makeup game, which is something. Also, she has giant thigh-high black leather boots, because rock equals danger equals black leather. Everyone's in some kind of black leather item tonight. Tonight's show does not suffer from a surplus of imagination.
Also, Mariah is starting to thaw ever so slightly. She occasionally glances in the direction that Nicki is sitting! She smiles at the applause that follows after things that Nicki says! It's progress, and it's smart, because Nicki's Twitter outburst at Devin Velez has her looking unhinged and petulant this week. Swoop on into that "believable human being" void she's leaving, Mariah! Hurry!
(I hate the dumb little flame wars Nicki Minaj gets herself into, but you know what? At least she is doing something. Also, I love that she called Devin "BEW BEW." Even in her tweets, she sounds like a jolly Cockney chimney sweep.)
In terms of pure game-play, Janelle is kind of killing it, can we agree? She's the only one who consistently challenges herself, who never fails to put some thought into song choice, who always seems to be improving. She provides the first (and only) surprise of the night with Billy Joel's "You May Be Right," which might as well be a Can album track in the context of this show. Here's why she's kind of my hero: You know this girl has never even seen a picture of Bed-Stuy — alone or otherwise — but she makes the "walked through Bedford-Stuy alone" line sound like something she wrote. All the boys complain if the songs are a tiny bit out of their comfort zone; Janelle just up and does it. Nicki says she seems like every girl's best friend, which is true, which is why she has a career waiting for her whether she wins or not. (Also, she sounds good, if that's a thing that interests you.)
Lazaro does Queen's "We Are the Champions," which he makes sound like "We Are the Shampions." (Also, the "but it's been no bed of roses" line comes out bottissbinnabeddarossiss, which is just magnificent.) It is better than he's ever been! There is still an awful lot of space between "better than he's ever been" and "good," and he doesn't make it all the way there! Also, one does not come off like a shampion when one is sweating that much.
Amber, Janelle, and Kree team up for Billy Joel's "It's Still Rock and Roll to Me," and it is the last rock-and-roll thing that has ever happened in human history. Let's not dwell on it, except to say that these group numbers are a giant waste of time in a show that could easily have been a nice, tight hour.
(You know another way they could have saved time here? Instead of having the boys perform, they could have just sat them center stage, under one single, scorching spotlight, as Ryan hissed, "What are you even still doing here?")
Candice broke her toe playing an April Fools' joke on Lazaro. What was the April Fools' joke, you may ask? Well, she tried to convince a sleeping Lazaro that the Idol house was on fire. Quick question: Have you seen the way Lazaro Arbos deals with stress? Have you, at any point so far this season, thought to yourself: Now there's a person I'd like to fool into thinking his painful death is imminent? What I am saying is that Candice should have chosen "Instant Karma." But alas, as someone must on rock night, she sings "(I Can't Get No) Satisfaction." Can you even hear this song when it plays anymore? Shouldn't white-noise machines have "gentle surf," "autumn rain," and "(I Can't Get No) Satisfaction" settings at this point? Her version is free of dynamics: all shout, all the time. Just as I am typing "boring," Nicki says she fell asleep. I love Nicki, and I hope we never meet.
Remember back in the eighties, when the fretful moms of the Parents Music Resource Center speculated that rock-and-roll music would compel people to commit suicide? At around 9:30 p.m. on April 3, 2013, there is a brief moment when I start to think that maybe, in the most roundabout possible way, those dummies might have been on to something.
Besides Janelle, Amber is the only one to make her song really pop. Her take on Heart's "What About Love" sounds like something that could be on R&B radio right now, and her voice is effortlessly beautiful (at least until the last modulation, which kicks it all up a little too high for her and makes the whole thing shouty). Also "What About Love" fits the requirements of a ballad, right?
In the crowd: Joshua Ledet and Hollie Cavanagh! They're in Los Angeles now! Great! I look forward to seeing them both in the hosting audition waiting rooms where I spend too much of my life. Both of them are in the studio recording new music that might maybe get released by someone at some time. Turns out Hollie is a big Mariah fan, so Ryan takes her down for a meeting; they have some nice small talk and lean in to talk about their rings, to which Ryan says: "Hollie, Mariah's rings are much more expensive." Like, right into his microphone and everything. Meee-YOW.
Last up is Angie Miller, with her inevitable swing at Evanescence's "Bring Me to Life." On one hand, it's nice to see her tear into a song that was clearly such an influence on her as an artist. Watching someone on such a huge stage pay homage to someone so important to them is oddly emotionally affecting. On the other hand, that song fucking sucks, and there's nothing remotely enjoyable about watching a perky teen beg you to save her from the nothing she's become. Plus, we all know Kidz Bop recorded the definitive version:

Tomorrow: Casey James will attempt to save us from the nothing we've become! And one of the top seven goes home, and there is no way it isn't Burnell. If I am wrong, please let me know in the comments. (Please also note that I am not.)