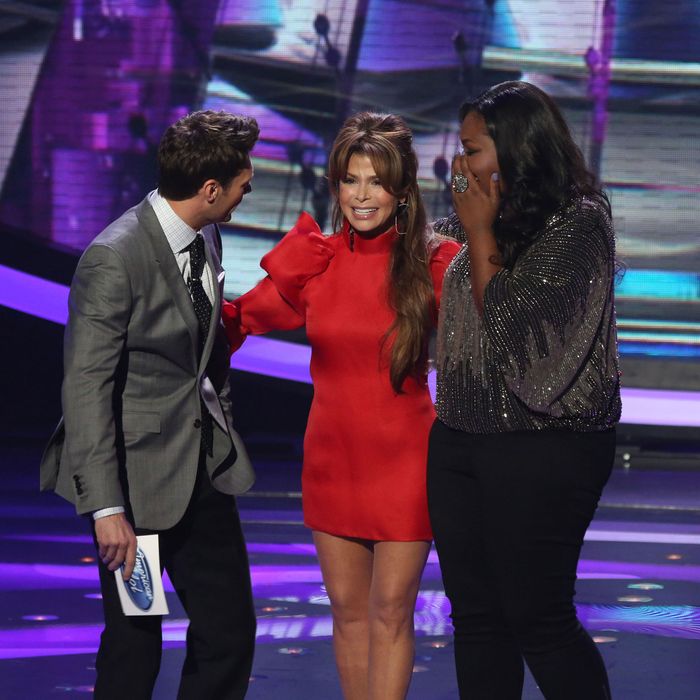 Photo: Michael Yarish/FOX
Well! Our first-ever all-female top five is about to become four. Which girl do you love? asks the cold open. Hard to say. Zoanette is not an option anymore, so I'm going to stay uncommitted for the time being.
The girls perform a diva medley of Donna Summer classics, which is just enjoyable enough to allow us to forget that none of these women's parents had even met when Donna Summer was on the charts. And the Idol producers make a savvy move here: The backup dancers are all dreamy young men. This ensures that the show's young female fan base (and I) will get the artsy dream boyfriend they (we) tune into this show for, and there's no way to vote for these guys. (I checked.) As these things go, the medley is not terrible. (Though any Donna Summer medley that omits "This Time I Know It's for Real" is not for Dave Holmes. Our culture's memory of the Stock-Aitken-Waterman era begins and ends with "Never Gonna Give You Up." We can do better.)
This week's Ford Fiesta Mission is a swell time for everyone. The task is to do a scavenger hunt around Los Angeles to find a mystery celebrity. What fun! The gals get clues that run them all over town, from the Shakespeare Bridge to one of Los Angeles' 12 million cupcake bakeries to, finally, a barber shop. (The hint, which Janelle shrewdly decodes, is DRIVE TO A BARBER SHOP.) Once they reach their final destination, they come upon a man whose face is hidden behind a newspaper, and as he slowly lowers it, we learn together that our mystery celebrity is essayist and Thurber Prize for American Humor honoree Calvin Trillin. They share some laughs about his time at The New Yorker, and he sends them on their way with a wry, playful poem he's just written about filibuster reform. (Not really. It's Glee's Matthew Morrison, who jokes about how much hair gel he wears.)
So now we're recapping last night's performances one by one. It's just like doing it all at once, but the individual entrances and exits eat up more time, an important thing when only five people remain. Candice is up first: Jimmy repeats his assertion that "Straight Up" was too limiting a song for her voice, but admits that her "When You Believe" was outstanding. Can't argue with that. Back in the studio, Ryan asks Randy whether he spoke with Paula about Candice's "Straight Up," and he replies "Yo, I tried everything, Facebook, Twitter, and I never heard nothing from her, and I was like, How you gonna dis the dogg?" Because obviously, this is first and foremost a story about Randy Jackson. As he strains to sell this fiction, the JumboIdolTron opens, and Paula herself sneaks out to surprise Candice. She also surprises me, in that I'd forgotten how much her speaking voice sounds like she's right in mid-throw-up. She congratulates Candice on a job well done, and us, too: "Congratulations to America for getting it right," she tells us in her queasy gurgle. And then she goes to sit at the judges' table, just like old times, in a dress that has padded shoulders and for some reason also padded elbows.
(Now, if I were in charge, the entire rest of the show would be Paula mediating a couple's therapy session between Nicki and Mariah, and then sometime later tonight we'd get a text message telling us who got voted out. I'm not.)
Fall Out Boy are in the audience! They will not be performing tonight! Jordin Sparks and Jason Derulo are here, too! They will also remain in their seats. Instead, our first performance comes from Clay Aiken, but not before a long, LONG video package that reminds us of all his achievements. And also all of his looks: We follow him through his season-long transformation from nerd to nerd-with-a-stylist, through his post-Idol Kris Jenner period, up to his present-day incarnation as a teenage girl dressed up like Conan O'Brien for a school skit. It appears he has no new music on the way, as he goes back to the well for his second-season final song "Bridge Over Troubled Water." Dude can sing, but he has never seemed more like a refugee from the Lawrence Welk Show. You're weird, Clay Aiken.
Back to the recaps: Jimmy says Janelle made unwise song choices last night, that neither song provided "enough meat on the bone for her." I disagree; though she might not be doing the things a person who wants to win American Idol ought to, she's set herself up perfectly for a real-life career. Dolly Parton agrees with me; she's sent her an encouraging note that Ryan reads. (Here's my favorite part: "Don't call yourself a dumb blonde, because we both know you're not dumb, and we both know you're not blonde." Tell it, Dolly.)
Jimmy thinks Amber will be rewarded for her bravery in taking on Mariah and Barbra in the same night and that Kree lacks the energy and passion she brought to "Up to the Mountain" a few weeks back. And he's not wrong; watching these performances back-to-back, you really notice how listless her performances have become. He makes another crack about Nicki and Mariah's wee spat, and again Ryan breezes right past it. Everyone is talking around the problem, but nobody is addressing it directly. Are the producers of American Idol midwestern and Irish Catholic? No reason, just asking.
Okay, so then we have an Idol Flashback to the moment fairly early in season three when the bottom three was the Three Divas: Fantasia Barrino, Jennifer Hudson, and LaToya London. Of those three, LaToya was the one sent to safety, and the other two went on to fame and fortune. So let's catch up with LaToya! Turns out LaToya has been, you know, working on some stuff here and there, doing a couple of songs with a band, planning on getting into the studio at some point, just trying to do her own thing. It's the answer you get when you ask any unemployed person in Los Angeles what they're up to. It's the saddest-case scenario of post-Idol life, non–Celebrity Rehab division. At one point, she actually says, of Jennifer and Fantasia: "Sometimes I think, GOSH, why they gotta be in my season!" And then we go back to the studio, where Ryan briefly speaks with LaToya, and then … introduces Fantasia. Yikes and also yikes.
Fantasia's new song is actually kind of a banger, and she is in fine voice, as always (except for that 10 percent of the time when she's just making a terrible shrieking sound). But BOY, do her eyes steal the show. It's like Liza Minelli, but more so. (There is such a thing as more Liza Minelli, as it happens.) Here's how crazy Fantasia's eyes are tonight: She is on an episode with Nicki Minaj, Mariah Carey, and Paula Abdul, and she still walks away with the Craziest Eyes award.
Okay! And then it is time to reveal our top three, who are Candice, Angie, and Amber, leaving Kree and Janelle in the bottom two. Remember: This is the judges' last chance to use the save, and when it is revealed that the lowest vote-getter is Janelle, she and you and I all suspect they won't use it at all. And… they don't. But come on: Country music snaps up any Idol contestant who even leans a tiny bit in their direction (Josh Gracin! Casey James! Bucky Covington, for fuck's sake!), so Janelle Arthur already has a wing of the Grand Ole Opry dedicated to her. So congratulations, Janelle. I look forward to being faintly aware of your recording career for years to come.
This could go any of four ways now, couldn't it? Predictions are welcome in the comments section. I need some theories; may I borrow yours?