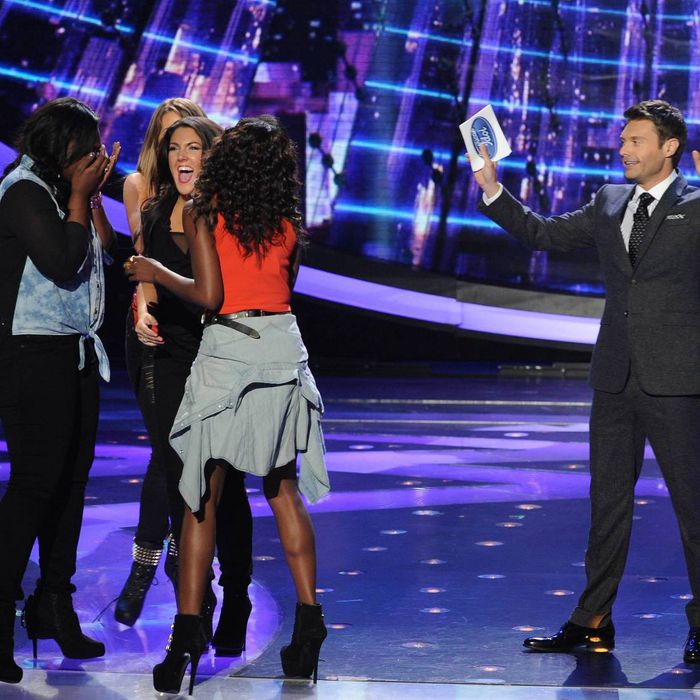 Tonight! It's the results show, with one shocking twist! A shocking twist that you can actually kind of predict if you think about it for two seconds: Since the judges didn't use their last chance at the save on poor Janelle Arthur last week, and since there are still four weeks left in this drunken elephant of a season, it's fairly clear that the shocking twist will be that all four will make it to next week.
The shocking twist is that nothing will happen.
This week, you probably read the story about the American Idol producers trying to switch Mariah Carey out for Jennifer Lopez in an attempt to reverse this show's ratings freefall, and listen: I'm sure that would have been a great idea. Obviously the youth of America have been saying, "I would be into this show if only a different zillionaire in chiffon were hurling bland affirmations at the stage." But an alternate solution to the Case of the Missing Viewers is this: Idol is wasting our time. Tonight, it spends an entire hour gleefully spinning its wheels and daring you to change the channel. Guys, eventually everyone is going to take that dare.
The nothing starts right at the top: An overlong intro package shows us which events the top four went to in the last week, one of which is some kind of British event, wherein they talk to actual British people and learn that the British word for trash can is dustbin. And that's literally all that happens. Blimey.
The top four sing Alicia Keys's "Girl on Fire," a song whose chorus says "this girl is on fire" and whose first line is "she's just a girl and she's on fire." Quick question about this girl: Is she on fire? Is she also walking on fire and living in a world and it's on fire? Oh, she is? Great. Tell me more about this girl, Alicia Keys. Is there anything else I should know about her? Have you any evidence to support your fire hypothesis? No? That's the whole story? Huh. Okay.
What I'm saying is that I think I understand why the boring guy in the Chase commercials clicked with Alicia Keys.
Speaking of girls who are on fire, that Ryan Seacrest sure is busy. This week's Ford Fiesta Mission is to follow Ryan through his hectic day: Angie goes to help build his charity foundation website, Amber to co-host his radio show, Candace to sign an act to his record label, and Kree to … I don't know, go get his nipples polished or whatever. And then at the end we find out he gets so much done because there are four Ryan Seacrests! And none of them has any respect for you as a viewer.
Back from the package, the girls have to read the TelePrompTer in Ryan's absence, and it's maybe a thing they didn't rehearse, because every single one of them looks lost. You know what's my least favorite thing on television? That thing they do on The View where they let an audience member tell you what's coming up. Like, Sherri Shepard will hold the microphone in front of JoAnne's face (they're all named JoAnne in my mind) and JoAnne will say: "Coming up on The View, summer skin-care tips and a visit from Scott Speedman!" and Sherri will be all like: Wow! Very good! Like: You can read! Good for you! It's condescending horseshit and I'm only talking about it because there is so very little to recap about tonight's American Idol.
Oh, here's a fun thing: In yet another package, the girls are challenged to tell us five things we don't know about them in twenty seconds. Almost none of them can! They have all been wrung out like old washcloths. We do learn that Kree has been bitten by a snake. What do you figure is the percentage of people named "Kree" who've been bitten by a snake? High-70s minimum, right?
And then it's JimmyTruthTime. Amber is up first, and he hits the nail right on the head: Nobody knows what the lyrics of "MacArthur Park" are about, and a person can't interpret a song if they don't know what it's about. Absolutely correct (though Jimmy does pronounce the word interpit, which is problematic). He has the same problem with Kree and "A Whiter Shade of Pale," going so far as to say that song's inscrutable lyrics are why Procul Harem were a one-hit wonder.
This is how little happens tonight: We are having a conversation about Procul Harem.
Stefano Langone is back! In ridiculous Skrillex glasses! When they finally get around to giving "Friends" the Carrie Diaries treatment, Stefano has the Joey Tribbiani part locked up. The kid's got charisma, he has lips for days, his voice has improved 500 percent since his season, and his new song is no "I'm on a Roll," but it'll do. Let's keep Stefano Langone around.
Candace's JimmyTruthTime is taken up almost entirely with a replay of the moment when Nicki (and, sigh, Randy) bum-rushed the stage, with all kinds of talk about how Nicki must have a crush on Jimmy, because this show is Patriarchy City, USA. (Jimmy's token piece of advice for Candace: don't hurt your voice. Noted.)
Back in the studio, Ryan plays a tape of a message Drake left for Candace, and then the IdolJumboTron opens to reveal DRAKE WHO IS THERE IN PERSON OHMYGOD. He is dressed like a cast member from "Boyz II Men II Hospital Orderliez." Here's a fun fact about Drake: If you catch him at just the right angle, he looks exactly like an average-looking middle-aged guy. Try it yourself!
Guess who else is back: LEE DEWYZE IS BACK! We learn a bit about what he's been up to in the last few years, which turns out not to have been a whole lot. He does have a little more charisma and confidence than he did the last time we saw him, but that's a pretty low bar to clear. He also has a new album coming out, and he tells us: "Everything happened in my life for a reason to get me to make exactly the album I always wanted to make, at exactly this time." And this is really amazing: It just happens that in 2013, at the commercial peak of Mumford and Sons, that all Lee DeWyze ever wanted to do was make a Mumford and Sons album. What an incredible coincidence.
Real talk: In 2013, is there a luckier motherfucker than every banjo player? Stack that paper, every banjo player.
Jimmy says Angie won the night with two great performances of two great songs, and that's really all he says, because we're pretty much past the point where you can legitimately criticize these girls' voices. Mariah's advice to Angie: Keep being angelic. Be inspired, be an angel; Mariah has great advice, always. Worth every penny.
And then Ryan separates the four into two pairs: Angie and Kree on one side of the stage, Amber and Candace on the other. Turns out the bottom two is Amber and Candace. The tension is thick in the air. And here comes the big twist: Ryan opens his envelope and … we are all one hour closer to our deaths.
Nothing. Nobody is going home. This was a results show with no results.
If you stare long enough into the abyss, the abyss will try to sell you a Ford Fusion.