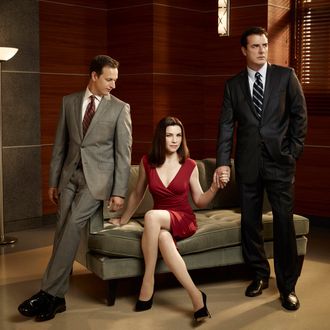 Photo: JUSTIN STEPHENS/CBS
If you have not yet seen Sunday's season-four finale of The Good Wife, avert your eyes. Okay, are all of the spoilerphobes gone? Then to everyone remaining: Holy shit, right? Alicia's leaving Lockhart Gardner, and she kissed Will (again) but chose Peter. Also, Peter won the election and is now the governor of Illinois. Did he know about the ballot-stuffing? Is Kalinda the worst negotiator ever? Is Hostel 3 Eli's favorite horror movie?
There is so much to discuss, and luckily you don't have to do it in a vacuum: Series bosses Robert and Michelle King have kindly agreed to answer your burning questions about the season, so fire away in the comments below. (And feel free to use the ones above because, hey, we're curious, too.) We'll send along the best ones and post their answers here on Friday.