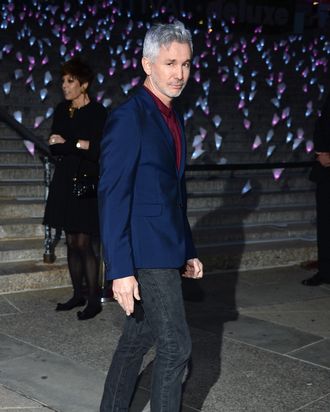 Baz Luhrmann.
Photo: Dimitrios Kambouris/Getty Images
Baz Luhrmann was a surprise guest of sorts at Vanity Fair's party Tuesday night to kick off the Tribeca Film Festival: His long-delayed Great Gatsby, in theaters May 10, is not one of the films in the festival. Luckily, that didn't stop the director from fielding a few questions about the inevitable mash-ups of period style and modern music that we're expecting to see and hear in the movie. Luhrmann also explained what's been taking so long and what wisdom he learned from Jay-Z and Leonardo DiCaprio.
I didn't realize you were going to be here. I know you have another event Wednesday …
You are very quickly going to get very sick of my wife [Catherine Martin] and me. You'll be saying, "I wish they'd go away!" There's a lot of things happening.
Finally happening. We've been waiting for this film through many delays …
I haven't been waiting! I only finished it on the weekend.
This past weekend?
About ten days ago. I was in Australia, doing the final mix. I mean, I've had versions of it, but Jay-Z and I just finished the soundtrack. I put all the final music in, and I just tweaked it. And also, you can't finalize 3-D until it's all done. There are lots of great artists involved. Florence [and the Machine] did a great new song [called "Over the Love"], the xx did a great new piece, and Lana [del Rey] did a beautiful piece [called "Young and Beautiful"]. They've all worked very intimately on the film, playing to the footage — old-school. My big job was to try to illuminate the book. It's fascinating to me, the power of that book. And the revelation of Jay-Z, who saw the film very early, and his observation was so crystal clear.
Why? What did he say?
He said, "It's an aspirational film. The thing about Gatsby is not whether he made his money illegally or not; it's whether he's a good person or not." Because he had a cause. Jay-Z really summed it up, that the story is aspirational. Gatsby's a sign, a symbol, for us all. To Nick Carroway, he's going, "I'm going to make money on Wall Street," and then it's, "No, I want to make my mark; I have a cause."
So why pick Jay-Z to score the movie?
Actually, I made that decision because Fitzgerald puts African-American [jazz] music in his novels. It's a fad, everyone says, but it lasted. Fitzgerald put popular culture in his books, and I wanted you to feel like you were reading the book in 1925. The idea was, jazz was African-American street music, and it suddenly informed the times. And hip-hop is the African-American street music now. If that was the jazz age, this is the hip-hop age. Bryan Ferry is also doing traditional jazz with an orchestra, and the music is very woven in. I like to think this is a coming together, a maturing of all those things.
What was it you were looking for in your cast? How did you decide on Carey Mulligan [who won the part over Scarlett Johansson, Blake Lively, Michelle Williams, Natalie Portman, and Keira Knightley]?
Leonardo [DiCaprio] was early on. But the Daisy Buchanan part, that was a harder search. Leonardo and I went to all the auditions together, and we knew within minutes of seeing Carey. Actually, Leonardo said something really beautiful, I believe. He said, "You know, Gatsby knew a certain kind of woman, but he would never know a Daisy, a hothouse flower like that." He understands Gatsby obssessing about her. But the biggest thing in the film, I think — the most visionary thing, the wildest thing, the newest thing — is the coming together of all these young actors in their prime, just standing in a room, acting a ten-page scene. Just acting. In 3-D.