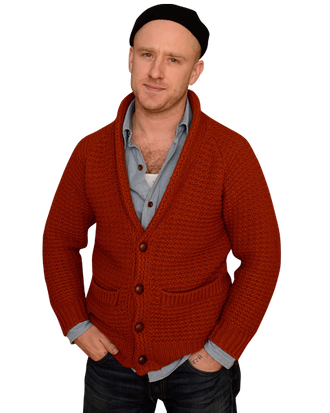 Ben Foster.
Photo: Larry Busacca/Getty
Ben Foster has a way of disappearing into roles — from a tightly wound junkie in Alpha Dog to a sweet, mostly silent cop in the upcoming Ain't Them Bodies Saints — but that wasn't really an option for his latest high-profile part: taking over for a fired Shia LaBeouf in Lyle Kessler's Orphans on Broadway. As Treat, the short-tempered, domineering older brother to innocent recluse Philip (Tom Sturridge) who decides to kidnap a rich Chicago gangster (Alec Baldwin), he's often the explosive center of attention onstage. Foster (who will also play William Burroughs in Kill Your Darlings later this year) spoke to Vulture about getting bruised, Treat's seventies wardrobe, and moving past the LaBeouf kerfuffle.
How did you find out about the play?
They called and asked me to participate in a reading of it months and months ago. I had a few days to look it over, and I went in and read with Alec and Dan Sullivan, the director. We just sat around a table, reading the book. And then it went another direction. And that was that, and it made me sad. The bizarre part was months went by, and I was sitting with my mom in L.A., and she said, you know, "It's a really good thing that play didn't work out — I think it would have been too hard on your heart." And I said, "Yeah, I guess you're right." And the next day I got a phone call that said, "Will you come to New York tomorrow and start rehearsing?" So I said yes. But my mom's worried.
Well, after seeing you at the end, I was a little worried, too. It's a pretty intense last scene. Do you need a strong drink or a nap or both after that?
A stiff drink and a hot bath is pretty good. [Laughs.] We all look like Dalmatians from the waist down at the end. It's physical theater, and the momentum takes care of you till it's over, and then an hour and a half later you start seeing things that are swelling. And you think, Well, can't wait till tomorrow night so I don't have to feel this no more for about an hour and a half!
So, what made doing it a must for you?
I talked with Dan Radcliffe when we were doing Kill Your Darlings, and he had done Equus and so many plays, and I have so much respect for him — he's such a brave man — and he was like, "Oh, you should do a play!" "Well, I'd really like to, but it scares the shit out of me." So when this showed up, how do you say no? You go do something that scares you and don't try to beat it.
Would you be up for singing and dancing like Dan did in How to Succeed?
I hope so! I'm hoping someone will let me, 'cause I think everything is a dance. I mean, my favorite movie is All That Jazz. I just eat it up.
I'd imagine just dropping into this was … an experience. What was the first rehearsal like?
I don't remember, actually. I love Alec; I was just struck by how different we all are, but we have similar values. Hopefully that resonates in the play.
It just seems like three extremely intense people in one room.
We all have our way; we've all had our moments. But what's beneath all of it is so much care and respect and making sure the others are all right.
How are you taking care of yourself? Besides sleeping and bathing, of course.
Nice to have my head rubbed by the lady. And eating a good breakfast. Gentle. It ain't gentle most of the time. If I don't feel I need to lay down or sleep for 10,000 years after each performance, I don't feel I've served the show. Now, once we open and get a few more under our belt, I may be out every Goddamn night. Right now, it's gonna cost everything.
The relationship between you and Tom onstage is a really complex one. Did you have to do some serious bonding in a short amount of time?
We had an initial kind of glass raise; maybe a few cocktails were involved. All in all, he's really the senior here, in terms of theatrical experience — well, both of them are. I've relied on them heavily in terms of asking questions about rhythm versus impulse of emotion. By the time I got there, it was just about not sleeping and catching up to these guys.
For some reason during the play I was noticing you have multiple tattoos. What's the story with those?
Ooooooh. [Groans.] Um. Yes, some of them are covered, some of them are, uh, yeah. It's map-making. You map yourself. It's like an old steam liner trunk where you get the sticker. Like, Aloha!
Since the first time you tried for this it didn't work out, did you get any feedback about why? Or did you just step in like nothing happened?
That was really none of my business. I'm a fan of Shia's, and whatever went on between them is their business. If I'm busy thinking about how or what went wrong or why, then I'm not spending my time paying attention to things I gotta pay attention to.
Was it odd to see Shia in the audience the first night?
Yeah, I saw him when we were taking our bows. I love that fucker. He's got a great mind. How we use technology now is something I'm just not certain of. So I'm staying outta that world. What I do know is I like the man, and how that went down is how that went down.