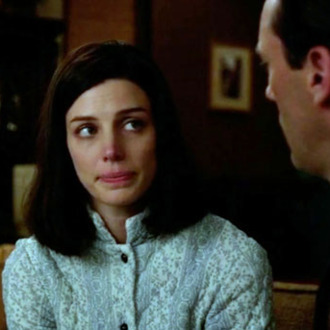 In this week's recap, Matt Zoller Seitz cheered for Mrs. Trudy Campbell and hoped for the episode's cuckolders to fall down an elevator shaft. Readers had many more thoughts. We've collected the highlights from our comments section for your continued Mad Men enjoyment. Here's what you had to say about "The Collaborators."
You made some pretty cynical observations.
* "'I'm taking out the trash - you left the door open.' Pretty much sums up every adult relationship on the show so far." —Commenter kth818
* "Dr. Rosen is called away too often and too conveniently. I wonder who his collaborator is?" —Commenter banga
* "Could it be that Megan actually had an abortion and not a miscarriage, because she is choosing her career? Just a thought." —Commenter flolink
You paid CLOSE attention. 

* "In addition to the hot dog double entendre mentioned above, there were some other interesting double-emphasis sentences in this collaboration-themed episode: * Sylvia's 'I have money, I just never HAVE money.' (I feel like this is reminiscent of Betty - does anyone know if she's said something like this in an earlier season?) *Baked Beans: 'They didn't ask 'How did you DO that?', they asked 'How did YOU do that?" * Also of note: Pete Campbell, after Trudy offers to drive her to the hotel: 'I don't know what I was thinking; I'll just run you over.' - intonation was completely flat, indicating a murderous wish rather than an offer of service." —Commenter islandia
* "The way Don semi-clutched the left side of his chest (when he realized he forgot his cigarettes) during his elevator ride with Dr. Rosen, I, for a split second, thought that Don was going to have a heart attack. More foreshadowing perhaps?" —Commenter NYCGirl2535
You talked about doors …
* "How about the 'door' symbolism that Roger introduced during his therapy sessions — regarding choosing paths in life? 'Darkening my door' — Joan, Don looking through the keyhole and then unable to go into his apartment door, saying that Sylvia 'left the door open' — the closing elevator doors, and even Pete's modern transparent bedroom doors in his city apartment (where he doesn't hide his affairs well enough), and Peggy's open door conversation which leads to new opportunities for her." —Commenter MadMenFan2013
* "And most importantly, Don's inability to walk through the door in the closing shot :)" —Commenter Hendoism
… and then you talked about doors some more.
* "Good catches. Another one: Joan just feeling free to open Don's door before being buzzed in (and proceeding to the bar)." —Commenter seanlaw81
* "Two more — Trudy's look to Pete while going out the door to drive Brenda to a hotel and Trudy's going into the lighted bathroom from the the darkened bedroom." —Commenter seanlaw81
* "True. Yet sometimes, a door is just a door. The characters do have to move through different areas of rooms and buildings, folks." —Commenter flyova
You discussed office real estate.
* "As for Joan, why is she still stuck in that tiny office? I would have imagined she had a nice big office on the second floor. That's disappointing, but unsurprising I suppose." —Commenter occasional_vegetarian
* "I want to know what they did with Lane's old office. Who or what is in there now?" —Commenter HollowayNotHarris 

You rooted for Trudy …
* "Now Trudy needs to get hers." —YouandWhoseArmy 
* "TRUDY FOR THE WIN! Pete is such a tool." —Commenter Starkworld64
* "Trudy shut.that.shit.down! Pete is absolutely going to fall apart over this (and deservedly so)." —Commenter cheesyblasters
* "Keep doing you, Trudes. Just keep doing you." —Commenter AbuNazir
… and Alison Brie …
* "I must say this: Alison Brie was excellent last night. Seeing her in this episode, I can't believe this is Annie from Community." —Commenter PianoPlayer
* "Maybe they'll finally consider submitting Alison for Outstanding Guest Actress. She nailed it last night and rose above some of the cliché lines." —Commenter occasional_vegetarian
… and Peggy …
* "I know it's the 60's and women still didn't have the power we do now in a work environment, but if I was Peggy I would have fired those three little a holes so fast their heads would spin." –Commenter teddysmom
* "The one thing that didn't quite ring true was Peggy's slip-up on the Heinz account. She's a little too savvy for that type of betrayal." —Commenter KDMz
* "Peggy is a shark , she told Chaugh about the ketchup and knew he would come back to her to tell her to win the job, she knew what she was doing — even if it was subconsciously." —Commenter PeteBest
… and Peggy and Stan.
* "Peggy and Stan's conversations are my new favorite thing." —Commenter somenights
* "I like Abe a lot, and I'm glad Peggy has stuck with him, but I'm glad I'm not the only one who is hoping for something to come of the Peggy/Stan relationship. Maybe they'll end up in hotel room in nothing but their underwear…again." —Commenter rachelack
* "They are my new favorite TV couple…even though they are not a couple." —Commenter fakenameisgoodenoughforme
You remembered having seen that ketchup guy before. 

* "The Heinz Ketchup guy is the QB from Remember the Titans." —Commenter JREESE3
And, like us, you are still asking: Who the hell is Bob Benson? 

* "I wonder if Bob Benson actually works at SCDP." —Commenter soma