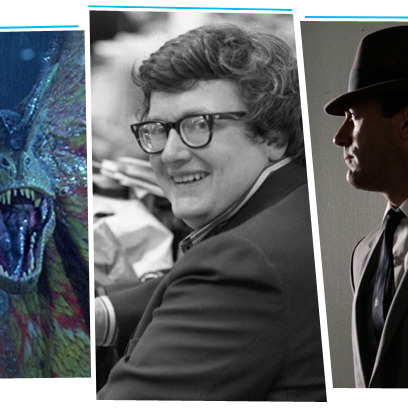 Every week, Vulture faces the big, important questions in entertainment, and comes to some creative conclusions. This week, we mourned Roger Ebert, celebrated David Letterman, and spent a decent chunk of time thinking about Game of Thrones. You may have read some of these stories below, but you certainly didn't read them all. We forgive you.
Q: What's Mad Men's Vincent Kartheiser like?
He's a trip.
Q: How was The Walking Dead supposed to end?
Slightly differently, according to Dallas Roberts, who played Milton.
Q: How can I keep track of everyone on Game of Thrones?
You can't. But try memorizing these mnemonics.
Q: What can modern-day blockbusters learn from Jurassic Park?
A bunch of things. Plus they can learn about DNA.
Q: What happens when Tom Hardy meets a young Bane fan?
The world collapses into itself in a massive, infinitely dense cuteness hole.
Q: How will we remember Roger Ebert?
In a bunch of ways. With his writing, his videos, and with the time he guest-starred on The Critic.
Q: How will Girls write Charlie off the show?
Mustard poisoning, possibly.
Q: Who's got better moves: Beyoncé or Justin?
It's close.
Q: What's going to be on TV next season?
Comedies and dramas, of course, some of which are actually promising.
Q: Where did we leave off with Mad Men?
Right here.