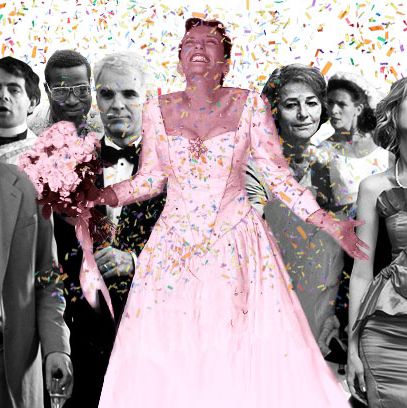 You might have noticed the insane poster for this weekend's The Big Wedding floating around your neighborhood. It has everyone! Diane Keaton, Susan Sarandon, and Robin DiNiro as in-laws; Amanda Seyfried in her second role as a bride; and even funnyman Robert Williams in his second role as a priest. This got us thinking: If we could cast the perfect wedding using only wedding films and the bridal parties within, who would we go with? For maximum drama, the clichéd threat of complete disaster, and the ultimate combining of families, we've cast our ideal Big Wedding. Got any replacements? Talk to our Wedding Planner.
THE GROOM: Tunde Adebimpe in Rachel Getting Married
Perhaps a surprising pick from the large pool of worthy film grooms, but Rachel Getting Married's Sidney (as played by TV on the Radio's Tunde Adebimpe) is the ideal male lead. Forgoing the traditional tux for a bright-orange lei, Sydney not only helps his bride-to-be, Rachel, deal with the train wreck that is her recovering drug-addict sister, but also serenades his bride with a Neil Young cover at the altar. (And yes, in case you were wondering, My Big Fat Greek Wedding's John Corbett came in at a very close second.)
THE BRIDE: Julia Roberts in Runaway Bride
Okay, okay. An unlikely choice for bride, but Julia Roberts deserves the prize, if only because throughout Runaway Bride she has A LOT of weddings. She runs from a few, natch, but doesn't that just give her the experience a bride needs? A picky bride is a smart bride — one that knows the difference between caterers and can successfully pull off every style of veil.
FATHER OF THE BRIDE: Steve Martin, Father of the Bride
Slightly edging out the original father of the bride, Spencer Tracy, Steve Martin is our only choice to financially sponsor the big event and have a nervous breakdown in the way that fathers are required to have when their daughters are just about to get married.
MOTHER OF THE BRIDE: Charlotte Rampling, Melancholia
In our version of The Big Wedding, this happy marriage isn't going to happen without some drama. That's why we're casting Charlotte Rampling's Gaby as our mother of the bride — guaranteed to spice things up with an unwanted dedication to the misery of love. "Enjoy it while it lasts," she toasts. "I myself hate marriage."
MAID OF HONOR: Kristen Wiig, Bridesmaids
Picking who you'd like to be your maid of honor might be your biggest choice as a bride-to-be. Kristen Wiig's Annie wants nothing more than to give her BFF the world's best wedding. And despite the physical comedy (a wedding cake is always the perfect prop), this maid has heart.
BEST MAN: Taye Diggs, The Best Man
Uh, so he might have slept with the bride? Give him a break — he'll keep it quiet until you accidentally read an advance copy of his autobiographical novel.
PRIEST: Rowan Atkinson, Four Weddings and a Funeral
A little humor never hurt anyone! Mr. Bean, a.k.a. Rowan Atkinson a.k.a. Four Weddings and a Funeral's newbie priest, is a little under-rehearsed, sure, but at least he's not Robin Williams in License to Wed.
BRIDAL PARTY: Rupert Everett, My Best Friend's Wedding
You'll never have to show up stag if you're friends with Rupert Everett — Julia Roberts's savior in My Best Friend's Wedding. He might even help you break out in song. (Every bride's dream.)
BRIDAL PARTY: Joey Fatone, My Big Fat Greek Wedding
Sure, we're mixing reality with movie fiction right now, but how amazing would it be if Joey Fatone sang 'NSYNC karaoke at your wedding?
BRIDAL PARTY: Vince Vaughn, Wedding Crashers
Imagine if you actually invited wedding crasher Vince Vaughn to your wedding? Uninvited, he's the life of the party, so who knows how much joy he'll bring when his name is actually scripted on a place card?
BRIDAL PARTY: Toni Collette, Muriel's Wedding
Muriel's been dreaming of being a bride for her entire life. She'd be the perfect person to help you plan your bachelorette party. Got any ABBA on the playlist?
BRIDAL PARTY: Janice, Muppets Take Manhattan
By far Janice clocks in as the most fun Muppet. There is no question. She'd better be on the guest list.