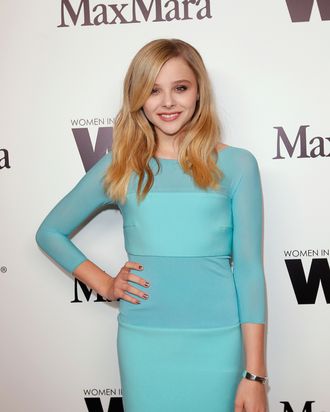 Chloe Moretz arrive at Max Mara Cocktail Party Honoring The 2012 Women In Film Face Of The Future Chloe Moretz at Sunset Tower on June 11, 2012 in West Hollywood, California.
Photo: Donato Sardella/WireImage
Chloë Moretz, at just 16 years old, has already participated in a bevy of thematically grim and/or bleakly titled work — films like Today You Die, The Amityville Horror, Wicked Little Things, Kick-Ass, Texas Killing Fields, Let Me In, Dark Shadows, and the upcoming Carrie remake. It stands to reason she'll sign on to join Charlize Theron in an adaptation of Gillian Flynn's Dark Places. If you've read the novel, Moretz is eyeing the role of Diondra. If you haven't read the novel, Moretz is still eyeing that same role.