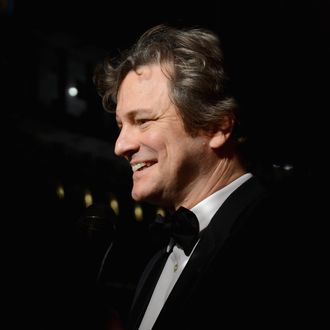 Actor Colin Firth attends the 2012 Dubai International Film Festival, Dubai Cares and Oxfam "One Night to Change Lives" Charity Gala at the Armani Hotel on December 14, 2012 in Dubai, United Arab Emirates.
Photo: Andrew H. Walker/Getty Images
Latino Review reports that Colin Firth is in talks to star in Matthew Vaughn's adaptation of the comic book The Secret Service. Co-created by Vaughn and comic-book writer Mark Millar (Kick-Ass), the book tells the story of a London juvenile delinquent whose uncle recruits him for a secret British spy school that produces James Bond types. Firth will play that uncle and surely charm all bad guys into voluntary surrender.