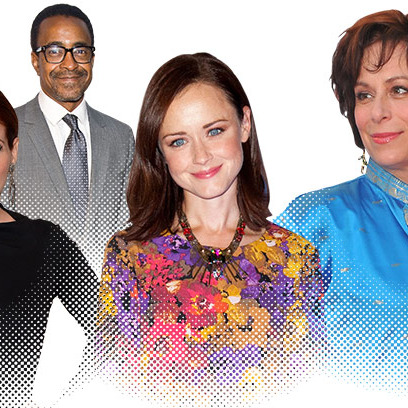 Pilots! It's that time of year again, when we gaze into the crystal ball — and the massive pile of scripts — and theorize about what will make it to air in the 2013–14 season. Today, we're focusing on comedies (dramas tomorrow, and our top picks on Thursday), and we've broken them down into four major trends that define this year's potential shows. Love is in the air! Well, love, nineties stars, and writers with past hits.
I Love the Nineties
Perhaps network executives are hoping to recapture the ratings of the nineties, because TV stars from that decade are all over this year's comedy pilots. The biggest, by a mile, is Michael J. Fox (Spin City), who's starring in a still-untitled NBC series based loosely on his own life. Mr. Seaver, a.k.a. Alan Thicke of Growing Pains, is onboard to play the boss on ABC's office-set Bad Management, which also stars SNL-in-the-nineties alum David Spade. The alphabet also put Spade's Just Shoot Me co-star George Segal in the eighties-set comedy How the Hell Am I Normal (playing Jeff Garlin's dad) and Jane Seymour (Doctor Quinn, Medicine Woman) in the dysfunctional family comedy The Crazy Gene.
At CBS, a TV version of the 2011 feature Bad Teacher will include nineties-TV vets Sara Gilbert (Roseanne) and David Alan Grier (In Living Color), while 3rd Rock From the Sun's French Stewart is set to resurface as a chef in Mom (Chuck Lorre's multi-cam with Anna Faris as a single mom), while Debra Messing (Will & Grace, long before Smash) is set to play an unreformed liar in an untitled comedy from Sex and the City scribes Elisa Zuritsky and Julie Rottenberg. The Eye has also signed James Van Der Beek (Dawson's Creek, long before Apt. 23) to play a snarky gynecologist in the ensemble half-hour Friends With Better Lives, and Buffy herself (Sarah Michelle Gellar) is cast as Robin Williams's daughter in David E. Kelley's The Crazy Ones.
Meanwhile, Malcolm in the Middle mom Jane Kaczmarek could return to Fox if the network orders Friends and Family (an Americanization of BBC's Gavin & Stacey), which also includes Alexis Bledel (Gilmore Girls, long before Mad Men). Fox also has picked a nineties-era SNL alum, Tim Meadows, to be in its Rob Riggle–led family comedy The Gabriels, as well as Dharma & Greg mom Mimi Kennedy to be in Two Wrongs.
Finally, NBC might be welcoming back Sean Hayes as a single dad in an untitled half-hour from Better Off Ted writer Victor Fresco, while Designing Women vet Jean Smart is set to play the principal at the junior high school where Craig Robinson (The Office) serves as music teacher in the not-yet-titled half-hour from Greg Daniels and writer Owen Ellickson. —J.A.
Girls Behaving (Sorta) Badly 
Consider this: Of the last two seasons, 2 Broke Girls is broadcast's only new comedy to truly be called a breakout hit, but sitcoms featuring single women who could be similarly lewd and crude about men, sex, and booze (Are You There, Chelsea?, Whitney, Don't Trust the B) didn't fare as well, and this season offers a broader spectrum of messed-up womanhood. On the softer end, ABC has Rebel Wilson's Super Fun Night (originally in the works at CBS last year), about a trio of nerdy misfits whose goal is to make every Friday night superfun ("11:30 p.m. Pray for boyfriends. 12:35 a.m. Sleep."). Meanwhile, CBS, on the hunt for a potential new 2 Broke companion, has the aforementioned Mom, with Anna Faris as a recently sober single mom trying to pull her life together in California's wine country when her own problematic mother (Allison Janney) shows up. On the more extreme end of things, there's the TV version of Bad Teacher with Ari Graynor as the titular foul-mouthed divorcée who decides to teach middle school in order to snag a new husband. —D.M.
Let's Fall in Love
Movie rom-coms are basically dead, but TV romance is alive and well. And this year's pilots seem particularly focused on all things love: online dating, one-night stands, getting back into the game, etc. Greg Daniels and Robert Padnick's untitled comedy on NBC is all about a twentysomething guy whose friends urge him to dip a toe in the dating pool, leading to ongoing shenanigans. Women are so confusing! Undateable, which will star Whitney's Chris D'Elia should that show get canceled, is about an immature dude's dude who decides to help a group of anxious but well-meaning dweebs navigate contemporary dating. Pulling (based on the 2006 British comedy and starring Kristen Schaal, Jenny Slate, and June Diane Raphael) launches with the implosion of a relationship and commentary about the frustrations of singledom, and even has an undercurrent of "hey, these weirdos deserve love, too!" ABC's Mixology, set in a swanky bar, bounces between different vignettes of characters falling in and out of love.
And the habitually single are not the only ones looking for love. Divorce: A Love Story is about a divorced couple (The Daily Show's Jason Jones and Better Off Ted's Andrea Anders) who kind of think about getting back together; Ex-Men is about an apartment complex full of divorced guys, all looking for new partners; and the yet-untitled Tad Quill sitcom, starring Matthew Broderick, is about a widower who decides it's time to start dating again. —M.L.
Familiar Names
No pilot is a sure thing, but some are safer bets than others. While one route to safer bets is with familiar stars, another is by working with familiar writers and producers with good track records. This year, Chuck Lorre, who sits high atop Mount Ratings Success, is a writer and executive producer for CBS's Mom. Lorne Michaels is producing John Mulaney's untitled autobiographical sitcom, and Seth MacFarlane is an EP for Dads, about two thirtysomething guys whose fathers move in with them. Greg Garcia (Raising Hope) has two pilots in the works, one starring Rupert Grint and one starring Will Arnett.
The Office's Greg Daniels has the two previously cited comedies, while his fellow Office writers Lee Eisenberg and Gene Stupnitsky are executive producers for three — count 'em, three — shows at this point: Pulling, Trophy Wife (starring Malin Ackerman and Bradley Whitford), and Bad Teacher (they wrote the original movie). Also from the general Office family tree, Parks and Recreation's Mike Schur has a goofy cop comedy starring Andy Samberg.
Even people who don't usually make sitcoms are getting in on the action. Friday Night Lights and Parenthood creator Jason Katims is branching out this season with About a Boy, and David E. Kelley's Robin Williams/Sarah Michelle Gellar comedy is his first attempt at the 30-minute format since Doogie Howser. —M.L.