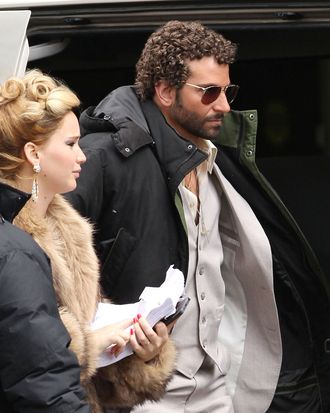 Exclusive… 51055571 "Silver Linings Playbook" costars Jennifer Lawrence and Bradley Cooper are back together again on the set of the new untitled David O. Russell film on April 2, 2013 in Boston, Massachusetts. The pair arrived on set together in full 70's wardrobe. Bradley "Sexiest Man Alive" Cooper is looking to one-up Christain Bale's movie comb-over with a nice head of short Jheri curls for his role in this film!
Photo: Patriot Pics/FAMEFLYNET PICTURES
After spending a long stretch being called American Bullshit, then Untitled Abscam Project, David O. Russell's new film has a title: American Hustle. The name clearly references the crazy work Jennifer Lawrence and Bradley Cooper and Christian Bale have been putting in in the hairdo department — every day they're hustling. Set for a Dec. 13 release, American Hustle will also feature Amy Adams, Robert De Niro, Jeremy Renner, Louis C.K., and Michael Peña.