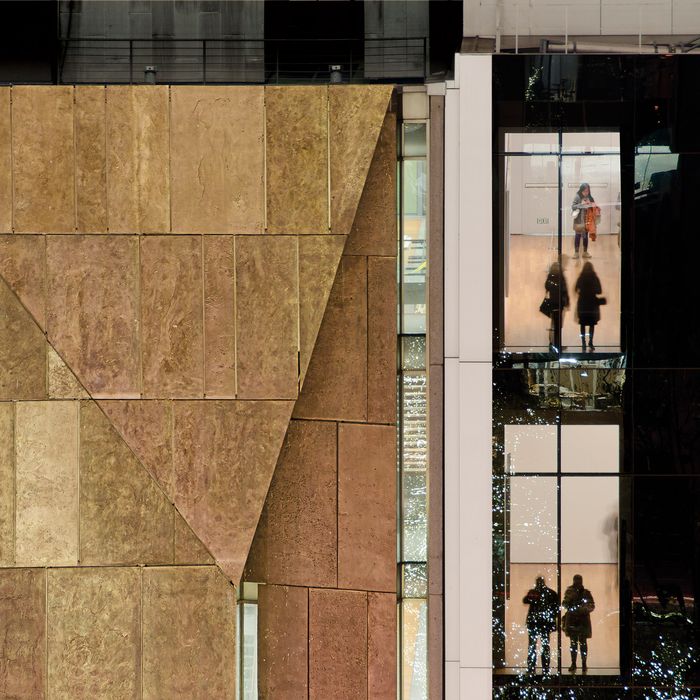 Photo: Giles Ashford/Courtesy of TWBTA
If a commercial developer were to tear down a small, idiosyncratic, and beautifully wrought museum in order to put up a deluxe glass box, it would be attacked as a venal and philistine act. When a fellow museum does the same thing, it's even worse — it's a form of betrayal.
Two years after buying the former American Folk Art Museum designed by Tod Williams and Billie Tsien, MoMA has decided to raze it. The 30,000-square-foot building, with its hand-tooled origami exterior, will make way for a third as much gallery space in the form of high-ceilinged interiors. For the relentlessly expansionist MoMA, that's a sliver of real estate. In 2004, Yoshio Taniguchi's glossy, limo-black expansion absorbed a series of earlier renovations and additions. Eventually, it will get yet another 40,000 square feet of exhibition space in an adjacent tower that has yet to be built. The goal of this spread is, as the museum puts it, "to seamlessly integrate" all these structures, giving visitors an experience of unbroken uniformity.
The financial crisis has hammered arts institutions, especially smaller ones like the Folk Art Museum, which in 2011 retrenched into a small space near Lincoln Center. But the art market remains exuberant, and so do the juggernauts of the museum world. The day before MoMA revealed its demolition plans, the Metropolitan Museum trumpeted Leonard Lauder's stupendous megagift of $1 billion worth of Cubist art. The Met will also soon expand into the Marcel Breuer building that is being abandoned by the Whitney, which is upgrading to newer, bigger digs near the High Line. The gallery-space race goes on.
But while the Met's growth means preserving a tough and quirky modern landmark, MoMA's requires the erasure of another. Williams and Tsien's Folk Art Museum, from 2001, is a recent building that looks like a relic of an artisanal age. Its faceted façade, in shades of old pewter and brass, magnifies a corner of a Cubist painting to an architectural scale. The designers packed a vertical museum into a tight site by threading galleries along staircases and illuminating them with skylights.
It's an awkward arrangement, especially for an institution like MoMA, which likes to have shows sprawl horizontally through suites of neutral galleries. But if the museum's architects can't figure out a way to use Williams and Tsien's ingenious stack of rooms, that is a failure of imagination. The Folk Art Museum's floors don't line up with MoMA's, a tricky problem that, handled creatively, could yield a distinctive museum-within-a-museum. To see how, MoMA's trustees might drop by the Met, which in 1980 enfolded another freestanding structure built to exhibit decorative arts. The result is the American Wing.
MoMA has a distinguished architecture-and-design department whose curator, Barry Bergdoll, has remained silent about all this. His galleries bristle with impractical, visionary works, yet the museum seems intent on containing that kind of individuality under glass. In the painting and sculpture galleries, visitors pass from one radical movement to another, all in an atmosphere of overbearing minimalism. To MoMA, absorbing rather than tossing the Folk Art Museum would be like furnishing a pristine modernist house with an overstuffed floral couch. Its aesthetes can't bear the incongruity.
But the museum might actually benefit from relaxing its orthodoxies. When Taniguchi's expansion opened in 2004, I was awed by its sleekness and ostentatious quiet. Since then, the design has shrunk on me. The corporate chill has intensified, and so has the sense that the museum is a sophisticated apparatus to keep crowds flowing. "If you raise a lot of money, I will give you great, great architecture," Taniguchi told museum officials during the design process. "But if you raise really a lot of money, I will make the architecture disappear." MoMA raised a fortune — and, sure enough, architecture is vanishing.