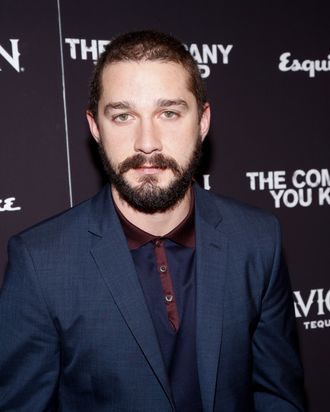 Shia LaBeouf==The Company You Keep New York Premiere Presented by Avion Espresso==MOMA, NYC==April 01, 2013.
Photo: Adriel Reboh/PatrickMcMullan.com
Robert De Niro and Shia LaBeouf are in talks to play father and son in an espionage movie called Spy's Kid. According to THR, De Niro and LaBeouf are considering roles, and D.J. Caruso is in negotiations to direct. (He previously directed LaBeouf in Disturbia and Eagle Eye.) The movie, still unwritten, will be based on the true — bonkers — story of Jim and Nathan Nicholson; Jim, the dad, was a spy for the CIA and then became a double agent. He was caught and incarcerated, and then he started passing notes through his son Nathan to Russian intelligence contacts. (Nathan got caught, too.) Just as long as De Niro and LaBeouf wear 1,000 different wigs, The Americans–style, we'll be happy.