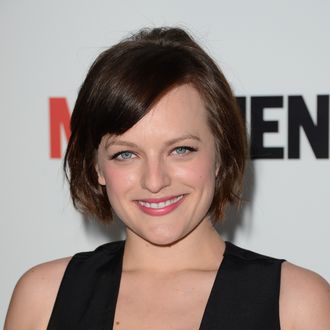 Photo: Jason Merritt/Getty Images
The Simpsons is welcoming another member of the Mad Man cast to Springfield: Elisabeth Moss will voice a character on Fox's animated classic this fall, Vulture can exclusively report. According to showrunner Al Jean, "She'll play a character stuck in an elevator who gives birth to a baby. She names it Homer, Jr." (Peggy Olson is pregnant again!) For you detailed-oriented Simpsons diehards, the episode's title is "Labor Pains," Moss's character is named "Gretchen," and Fox is tentatively scheduled to broadcast the episode on November 3* as part of the show's 25th season. The Simpsons long ago established its love for Mad Men: Both Jon Hamm and John Slattery have lent their voices to the show, while this 2008 parody of the AMC drama's opening credits was pretty much perfect.
*This post originally contained a wrong airdate for the Moss episode.