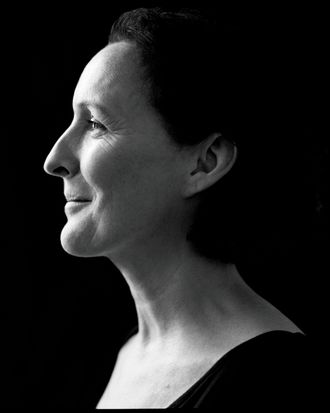 Photo: Brigitte Lacombe. Makeup by Matin, color consultant for Laura Mercier.
"Here we are, two pilgrims queuing up to see sacred texts," Fiona Shaw says in a sturdy brogue, shivering in the Sunday pay-as-you-wish line outside the Frick. Frigid tears course down her cheeks, and a droplet forms at the tip of her nose. "But why are they sacred? They're only sacred because they're going to show us what it means to be two pilgrims standing in a queue freezing! Christ, your city's cold!"
When you're 54 and preparing to embody the mother of God in a Broadway play that's being rewritten a week before previews, you take sniffles seriously. But Shaw isn't complaining; she's riffing. With her machine-gun patter and motley accent—County Cork via the Royal Academy of ­Dramatic Arts—Shaw sounds less like a ­theater-diva import than Russell Brand on a tear, if he had a philosophy degree, which she does. "I have to go through this awful thing of opening the plays," she says. "It's like a crucifixion. And there is a moment when you think, This cannot have meaning, it's just completely dumb. And then sometimes at the moment of despair, the thing suddenly seems to channel meaning."
Shaw's home city, London, isn't much warmer than New York, but it's certainly an easier place for her. There, her fame is palpable and bankable—four Olivier Awards, big parts in arty films like The Butcher Boy and My Left Foot, shorthand superlatives like "one of our finest classical actresses." Elsewhere, including Broadway, she trails behind those dames—Mirren, Dench—whose imperial rank serves as a world pass. Shaw is merely a commander of the British Empire (the next rank down, alongside Catherine Zeta-Jones), and she's made much bolder theatrical choices, including some a little less flattering to the Crown's idea of itself. She's played a king, after all—Richard II in a controversial ­National Theatre run—and had a show banned by the Beckett estate for flouting stage directions. (Let's leave aside for a moment Harry Potter, True Blood, and 3 Men and a Little Lady.)
Now Shaw is reinventing the Queen of Heaven—a project for which she's as much co-creator as star. Together with director and frequent collaborator Deborah ­Warner, Shaw is helping Colm Tóibín translate his revisionist novella The Testament of Mary into what the Irish novelist calls the "much more thrusting language" of drama. The novella was itself based on an earlier monologue by Tóibín. Some time after her son's crucifixion, Tóibín's Mary is a virtual prisoner of two apostles—interrogators bent on twisting a mother's angry grief into the Greatest ­Story Ever Told.
"The back and forth" over revisions "was quite intense, quite chippy, and quite sharp," says Tóibín—but worth it. "You have to take their talent as seriously as you take your own," he says. "I've met my match, and I wanted my match." Even on Sunday, her day off, Shaw has an afternoon meeting with Warner and Tóibín to hash out a scene. ("Deborah perfects it and then throws it out" is how Shaw describes the typical session.) But with her morning free, we've decided to see the Frick's small exhibit of Piero della Francesca, in order to ponder the canonical Mary of the early Renaissance, the stern and stoic Virgin she grew up with in Ireland. "She was blue," says Shaw, "and she was very dull."
That veil is blue, Shaw explains while gazing at Piero's Crucifixion, because lapis lazuli was more valuable than gold in ­fifteenth-century Italy. Her lively deconstructionist tour proceeds through several rooms of religious scenes—flagellation, assumption, deposition, temptation—before expanding to contemplate humanity. The artist's patrons, she tells me, are always in the paintings, and the anachronisms aren't ­accidents but, like Shaw's modern-dress Mary, opportunities for personal connection. "If you'd take that picture and make it now," she says, looking at a crucifixion attended by medieval knights, "they'd be watching it in their cars." And, of course, they'd be embodied by living models. "These people stood there for three days while Piero painted their faces, and they are here being viewed by us, long gone in their body." She pauses. "We're a strange race, the human race. We like just looking at each other. 'Goodness! You're here, too, look at that!' We are delighted by ourselves."
"The thing that I seem to be able to do is these vast changes from one thing to another," Shaw says later, over a post-Frick pain au chocolat. "My mind can do that, it's a gift." That gift serves her well in film—she can be an Edwardian vamp in The Last ­September or Harry Potter's sniveling Aunt ­Petunia—and spectacularly in theater.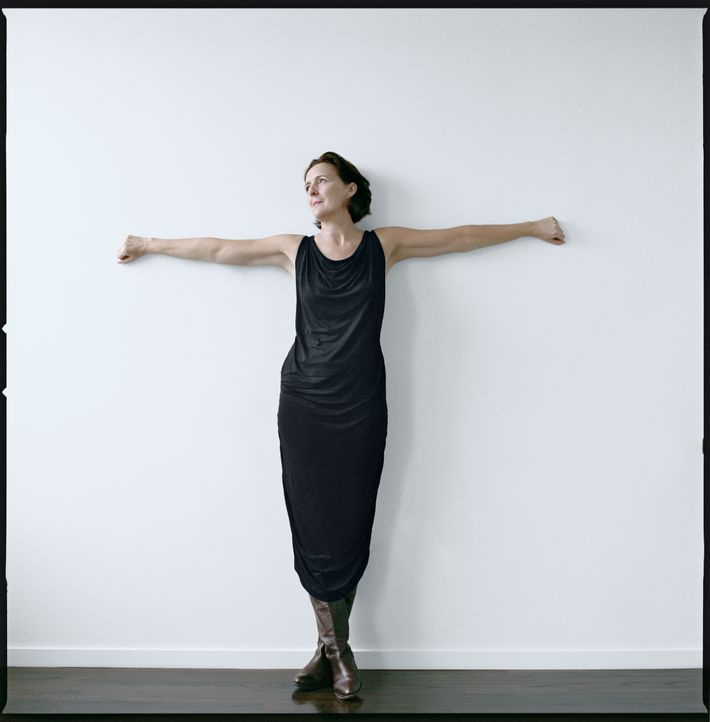 In two quick Mary scenes she ran through for the press one day the previous week, those quicksilver shifts were on full display. Starting out, she could be anyone's nagging, worrywart mother. "He was gracious and gentle and well mannered," she said, fiddling neurotically with a cigarette. (This Mary smokes.) "And he used all that to lead a group of misfits from place to place. 'Gather misfits,' I said, 'and you will have fearlessness, you will have ambition, you will have' "—here she erupted—" 'anything at all!! And it will lead to The Worst. Sort. Of. Catastrophe!!' " She shriveled in her folding chair at the rehearsal, paused, and smiled sheepishly—Fiona again. From a corner, Tóibín quipped, "I'm glad you toned it down a little bit."
Tóibín has long admired Shaw, whom he calls "uncompromising, relentless, highly theatrical, supremely intelligent"—a fairly common assessment in Britain, where she and Deborah Warner have collaborated, over 25 years, on a series of iconoclastic, polarizing reboots (from Electra in 1988 on through Mother Courage three years ago). In 2008 at a Dublin Christmas party, Tóibín struck up a conversation with Shaw's good friend the multimedia artist Dorothy Cross. "We were talking about what Fiona should do next," he says. He'd seen her most recently in Medea and Happy Days. "The idea that I had was, if you adapted some of those very difficult Greek voices and grafted them onto the experience of the Virgin Mary, you would get something electrifying." Listening in was Loughlin Deegan, then head of the Dublin Theatre Festival. He commissioned The Testament of Mary on the spot.
Shaw and Tóibín both grew up with the looming Mary of Irish Catholicism. "You're always acting from your own childhood," Shaw says. "I come as myself." Her father was a Cork eye surgeon; her mother held a physics degree. "We lived in permanent ironic jokes about the religion," she says, "whilst we all went to Mass. It's amazing how many educated people are entirely devoted Catholics." Shaw was never really one of them. She remembers being taken to visit her uncle, a monk, at a famous monastery with a dovecote. Her 6-year-old brother saw the doves, "but I wasn't allowed to go, through no fault of my own—for being female. Now, what sort of screwed-up religion will not allow a 3-year-old to go see the doves? From then on, I had difficulty with the Church."
After graduating from college in Ireland at her father's insistence, Shaw did what so many Irish artists have; she fled to London. "I was given, on a plate, a fantastic career," she says—beginning with the gamut of comic Shakespearean roles. "I did a film"—My Left Foot—"then another. Did I go to Hollywood then? No, didn't cross my mind," she says, with only a tinge of regret. "And then I did Electra, which was life-changing." During that first major Warner collaboration, "I realized that theater was about something more than entertaining people." She also found a deep personal vein in the tragedy: Electra believes that her brother is dead, and Shaw credits her Olivier-winning performance to the death, just a few years earlier, of her own younger brother in a car accident. "I felt some ownership of that human pain."
A quarter-century later, she summons that loss to help explain Mary's most blasphemous contention, which is that Jesus rose from the dead only in his followers' dreams. "When my brother was killed, I saw him," says Shaw, almost too casually. Shaw's mother saw him, too. "It's a well-known pattern," she says. "Somebody rolls across the street, and you think, It's ­Peter! And he doesn't exist, of course. There's nothing eerie about it, and my mother says that when she saw Peter"—knowing he wasn't there—"she suddenly questioned the Resurrection." If they'd both hallucinated a ghost, maybe Mary and the apostles did, too.
In the Hothouse London press, where avant-garde directors still make headlines (imagine Robert Wilson in the New York Post), Shaw and Warner are known as the Terrible Twins: fodder for critical essays and gossipy chatter, magnets for accolades and, occasionally, outrage. Their 1991 ­Hedda ­Gabler was a critical triumph, but then came Footfalls—shut down by the Beckett estate, after just a week, for sins ranging from transposed lines to improper clothing—and the gender-bending ­Richard II, widely panned in England. Their 2002 adaptation of Jeanette Winterson's novel The PowerBook led the Telegraph to ­declare: "The scene in which she starts ­dementedly bopping to Blondie is one of those moments of buttock-clenching embarrassment without which no Shaw/Warner ­collaboration is complete."
Gossip rode the coattails of bad reviews. Warner had a stormy romance with Winterson, and Shaw—herself once linked to Warner—was rumored to be involved with Saffron Burrows, who played her lover in The PowerBook. Tóibín and Warner are openly gay, but Shaw has never declared her sexuality. When I ask, she laughs and says, "I wish I knew myself!" She follows with protestations of happy, workaholic solitude. "I'm a very private person who comes from the provinces, who's as surprised by the way my life is lived as anyone else," she says. "But there's nothing great to be said about it. I live very modestly."
She's not nearly so tight-lipped about ­religion—as befits an actress about to contradict the Bible onstage. Shaw watched the conclave that preceded Pope Francis's election. "You don't see a sign of any female personage within ten miles of that Vatican—I mean, what are they on?" she says. "They would be freed by it if they would release it to be a religion for all humans! And I think people—Colm and I, who have lapsed—we'd possibly join it. Or we'd allow the inheritance of it to be part of our lives."
Shaw has several riffs in this vein. "You're being faced with a man bleeding half-naked from a cross, and you are meant to contemplate it!" she says at one point about her religious upbringing. "What am I meant to contemplate?!" But then she doubles back, realizes that her business may not be all that different from Rome's. "There's a Danish philosopher," she says, "who has come up with the fascinating notion that actually the moment of despair, of Christ's death, is the moment which we all need to be freed from—but not through resurrection. Just the fact that someone has dared to say there is this much despair in life may have in itself some healing potential. And certainly I think tragedy does the same thing."
Tragedy is what resurrected Shaw and Warner in the aughts. Their Medea, first staged in 2001, made it to BAM and then Broadway, and Shaw was nominated for a Tony. Then they produced a harrowing Happy Days—this time with the blessing of the Beckett estate. It toured everywhere from bam to an ancient amphitheater south of Corinth. They dramatized T.S. Eliot's The Waste Land in, among other places, an old disco in Brussels and a former munitions factory in Dublin. Shaw recited "The Rime of the Ancient Mariner" in a cavernous tunnel behind Waterloo Station. "Deborah and I have done things in very strange places," she says. "Broadway is another one."
There will be other places; there always are. About ten years ago, Shaw got "fed up" with all the travel, the "glut of riches." "I was pretty low," she says, "and realized I was burning myself out." She promised herself she'd slow down, spend more time at home. She's recently bought a townhouse in trendy Islington. But it hasn't quite worked out. "I think I've got ten years of being able to do the kind of tearing around that I do," she says. It does seem to be her natural state. Before long, she's sweeping her arm across the café and unleashing another one of her perfectly sensible non sequiturs: "Everybody in this room is going be dead in a hundred years! When a baby dies, people get very sad. But a baby hasn't yet fallen in love with the world. When we've fallen in love with the world, then what do we do? It's absolutely awful." She cracks a crooked smile.
*This article originally appeared in the April 15, 2013 issue of New York Magazine.