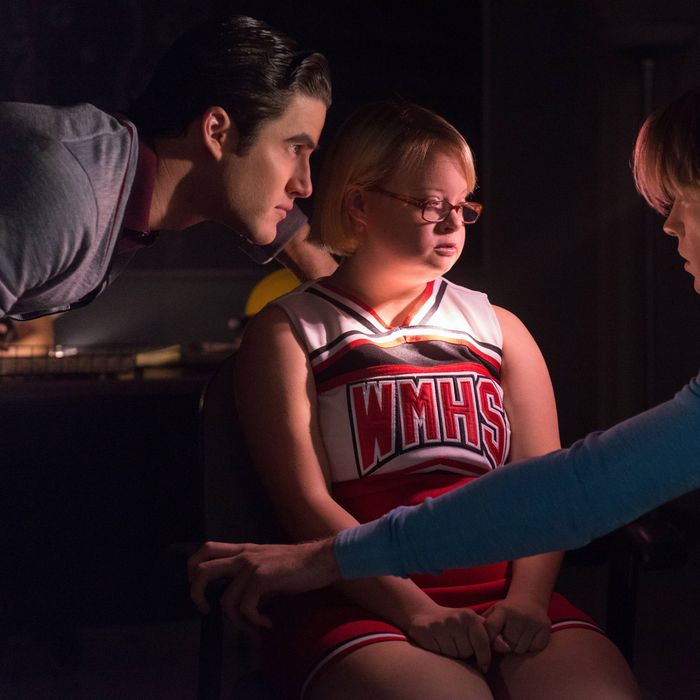 The third- or fourth-to-last episodes of a season of television are often a little dicey; unless you're watching a series like Homeland or Breaking Bad that uses every last nanosecond of storytelling, you're going to be faced with an episode or two where the series spins its wheels on its way to the big finale. Last year, Glee handled this with a whimsical episode in which everyone switched bodies, Freaky Friday style. This year, the show went with a blackout, a handful of decent songs, a surprise molestation story line, and Sarah Jessica Parker. Sounds about right.
Mr. Schue kicks things off by telling the kids that they'll be facing a competitor (American Idol's Jessica Sanchez) at Regionals with a huge voice. To beat her, he says, they'll need "epic songs that will blow the heads off of 100,000 people." This is not the sort of language I'd use with a bunch of kids who likely have school-shooting-induced PTSD, but hey, I just work here. When the school loses power, Mr. Figgins explains that candles and lanterns will be distributed based on GPA, and Mr. Schue changes gears and says this will be "unplugged" week instead.
Sam starts by singing "You've Lost That Loving Feeling." My guess is that he was originally slated to sing it to Brittany, but that this was one of the episodes producers let Heather Morris miss for pregnancy-related reasons. Unless she's hiding in a shadow someplace and I missed her; it's actually so dark it's distracting. Instead, Sam justifies it mainly by saying it was the song he was conceived to, and then later gets mad because he used to have to entertain his siblings using only his voice and his guitar when their family's power would get shut off for nonpayment. It's a pretty random rant, and not just for its reliance on the terms "Twitterverse" and "blogosphere."
Against all the odds in the known universe, Ryder's catfishing story line marches on; he still hasn't met "Katie," but he's sure she's one of the New Directions. He goes to Mr. Schue and asks for permission to do a partially plugged song because "what he really wants to unplug are his feelings." He sings "Everybody Hurts," and it seems impossible that this song hasn't been done on Glee yet, but here we are. (It was done on Ryder's season of The Glee Project, though.) It's intercut with somber footage of kids being slushied and then, after the song ends, Ryder shares that he was molested when he was 11 years old. He explains the perpetrator was his female babysitter, and immediately Sam and Artie want to know what the big deal is. "Some hot 18-year-old plays with your junk? I'd kill for that! It's every teenage boy's fantasy!"
(This was the point at which I wondered whether this story line was playing out on everyone's television, or if the show had found a way to personally punk me.)
Look, I know the easy, dismissive response is, "It's clear that Sam and Artie were just being insensitive idiots," but you know whom that wouldn't be clear to? Other insensitive idiots, who'll move forward in life with the idea that that particular type of sexual abuse "doesn't count." It's also horrifying when you consider watching that scene as a victim of abuse who hasn't come forward; the message is that you'll be laughed at and told it wasn't a big deal.
The PSA that ends the episode is helpful, but a good way to avoid needing to end episodes with PSAs about sexual abuse is to not include the story line in the first place. It would've been simple to have Ryder bring up trust issues in a lower-stakes way — maybe he has trouble trusting people because he's been made fun of for his dyslexia, or maybe he has trouble trusting people because he's a human and that's how humans work. Not all the things that complicate us or make us interesting as humans are born out of trauma, and I'm not even remotely confident that the Glee writers' room understands that. Could we get Emma to make them some pamphlets or something? Please?
Bottom line: To raise emotional stakes, deepen the characters. Don't heighten the drama of their circumstances.
Also, Kitty is or isn't Katie.
Somewhere in all this nonsense, Sue sings "Little Girls" from Annie as she tries to convince Becky (and herself) that she doesn't miss coaching the Cheerios now that she's left McKinley. The number was added to the show as a cross-promotion for Jane Lynch's appearance in Annie this summer, which is why it seems so shoehorned in — it's not really a number that works outside the context of Miss Hannigan's alcoholic careening, but that isn't to say it (and she) won't be great in the show.
Meanwhile, back in New York, Kurt and Rachel think Santana is floundering, despite the fact that she's an 18-year-old woman with three reasonable paying jobs and a place to live. The fact that she's not actively training to become a singer, dancer, or actor absolutely befuddles and concerns them, and it makes me wonder whether anyone at McKinley High School is aware that there are other jobs than those. I want to buy copies of Maybe You Should Fly a Jet! Maybe You Should Be a Vet! for the entire student body. Santana says that she doesn't want to be in Funny Girl like Rachel, or a singing waiter at a Fire Island Pancake Shack like Kurt will be someday, and wins the argument by calling Kurt Lady Elaine Fairchild, which is my new favorite Santana insult, hands down.
Kurt ends up recruiting Santana and Rachel to help him and Isabelle with their Vogue duties at a New York City Ballet gala; pretty easily, the entire affair segues into a performance of "At the Ballet" from A Chorus Line. It's fun to see the childhood ballerina versions of Kurt, Rachel, and Santana (bonus points to the little girl rolling her eyes at Rachel), and all three of them (and Sarah Jessica Parker) look gorgeous in their couture from the "Vogue.com vault." And I appreciate the ambition of taking on a song like this, if for no other reason than it's very adult. Unless Glee's going to pull a last second total cast replacement before its now-confirmed fifth and sixth seasons, it'll be doing numbers like this a lot more frequently, and this isn't a bad start at all.
But the song is so narrative and the characters in the original show so specific and starkly drawn that it doesn't quite work; it can't. We know enough about the backstories of Kurt, Rachel, and Santana to know that the lines they're singing might not be technically false, but they're not all that true, either. Rachel's home life has always been idyllic, and to hear her sing otherwise is just confusing, no matter how beautifully she sings it. Plus — and, okay, fine, now I know I'm being too picky — these kids were the same age and lived in the same small town and were in completely separate ballet classes?
While Santana's love of dance came out of nowhere and will likely be dropped next week, I almost wish that "At the Ballet" had come at the end of the episode, when she enrolls in a NYADA extension ballet class, maybe even with one or two of the other students singing, too. (Don't get me wrong, I don't want Glee to morph into an "everyone bursts into song" sort of universe, but some of these other kids at performing arts school are going to have to perform at some point, right?)
Next week, Burt Hummel is back. He'll fix it, guys.