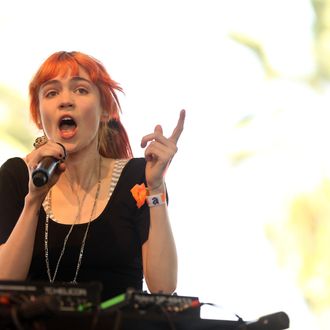 Musician Grimes performs onstage during day 3 of the 2013 Coachella Valley Music & Arts Festival at the Empire Polo Club on April 14, 2013 in Indio, California.
Photo: Karl Walter/Getty Images
"I don't want to have to compromise my morals in order to make a living…i dont want my words to be taken out of context…i dont want to be infantilized because i refuse to be sexualized…i dont want to be molested at shows or on the street by people who perceive me as an object that exists for their personal satisfaction." —Indie pop star and aspiring Targaryen Grimes writes about objectification, sexism, body image, and more on her Tumblr. Read it all.