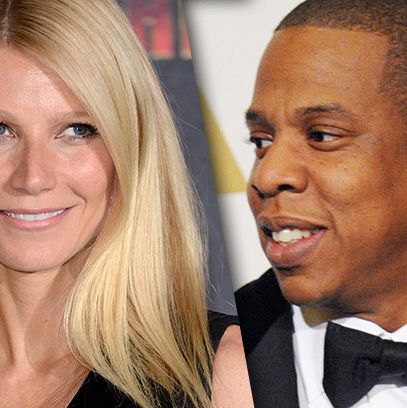 Gwyneth Paltrow doesn't have any problems namedropping her celebrity friends during interviews (Mario Batali, Madonna, etc.), not that she should! She's famous and famous people have famous friends. But there's one person Gwyneth tends to mention more than any other — BFF Jay-Z. If you don't believe us, check out this list of all of the times the Iron Man 3 star has name-checked Hova in the press.
* "I don't hold on to fear as much as I used to, because I've learned a lot about genuinely not caring what strangers think about me," Gwyneth told Harper's Bazaar this month, teeing up her latest Jay mention. "It's very empowering, and I've learned a lot of that from Jay — Shawn Carter — Z, because his approach to life is very internal. It's a very good lesson to learn."
* That's not the first time Gwyneth has spoken of Jay in such reverential tones. "Jay is one of the people I respect most in the world," she told interviewer Steve Stoute, "and he's such an iconoclast in so many ways."
* In fact, Hova's basically become part of the family. "Jay is like a big brother figure to me," she told Now, adding, "The kids call him Uncle Jay and Beyoncé, Auntie B."
* Gwyneth freely uses the nickname herself.
* And clearly, Jay-Z has attained "favorite uncle" status. (Sorry, actual uncle Jake Paltrow.) Paltrow told Harper's that her son Moses is "obsessed with hip-hop and wanted a chain like his Uncle Jay."
* Sometimes she invites Jay over for dinner, and other times they go on double dates with Chris and Beyoncé, since the two couples are exactly alike: "Chris and I are like Jay and Beyonce: two paranoid ironists and two calm, grounded people," she told The Sun. 
* Gwyneth declared the birth of Jay's daughter Blue Ivy to the universe …
* … and made sure everyone understood exactly how that name went.
* Although, sometimes Gwyneth can get a little bit too familiar.
* Gwyneth and Jay-Z have continued their friendapalooza on each others' websites. "You are the coolest man on Earth, how the f did you get like that?" she asked Jay-Z on her own site, Goop, adding, "As someone who has walked through museums with you, eaten with you, heard music with you, I know firsthand how creativity in all areas lifts your consciousness."
* Meanwhile, on Jay's site Life and Times, Gwyneth took the opportunity to impress him with her extensive knowledge of hip-hop history. "It was an accident that I learned every word of 'Straight Outta Compton' and to love something that a.) I had no real understanding of in terms of the culture that it was emanating from and b.) to love something that my parents literally could not grasp," she told him. "But I was hooked. I can't remember what I ate for dinner last night but I could sing to you every single word of N.W.A's 'Fuck Tha Police' or 'It Takes Two.'"
* To be fair, though, even Chris Martin can't believe they're friends with Jay-Z. The Coldplay singer confessed to The Sun, "When Jay first said, 'I like your band,' I was, like, 'What the fuck are you talking about? No, you don't!'"
* Everybody dance now!