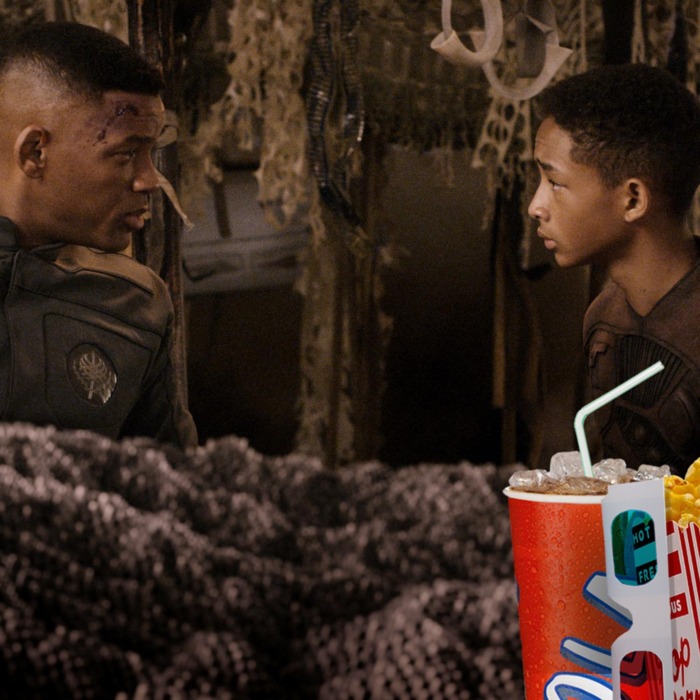 Will Smith, left, and Jaden Smith star in Columbia Pictures' "After Earth."
Photo: Columbia Pictures
In M. Night Shyamalan's summer sci-fi film After Earth, Will Smith plays a strict general who's molding his young son to follow in his footsteps, and since the son character is played by Smith's real-life offspring Jaden — an incipient movie star himself — it's not hard to read in some real-life subtext. When parents and children star together onscreen, it can be a tricky thing indeed: Sometimes the fictional relationship feels like a private glimpse into the stars' real one, while other times, the stars create some cognitive dissonance when they play characters who aren't related at all. Until we find out how the Smiths have done at it, here are several other notable movie pairings of parent and child.
Ryan O'Neal and Tatum O'Neal, Paper Moon
Tatum O'Neal had never acted before she made Peter Bogdanovich's Paper Moon, but when she earned an Academy Award for it, she became the youngest performer ever to win a competitive Oscar. Though the film was originally earmarked to star Paul Newman and his daughter, Bogdanovich was urged by his ex-wife Polly Platt to consider casting Ryan O'Neal and Tatum, and the two slid into their con artist roles perhaps a bit too perfectly: The notion of Ryan teaching Tatum all those bad habits would take on unintended undertones later on in life, when Tatum would accuse her father of physical abuse and follow him into drug addiction.
Was It a Good Idea? For cinema's sake, it's hard to imagine Paper Moon without these two, but child actors need a lot of guidance from their parents if they're to grow into stable, sane adults. When your father is a drug-addicted movie star himself, the odds are thusly stacked against you.
Stellan Skarsgård and Alexander Skarsgård in Melancholia
In Lars von Trier's doomy end-of-the-world drama, Alexander Skarsgård plays Kirsten Dunst's sweetheart fiance Michael, and his father Stellan plays Dunst's boss, who Michael has asked to serve as his best man. (The fact that the Skarsgårds are offscreen relations never even enters into it, aside from the offbeat way both men speak English.) "It was awesome," Alexander told MTV. "We've never worked together before. He's one of my best friends. I love hanging out with him." Awww. "He's such a douchebag in the movie," Alexander added with a grin.
Was It a Good Idea? The Skarsgards don't look too much alike, so it's plausible that they could play unrelated characters … but it's awfully distracting nevertheless.
Henry Fonda and Jane Fonda in On Golden Pond
It wasn't difficult for the Fondas to play a father and daughter at odds with each other in On Golden Pond: Essentially, that's the sort of prickly relationship they had in real life, too. Jane obtained the rights to the play with her father in mind, and it was his final film role, as he died a year later. Jane would go on to accept Henry's Golden Pond Oscar in his stead, and this weekend, she'll put her hand and footprints next to his in the courtyard of the historic Chinese Theatre, where she'll be presenting their movie at the TCM Classic Film Festival.
Was It a Good Idea? Yes. What a perfect way for Henry Fonda to close out his career and make reparations with his daughter: Their real-life history only adds to the resonance.
Kirk Douglas, Michael Douglas, and Cameron Douglas in It Runs in the Family
Art imitated life in this 2003 dramedy, where three generations of Douglas men played members of a high-achieving yet dysfunctional family. Some of the characterizations cut awfully close to home: Kirk's ex-wife was cast as his current wife in the film, while Michael's son Cameron is caught with drugs, something the youngest Douglas knew all too well: He was arrested for cocaine possession in 1999. Cameron continued to struggle with drug issues after the movie was released, and in 2010, he was sentenced to five years in prison for intent to distribute heroin, a sentence that was lengthened to 2018 after he was discovered to still be using drugs while in the clink.
Was It a Good Idea? Maybe not, all things considered.
Diane Ladd and Laura Dern, Rambling Rose
Enlightened wasn't the first time Laura Dern acted opposite her real-life mother Diane Ladd; the two actresses have made several films together, including Alice Doesn't Live Here Anymore and Wild at Heart. Their most notable credit may be 1991's Rambling Rose, where Dern played an abundantly sexual young woman who's taken in by a family that includes Ladd as its matriarch. Both women scored Oscar nominations for the film.
Was It a Good Idea? Yes, and they clearly agree, since they've continued to work together so often. But let's get them in another big-screen effort!
Demi Moore and Rumer Willis, Striptease
Rumer Willis was just a grade-schooler when her mother Demi Moore picked up a bodacious paycheck to star as an exotic dancer in the decidedly R-rated Striptease. Not necessarily the sort of film where you want to take your daughter to work, and yet Demi had Rumer cast as her character's screen daughter. In fact, Rumer's gone in to appear in several of her parents' films: Her first screen credit was in Demi's Now and Then, and she's also had parts in dad Bruce Willis's Hostage and The Whole Nine Yards.
Was It a Good Idea? Feels a little awkward, wouldn't you say?
Janet Leigh and Jamie Lee Curtis, The Fog
Leigh and Curtis had played family before on an episode of The Love Boat, and when John Carpenter wrote a role for Leigh in his horror flick The Fog (which was to star Curtis), the Psycho actress reportedly had reservations that they'd start to become typecast as mother and daughter. Fortunately, Leigh and Carpenter had become friendly after he catapulted her daughter to fame in Halloween, and he made sure that in The Fog, they wouldn't play blood relations.
Was It a Good Idea? Yes, especially since both women had such notable horror pasts.
Angelina Jolie and Vivienne Jolie-Pitt, Maleficent
This revisionist Disney fairy tale won't even come out until next summer, yet it's already generated plenty of headlines for the screen debut of Vivienne Jolie-Pitt, one of the golden children sired by Angelina Jolie and Brad Pitt. (4-year-old Viv made a cool $3,000 a week for the film.) The tricky part? Vivienne is playing a young version of Princess Aurora … the character that Jolie's evil Maleficent will terrorize and try to murder when the girl reaches her teen years. Fairy-tale filicide … what would a blockbuster-in-waiting be without it?
Was It a Good Idea? We'll see!