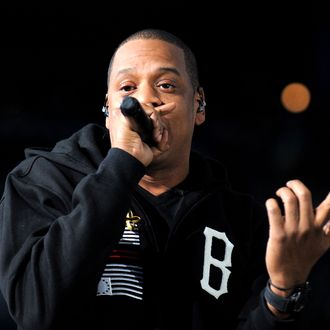 Singer Jay-Z performs before US President Barack Obama speaks at a campaign rally in Columbus, Ohio, on November 5, 2012. After a grueling 18-month battle, the final US campaign day arrived Monday for Obama and Republican rival Mitt Romney, two men on a collision course for the world's top job. The candidates have attended hundreds of rallies, fundraisers and town halls, spent literally billions on attack ads, ground games, and get out the vote efforts, and squared off in three intense debates.
Photo: JEWEL SAMAD/AFP/Getty Images
"Being a member of the Nets organization surpassed some of my greatest ambitions. It was never about an investment; it was about the NETS and Brooklyn. My job as an owner is over but as a fan it has just begun." —Jay-Z, who reportedly had plans to sell his (very) partial ownership in the Brooklyn Nets in order to become a sports agent, confirms those rumors in another open letter. Kris Humphries's job is safe.