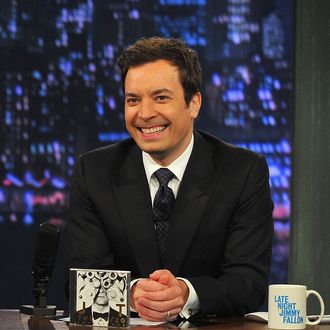 Photo: Theo Wargo/Getty Images
After weeks of rumors and more than a few monologue jokes, NBC has made it official: Jimmy Fallon will take over The Tonight Show in spring 2014, the network announced today. Tonight will indeed be moving back to New York, and Lorne Michaels will become an executive producer. So far, no announcements have been made about who will take over the Fallon slot, but the switch will come right on the heels of the Sochi Winter Olympics — which means whoever it is, we will see 900,000 promos of him or her. Anyway, congratulations, Jimmy Fallon; if you manage to be the most popular host in your time slot for 22 years, you, too, can be weirdly ousted before your contract is up.

Update: And what about the Roots? "Nothing to report yet on that front," says an NBC rep.
Update II: Jay Leno says this transition is different from the 2009 debacle in which Conan O'Brien took over and was then ousted. "The main difference between this and the other time is I'm part of the process," Leno tells the Times. "The last time the decision was made without me. I came into work one day and — you're out. [This time], there really aren't any complications like there were the last time … This time it feels right," he says.