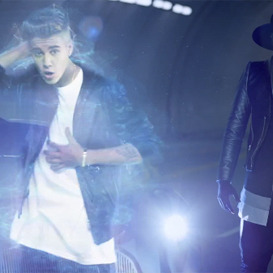 Our very own musical Steve Jobs, will.i.am, has finally figured out a way to keep Justin Bieber off Twitter and in a box … FOREVER. Will sells his own brand of SuperCar, a line of pricey iPhone accessories — and he's even supposedly got an "X Factor-style technology show" in the works. And in the video for "#thatPOWER" (do we have to use both the # and caps?), he's figured out a way to bottle the essence of Bieber into a small box, to take out and perform whenever and wherever desired. Now, #THAT is a business model. So how does it work?
Bieber emerges from will.i.am's magic box, which he assumingly travels with wherever he goes.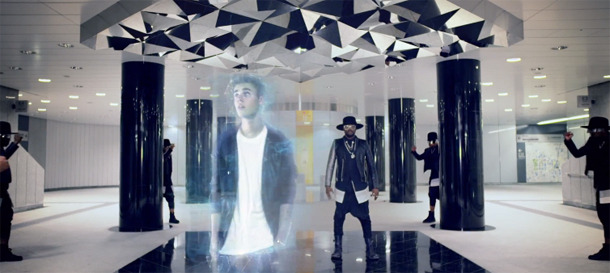 The science behind the Biebergram is complicated, to say the least, but his projection seems to still have a good grasp on subtle popping and locking movements …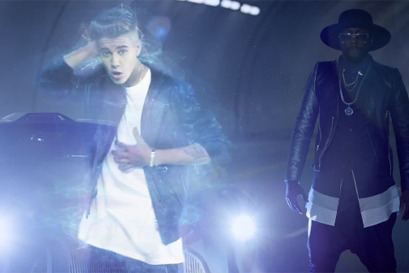 … and even an electrifying wingspan.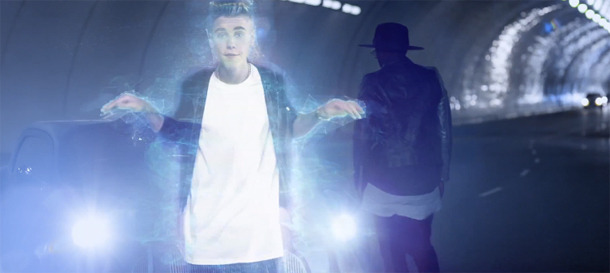 If you recall, this isn't Will's first experience with holograms. He appeared AS ONE during the 2004 presidential race, chatting with Anderson Cooper.
Not enough #POWER in those Bieber moments for you? Will.i.am also wears a bunch of necklaces. Check it out in the full video.