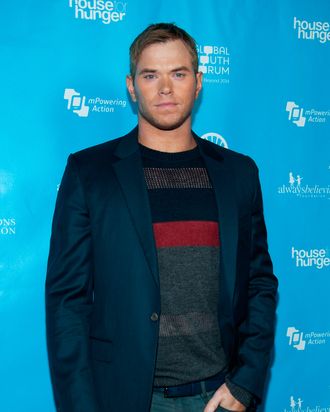 Kellan Lutz arrives at the mPowering ActionPre-GRAMMY Launch Event at The Conga Room at L.A. Live on February 8, 2013 in Los Angeles, California.
Photo: Valerie Macon/Getty Images
The Hollywood Reporter writes that Kellan Lutz has been cast to play Hercules in Hercules 3D. We know what you're thinking: Isn't the Rock supposed to be playing Hercules? He is, in the Brett Ratner–directed Hercules: The Thracian Wars. There are two Hercules movies in production, Armageddon–Deep Impact style. Not sure why they don't just merge the movies and make it about buddy Herculeses — one a streetwise, slovenly demigod, the other a straight-laced uptight demigod — who fight mythic-crime while bickering.