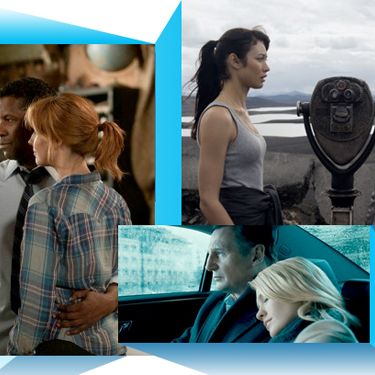 Yesterday, Kristen Stewart fell out of the con-artist comedy Focus after Will Smith replaced Ben Affleck as the male lead; according to Variety, she was nagged by "the feeling that the age difference between the two would be too large a gap." For the record, Smith is a mere four years older than the 40-year-old Affleck, and if it seems a little odd that either of them would be considered a romantic partner for the 23-year-old Stewart in the first place … well, welcome to Hollywood. It seems like time and time again, male movie stars are allowed to age into their forties, fifties, and even sixties while the ages of their female love interests remain firmly on one side of the big 4-0, but is this a perception borne out of reality? To find out for sure, Vulture has analyzed the data of ten middle-aged leading men and the ages of the women they've wooed onscreen; you'll see the results in the charts below.
How'd we arrive at our conclusions? For each of our leading men, we tried to pick a representative sample of films — usually ten — where that A-lister had a notable love interest or wife, then we plotted the age gaps on our charts over the course of that star's career. (Because production dates for older movies can be hard to come by, we measured the stars' ages on the day the film in question was released.) The results confirmed our suspicions: As leading men age, their love interests stay the same, and even the oldest men on our list have had few romantic pairings with a woman their own age (or even one out of her mid-thirties). If our actor was sharing the screen with an A-lister of commensurate star power like Julia Roberts or Angelina Jolie, the age difference would drop somewhat, but in movies that relied solely on our guy's big name, the lesser-known love interests would nearly always be decades younger.
Scroll down to check out our findings in-depth.
DENZEL WASHINGTON
Denzel Washington's pushing 60, but you wouldn't know it from his love interests, who tend to stay 35 and under. Perhaps that's because Washington rarely gets to romance an actress as formidable as he is (a fact of life that may owe more to Hollywood's racial prejudices than gender inequality), because when he went toe-to-toe with Angela Bassett for Malcolm X and Whitney Houston in The Preacher's Wife, the age differences weren't quite as egregious. (He did pair with Julia Roberts and Angelina Jolie when they were newbie superstars, but those films — The Pelican Brief and The Bone Collector — were cautious and chaste when it came to suggesting a love connection). The older Washington gets, the less it seems to matter to his love interests, as the last three notable ones — Paula Patton, Lymari Nadal, and Kelly Reilly — were all more than twenty years younger than he was.

HARRISON FORD
Ford rose to stardom in his late thirties, but the first time he had a notable love interest in her late thirties, it was in 1999's Random Hearts … when Ford was an age 57 to Kristin Scott Thomas's 39. The vast majority of Ford's love interests have been at least fifteen years younger than him, and some were far younger than that: When Six Days Seven Nights came out in 1998, pundits debated whether the sexuality of Ford's co-star Anne Heche might prove a distraction, paying little mind to the fact that Ford was 26 years older than the woman he was supposed to woo.
JOHNNY DEPP
Johnny Depp likes 'em young: Nearly all of his notable love interests have been 25 or under, and a few of them — including Winona Ryder, Juliette Lewis, Christina Ricci, and Keira Knightley (who shared a kiss with Depp in the second Pirates film) — would have been carded at the time they swapped spit with the star. In fact, the cradle-robbing Depp has only had two notable love interests in their mid-thirties, and all Juliette Binoche and Angelina Jolie had to do to make that cut is win an Oscar beforehand. Easy!
TOM CRUISE
Tom Cruise has had an interesting romantic trajectory onscreen: At the start of his career, almost all of his love interests were older than him. Shelley Long in Losin' It, Rebecca De Mornay in Risky Business, Kelly McGillis in Top Gun … time and time again, an older woman would seduce the sexually inexperienced Cruise onscreen. It's no wonder women used to love him! In the nineties, though, Cruise began squiring the five-years-younger Nicole Kidman, and he's remained the older man in all of his romantic encounters since. From Vanilla Sky on, the closest Cruise will let a woman get to his age is ten years; in the new Oblivion, he's a full seventeen years older than his female lead, Olga Kurylenko.
GEORGE CLOONEY
Compared to Cruise, the women that George Clooney screen-dates are a smidge more age-appropriate (most of them are only eight or nine years his junior), and twice he even wooed actresses who were three older than him: Michelle Pfeiffer in One Fine Day and Holly Hunter in O Brother, Where Art Thou? When it comes to co-stars, Clooney tends to have his pick of classy actresses in their mid-thirties, though as he gets older — Clooney will turn 52 in May — the age of his love interests still seems to have plateaued.
RICHARD GERE
Former Sexiest Man Alive winner Richard Gere is a good-looking 63, but his love interests haven't aged much in the three decades he's been a star: From Pretty Woman on, Gere's female co-stars have been 10 to 30 years younger than him, a trend that shows no signs of abating now that he's in his seventh decade. To be fair, he's played husband to the three-years-older Susan Sarandon in both Shall We Dance and Arbitrage … but in the former, he spends far more screen time with the much younger Jennifer Lopez, and in the latter, he's stepping out on Sarandon with supermodel-turned-actress Laetitia Casta, who's separated in age from Gere by a solid 29 years. At least Gere had the tables turned on him somewhat in Unfaithful, where his fifteen-years-younger screen-wife Diane Lane had an affair with a younger man, Olivier Martinez. How much younger than Lane was Martinez? Well … one measly year, actually.
STEVE CARELL
When your breakout film is called The 40 Year Old Virgin, it ensures that audiences will forever be aware of your age … even if you were actually 43 when it came out, as Steve Carell was. In that movie, he fell in love with the three-years-older Catherine Keener, and ever since, Carell has looked most at home with romantic partners nearer to his age, like Lauren Graham, Tina Fey, and Julianne Moore. Every so often, though, Hollywood will insist at throwing a twentysomething starlet at Carell, and it's just awkward: Movies like Get Smart, Seeking a Friend for the End of the World, and The Incredible Burt Wonderstone had more than a few problems, but the main issue in all three is how ill at ease Carell seems when romantically paired with an actress who's twenty years younger. Let's hope Carell got the memo and will continue to be the rare male star who mostly sticks to love interests in their forties (as his new screen paramour Kristen Wiig will be when Anchorman 2 comes out this winter).
BRAD PITT
Brad Pitt began his career as a romantic idol by taking a page straight out of the Tom Cruise playbook: After his roll in the hay with the eight-years-older Geena Davis in Thelma & Louise, he then began screen-dating the much younger women he was seeing in real life, Juliette Lewis and Gwyneth Paltrow, who were both around a decade Pitt's junior. (That's apparently his sweet spot, as Angelina Jolie would later be able to attest.) The rest of his romantic history runs the gamut, though Pitt did once take a screen-wife his own age: Mary-Louise Parker, who only got a handful of lines in The Assassination of Jesse James by the Coward Robert Ford.
LIAM NEESON
Remember how Depp only allowed a love interest within striking distance of his own age if she was an Oscar-winning actress? The same more than holds true for Liam Neeson, who was partnered with older Oscar winners Jessica Lange and Meryl Streep in the mid-nineties. Aside from that brief moment in time, Neeson usually robs the cradle by wooing actresses around fifteen years younger than him, and ever since Taken reestablished his box-office virility, the age of his love interests has dropped precipitously: More than two and a half decades separated Neeson from his screen-wife January Jones in Unknown, and in Paul Haggis's next film, Third Person, the 61-year-old Neeson will bed 29-year-old Olivia Wilde.
TOM HANKS
Well, here's something novel: an A-lister whose leading ladies actually age alongside him (though they still tend, on the whole, to be a bit younger). There aren't any egregiously age-inappropriate pairings in Tom Hanks's portfolio, since Hanks keeps his love interests within at least ten years of him at all times. He also aims high: Most of his female co-stars are Oscar winners or nominees, from Helen Hunt to Halle Berry, and he'll co-star with two-time nominee Catherine Keener (who's only three years younger) in this year's fact-based drama Captain Phillips. Then again, maybe it shouldn't surprise us that Hanks is an A-list aberration in this group: For 25 years, he's been married to the same woman, actress Rita Wilson … and both Hanks and Wilson are 56.
* The charts for Steve Carell and Tom Hanks have been updated.