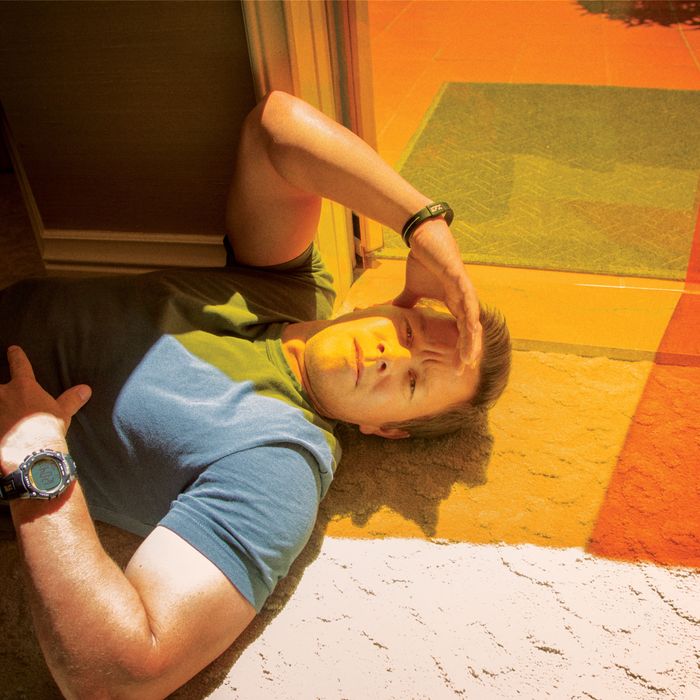 Photo: Tierney Gearon/New York Magazine
Mark Wahlberg's handshake comes as something of a shock. A light, no-pressure clasp, it's a long way from the hand-mangling kung fu grip that one might expect from the pumped-up star of Michael Bay's Pain & Gain. "People who do that have a reason, and maybe it's a good one," says Wahlberg. "My dad always said to give someone a firm shake and look them in the eye." But his handshake, like his talk-softly-and-carry-a-big-stick speaking voice, is so mild-mannered that I figure there must be a good reason for it, too.
When I ask, he holds up his right hand. "This knuckle is gone," says Wahlberg, who trained for four years and went without a stunt double to play the title role in David O. Russell's 2010 boxing drama The Fighter. "And this one," he says, pushing his index-finger knuckle back and forth, "just floats. I have really tender hands."
In the parlance he employs without a shred of irony, Wahlberg is taking meetings today at the Beverly Hills Hotel—not in the high-visibility Polo Lounge over lunch, as originally planned, but on a discreet patio just off the lobby. His attire is extreme business casual: a Los Angeles Clippers "Lob City" T-shirt, jeans, and a black EFX wristband designed, he says, to improve balance and strength. He introduces me to his previous appointment—a guy with an iPad who Wahlberg identifies as a rabbi and real-estate agent—and takes a quick call from his agent, Ari Emanuel, the inspiration for Ari Gold (Jeremy Piven) on HBO's Entourage, which was loosely based on his early days in Hollywood. Later this afternoon, the devoutly Catholic Wahlberg says he will reconnect with Father Flavin, the parish priest who helped steer the high-school dropout and ex-con from the thug life to a more productive and profitable berth in the entertainment industry, first as rapper Marky Mark, then as an actor. "He's been in my life since I was 13," Wahlberg says of Flavin. "He married me and my wife and baptized all my children. I have my beliefs and it's part of my life, but I'm not handing out pamphlets on the set."
On today's agenda: the violent true-crime caper Pain & Gain, starring Wahlberg, Dwayne Johnson, and Anthony Mackie as members of the real-life Sun Gym Gang, a group of Miami bodybuilders whose mid-nineties attempts at kidnapping and extortion led to a double murder. "It's like a mash-up of Boogie Nights and Pulp Fiction and Fargo," says Wahlberg.
Though known for a gallery of blue-collar heroes who rise above their circumstances, he's also played against his physical type in comedies, getting laughs merely by being shirtless in the Tina Fey–Steve Carrell vehicle Date Night and playing the meek man-boy sidekick to a plush bear in Seth MacFarlane's Ted. "There are two kinds of comedians—the guys who do pratfalls and guys like me who try to make things as real as possible in crazy situations," he says. "I feel very comfortable with being sarcastic and insulting people in a way that is not offensive." He's decidedly not the archetypal romantic leading man. Asked which of his films he would not recommend for a Netflix queue, he names The Truth About Charlie, Jonathan Demme's 2002 remake of the Cary Grant–Audrey Hepburn comedy Charade. "It was a great time for me—I had just turned 30, and I was working in Paris for three months—but the movie did not turn out well. It's me running around France in a beret and a scarf carrying a bag with a baguette and some Bordeaux."
At 41, Wahlberg has found his niche in films that demand more physicality, such as Pain & Gain. The five-foot-eight star, who slimmed down to 138 pounds for his breakthrough turn as porn star Dirk Diggler in 1997's Boogie Nights, normally maintains his weight at 185, but "ballooned up to 212" to play ringleader Daniel Lugo. "I was eating ten to twelve meals a day," recalls Wahlberg, who last year launched Marked, a wellness line for nutrition retailer GNC. "It was fun for a couple of weeks getting to eat whatever you want and lift heavy weights. And then I realized I was a lot older and the ailments of my past were right there, ready to reignite as aches and pains."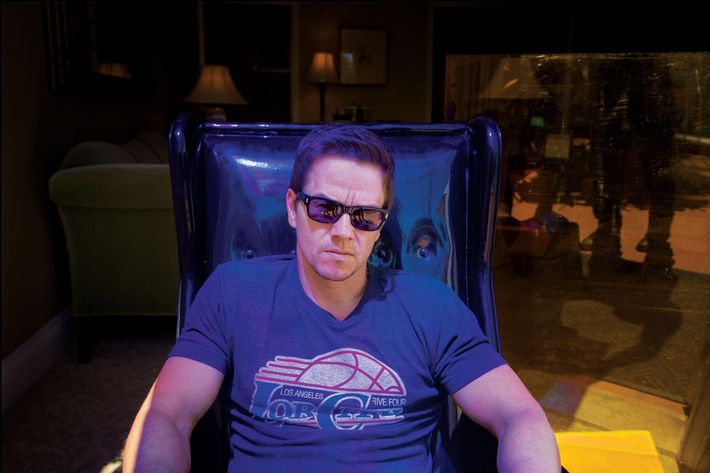 Wahlberg grew up the youngest of nine children in Dorchester, Massachusetts. (At the New York premiere of Pain & Gain, which took place just a few hours after last week's Boston Marathon bombings, the actor called the attack on his hometown "disgusting … I really didn't even want to come tonight.") When his siblings were away at school, he remembers his dad, Donald, taking him to a third-run theater to see Charles Bronson in Hard Times and Sylvester Stallone in Rocky. After his parents split when he was 11, Mark joined a gang, stole cars, and dealt drugs. He served 45 days in prison for an assault that blinded his victim in one eye. "I started working out when I was in trouble and knew I was going to have to go away," he remembers. Bodybuilding and religion saved him, and his brother, New Kids on the Block's Donnie Wahlberg, helped open doors to the music industry. Therefore, he says, "a certain part of me instinctually gravitates to redemption stories."
Starting his career on the quicksand foundation of two nineties cultural clichés—white rapper and Calvin Klein underwear model—he nevertheless lasted long enough to find his way as a business-savvy movie star, with a slew of executive-producer credits on movies and HBO shows and an estimated net worth north of $150 million. "Certain actors just like to watch themselves onscreen," says Wahlberg, who's never worn superhero Spandex but has worked with Peter Jackson, Paul Thomas Anderson, and Martin Scorsese (in The Departed, for which he earned an Oscar nomination). "I've always been the kind of actor who doesn't sit around waiting for scripts. I find my own material."
In addition to lining up his own projects—including an upcoming Color of Money–style street-basketball hustling flick with Justin Bieber—Wahlberg, who will be seen later this year alongside Denzel Washington in 2 Guns and as a Navy SEAL in Peter Berg's Lone Survivor, was so excited about working with Bay that he signed on as the star of the director's fourth entry in the Transformers franchise without seeing a script.
"My 4-year-old said 'shit' the other day," says Wahlberg, who has two sons and two daughters with his wife of four years, model Rhea Durham. "I said, 'If I hear you say that again, I'm going to tell Mommy. And where'd you learn that?' And he said, 'Transformers.' This is the first time they are excited about me doing a movie."
Such was the director's sway over Wahlberg that he even managed, for one memorable scene in Pain & Gain, to persuade the actor to strip down to a barbecue apron and a pair of Calvin Klein boxer briefs, the very undergarments that made him a beefcake icon. "That was a Bay thing," Wahlberg says. "He was like, 'C'mon, these guys would wear these.' So I was like, 'All right, for you, I'll do it.' I am there to service his vision."
*This article originally appeared in the April 29, 2013 issue of New York Magazine.