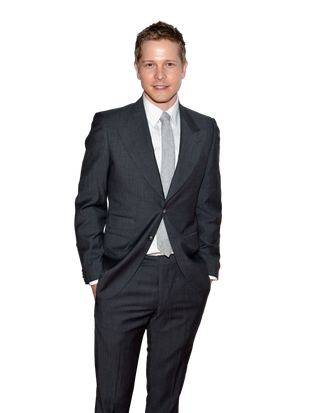 Matt Czuchry.
Photo: Mike Coppola/Getty Images
In last night's season finale of The Good Wife, Alicia calls someone to suggest they talk in person at her apartment, leaves her husband's party celebrating his electoral win, and when she opens the door, it's not (as we might have assumed) her sometime lover/boss Will Gardner, with whom she'd had yet another steamy kiss earlier in the episode. This time, it's Cary Agos on her threshold — and she tells him, "I'm in." Meaning she's leaving Lockhart Gardner and joining Agos in the firm he's starting with the other defecting fourth-year associates. It's actually a more meaningful change than choosing Peter or Will, although one of the incentives of being at a different firm means it's less complicated (albeit less convenient) to sleep with the boss. Matt Czuchry, who plays Cary, chatted with Vulture about what Alicia's decision means for the show and how it will shake up the dynamics and open up the sex lives of its characters.
I literally just finished watching the finale a few seconds ago, and I was so happy it was Cary at her door.
[Laughs.] That's good to hear. That's very good. Was it something that surprised you? Were you expecting it to be Will? Were you wondering if it would be Cary? It's quite the cliffhanger. I think it really wraps up season four in a very risky, unique, and kind of beautiful way, and sets up season five. Now your mind can start turning.
Alicia and Cary can be the new Will and Diane, although less compromised, ethically.
Yeah, that's absolutely right. We saw a little of that in the "Red Team/Blue Team" episode, and one thing I love is you have their entire history, from being direct competitors for the same job, to direct opposition when Cary was at the state attorney's office, and now they're in a place where they're starting from the beginning all over again together, and against Will and Diane.
Do you think Robyn will join the firm? And what do you think the firm should be called? Florrick Agos? Agos Florrick?
I'm not sure how it's all going to come together, how it's all going to shake out, because it hasn't been written yet, but I would say it certainly looks like Robyn might be joining, since Cary asked her and she seemed interested. And when Cary asked Alicia to come aboard, he suggested Florrick, Agos, and Associates. But that's what's interesting — what is this firm going to look like? What kind of cases will it take on?
It means Alicia is no longer working for Will, which changes one of the reasons not to be with Will.
It does. And Cary and Kalinda would be at separate places as well. It changes all the dynamics of all the characters.
Are you Team Will or Team Peter?
You can see reasons why she would be with both. Both are very different. For me, as an outside audience member, I can see her with both of them, and that's why she's torn. She sees things about both of them that are attractive to her. I e-mailed Chris [Noth] the other day about how I love that scene where he asks her to renew their vows, and I thought they were both great in that scene. They know each other so well. And yet in the finale, with Will in the car, there's a different energy. Both make sense.
We had a solution for the Team Peter–Team Will dilemma: They should just have a threesome.
Ri-i-ght! [Laughs.] I don't think that would work on that one, but I think that could work on the Cary-Kalinda one. That would make more sense, because of who Kalinda is. He knows she's been with other women, so if he got in a relationship with her, he would know that could be a part of it, but a Will-Peter-Alicia threesome would be a disaster! [Laughs.] I don't think that is going to happen or should happen, but maybe there's potential there for Cary and Kalinda to have a threesome. I don't think another man would be an option, but another woman would be very welcome.
Kalinda used to think Cary was kind of vanilla.
I think that was certainly the case in season one, but I think that's changed as he's matured and he's grown. And Kalinda could certainly bring out an edge in Cary, and that would be fun. And Cary would bring out a softness to Kalinda. It would be fun to see how they could change each other. They wouldn't have the same kind of relationship as Kalinda did with [her husband] Nick.
I think they could still be playfully violent with each other, because Kalinda does like BDSM.
You have to call the Kings [showrunners Robert and Michelle King] and tell them that! It's obviously been intentional, not to show them having sex. They cut to black, and it's the next morning. I would like to think that they've been doing that to maintain that intrigue so the audience can come up with things in their own heads and in their own imaginations.
Since it cut to black, how did that scene go down in your imagination?
In that particular bar scene, it went a little slightly further than what ended up onscreen, a little bit more before they cut to black. And we shot the scene that comes afterwards first, where they're just saying hi and talking about the case, and I didn't even realize that the intention was that they had just slept together. [Laughs.] I don't think that relationship is done. But I don't want to say how it went down, because hopefully before the show is finished, I hope it ends up on-camera. I think it's a real possibility.
They don't have to show it all. Remember the ice cream or the moments where Peter does things to Alicia just below the frame.
Absolutely. And Kalinda is that character who is so beloved because she pushes those boundaries. If Cary and Kalinda were in a relationship, you'd want to see her in a threesome, because that's true and organic to the character, and the audience would appreciate that. Sometimes it is better what you can't see. Not seeing this particular stuff lets your imagination run wild.