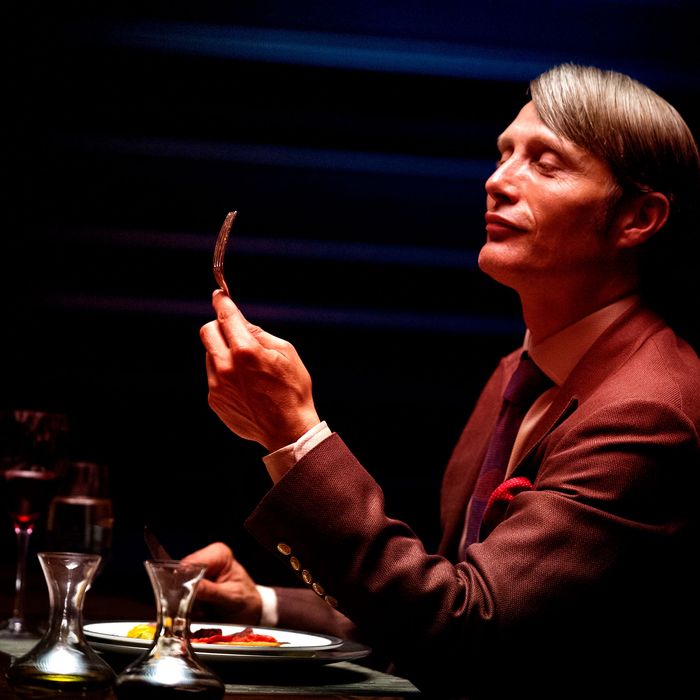 HANNIBAL – "Apertif" Episode 101 – Pictured: Mads Mikkelson as Dr. Hannial Lecter – (Photo by: Brooke Palmer/NBC)
Photo: NBC
When Hannibal premiered a few weeks ago, I wanted to be excited. I love love love Silence of the Lambs, and Bryan Fuller has produced some of my favorite TV shows. But after a few minutes, I just couldn't watch anymore — even though it was interesting and aesthetically pretty. I just can't watch any more murder shows. Or rape shows. I'm maxed out. I've reached my limit on the amount of entertaining violence I can consume. It's a very high limit, a limit I didn't even know was there, but now that I've reached it, it's all I can think about:
Will this show have rape or murder in it?
If it's a scripted drama, the answer is probably yes. In fact, it's overwhelmingly probable that the answer is yes. Here's a list of all of the scripted dramas that have aired this season or will return this summer that have, on at least one occasion, depicted or described in detail a rape or murder:
666 Park Avenue
90210
American Horror Story
Army Wives
Arrow
Banshee
Bates Motel
Beauty and the Beast
Being Human
Blue Bloods
Boardwalk Empire
Body of Proof
Bones
Boss
Breaking Bad
Burn Notice
Castle
Continuum
Copper
Covert Affairs
Criminal Minds
CSI
CSI: NY
Cult
Dallas
Da Vinci's Demons
Deception
Dexter
Doctor Who
Do No Harm
Elementary
Falling Skies
Flashpoint
Franklin and Bash
Fringe
Game of Thrones
Golden Boy
Gossip Girl
Grey's Anatomy
Grimm
Hannibal
Haven
Hawaii Five-0
Hell on Wheels
Homeland
House of Cards
Hunted
Justified
L&O: SVU
Last Resort
Leverage
Lilyhammer
Longmire
Luther
Mad Men
Magic City
Major Crimes
Merlin
Misfits
Monday Mornings*
Nashville*
NCIS
NCIS: LA
Nikita
Once Upon a Time
Orphan Black
Perception
Person of Interest
Pretty Little Liars
Private Practice
Red Widow
Revenge
Revolution
Ripper Street
Rizolli and Isles
Rookie Blue
Scandal
Shameless
Sherlock
Sons of Anarchy
Southland
Spartacus
Spies of Warsaw
Supernatural
Teen Wolf
The Americans
The Bible
The Borgias
The Following
The Glades
The Good Wife
The Hour
The Killing
The Lying Game
The Mentalist
The Mob Doctor
The Vampire Diaries
The Walking Dead
Top of the Lake
Touch
Treme
True Blood
True Justice
Unforgettable
Vegas
Vikings
White Collar
XIII
Zero Hour
Here's a list of scripted dramas that went rape- or murder-free:

Bunheads
Call the Midwife
Downton Abbey
Emily Owens M.D.
Glee (though Sue drugging Principal Figgins and taking lewd pictures of them together at least constitutes sexual assault)
Mr. Selfridge
Necessary Roughness
Parenthood
Smash
Suits
Switched at Birth
The Carrie Diaries
The Client List
The Newsroom
The Wedding Band
Underemployed
That's 109 shows to 16* shows. Quality-wise, far more good shows are murder-y than aren't: If you want to watch good, dramatic television, you will be consuming a lot of stories about rape and murder. (And many of the shows that don't include rape or murder still include violence, sexual violence, coerced sex work, and plenty of death.) Violation and loss are of course very dramatic, and many of TV's best, most interesting, and artful shows are extremely violent. Violence itself isn't a vice; the world would be poorer without Breaking Bad, and every episode of Scandal brings joy to my heart. But just like talk shows or quiz shows or single-in-the-city comedies, there's a limit to how many I can tolerate, let alone enjoy.
After the Newtown shootings, networks and cable channels rushed to change their schedules, to yank particularly violent episodes of their shows from the airwaves, especially those that involved gun violence — including an episode of Syfy's Haven, which involved a gun crime at a school. In the wake of this week's bombing in Boston, Fox is trying to scrub a recent episode of Family Guy from the Internet — not because of its rancid racism, but because the episode featured both a bombing story line and a cutaway about driving over marathon runners, which some YouTube prankster stitched together. I understand the impulse to be "sensitive" — and more important, to be perceived as being sensitive — but those gestures seem empty at best. Last night, Fox also swapped out a rerun of New Girl because in it, when Nick suspected Jess's student (Nate Corddry) was a serial killer, Nick made a joke about the possible psycho having a body in his duffel bag; since a Boston bomb was hidden in a duffel bag, Fox decided to err on the side of avoiding any upsetting connections to the luggage. How noble! Almost as noble as Monday's Bones episode that opened with a decomposing skeleton being dropped on an unsuspecting construction worker, or its lead-out The Following, which included a cop being killed.
You always hear about becoming desensitized to violence, that repeated exposure to violent shows or movies or games makes each instance less shocking. I've come out the other side of that, though, and now I'm too sensitive to violence. On its own, I'd probably really like Hannibal. But I can't listen to another analysis of a blood splatter ("her neck was cut here!"). I can't hear another blood-gargling last breath or the cling-clang of a sword right before it plunges into someone's chest. I can't watch another genius police officer explain the ins and outs of a killer's brilliant mind, or watch another background character's era-appropriate rape, which is there to show us just how bad things were. I need a break. Hey, pass me that newspaper.
* This article initially had Nashville and Monday Mornings as shows without murders. Actually, both shows have included a murder.