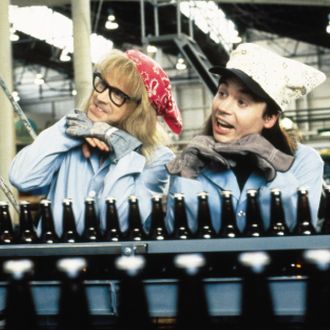 They're gonna do it.
Photo: Paramount Pictures
Some of the sweetest early-nineties comedies somehow inspired some of the bitterest feuds, and though Bill Murray and Harold Ramis still haven't reconciled after filming Groundhog Day, at least the trio of talents who gave us Wayne's World have decided to settle their differences. According to The Hollywood Reporter, Academy president Hawk Koch convinced Mike Myers to patch things up with his former friend Dana Carvey (who felt that Myers had stolen his Lorne Michaels impression to use for Austin Powers villain Dr. Evil) and director Penelope Spheeris (who Myers barred from working on Wayne's World 2 after an editing-room disagreement); the three will reunite for an Academy panel in Los Angeles later this month. "We're all getting too old to be pissed," Spheeris told the Reporter. "Wayne's World has such a beautiful, uplifting spirit about it. Why should there be a dark cloud?" What else is there to say but "excellent"?