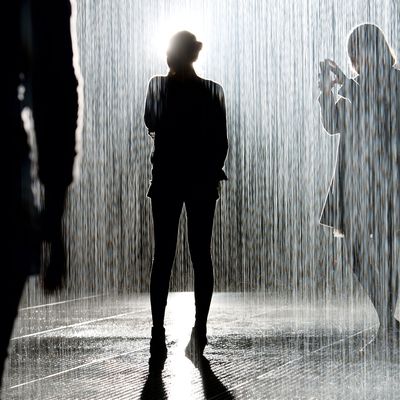 It was probably inevitable that Rain Room was a sensation in London. When you live with as much damp as the British do, wishing for the clouds to part is primal—and in this installation, built by the British design studio rAndom International and opening at MoMA on May 12, visitors briefly gain godlike control over wet weather. It's a high-ceilinged room, nearly 1,000 square feet, equipped with nozzles that pour down artificial rain—until you step in, whereupon a five-foot circle over your head abruptly dries up. "The installation recognizes the presence of the viewer," explains rAndom International's Hannes Koch. As you move through the room, your little ring respite stays with you, like a follow spot. You get to, as Donald Fagen once sang, walk between the raindrops.
Koch won't tell you how it works. "We're being deliberately obscure about the details," he says, citing a wish to preserve a sense of mystery. But he will say that the installation is full of 3-D cameras, feeding information to the controls in real time. (It can handle quite a few visitors at once, too: "If the room were to fill up with people," he explains, "all the rain would be switched off.") We say you should bring a date: When else do you get to reenact that kiss-in-the-pouring-rain movie moment without getting soaked?
*This article originally appeared in the April 29, 2013 issue of New York Magazine.