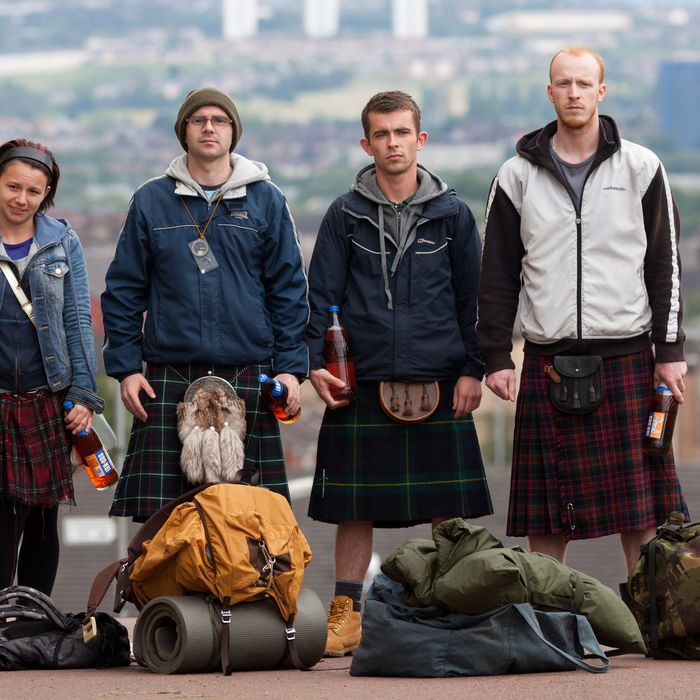 Photo: Joss Barratt/Sixteen Films
The Angels' Share is a rare upbeat Ken Loach comedy — and a wee dram of bliss. Set in Scotland, it has a blessedly funny overture. A simpleminded drunk tips onto the railroad tracks and is accosted over the PA system — "This is God calling. Get off the fucking track!" — as a train barrels in. Then he and other Glaswegian miscreants stand before a judge and listen to recitations of their crimes, petty and serious. Loach, working from a deft script by Paul Laverty, doesn't short on serious. One man, Robbie (Paul Brannigan, a magnetic newbie with a prison record), kicked the living hell out of a guy for no reason. But his girlfriend has a baby on the way, and he vows never to hurt anyone again. Mates of the guy he maimed aren't so peaceable.
The title comes from the phrase for the diminution of whiskey as it ages in the cask — a percentage goes into the air and, presumably, makes the angels happy. Given community service, the misfit crew (including a female klepto named Mo) is shepherded by its minder, single-malt aficionado Harry (John Henshaw), on a distillery tour. It turns out that Robbie has a bit of nose and attracts the attention of a powerful — and shady — whiskey buyer (Roger Allam).
Comparisons have been made (wrongly) to The Full Monty, but Loach, as is his wont, is slyly subversive. He respects the love of whiskey (expert Charlie MacLean plays a version of himself) but clearly has no love for collectors who'd drop a million on an old cask in a world of such misery. After priming us to see these lads and lassies go straight, Loach hits us with a caper that puts us on the edge of our seats and in dire need of a shot. The end is sweet but dry with a hint of bitter tannin. It should travel marvelously.
This review originally appeared in the April 15 issue of New York magazine.