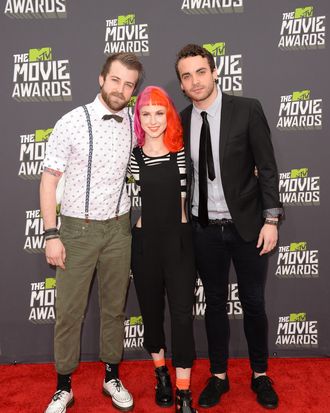 CULV(L-R) Musicians Jeremy Davis, Hayley Williams and Taylor York of Paramore arrive at the 2013 MTV Movie Awards at Sony Pictures Studios on April 14, 2013 in Culver City, California.
Photo: Jason Merritt/Getty Images
Big day for voiceless bilabial plosives: Paramore's self-titled album debuted at No. 1 this week, while Pink's "Just Give Me a Reason" (featuring fun.'s Nate Ruess) finally hit the top spot on the Hot 100. Also of note: Psy's "Gentleman" is already at No. 12, and that YouTube rule is still in effect. Get ready.