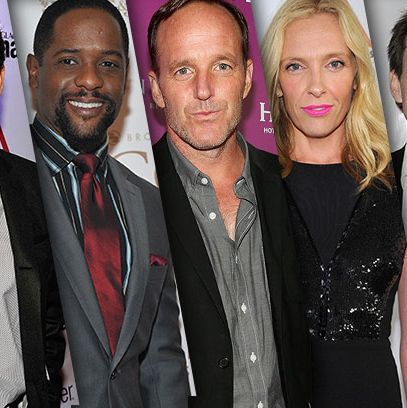 Yesterday, Vulture brought you your first look at this year's comedy pilots. Now it's drama's turn. Here are the five trends that define this year's crop: As usual, cop, lawyer, and doctor shows are all the rage — but don't count out the aliens and vampires just yet.
Franchise Fever
There's a solid case to be made that TV offers more quality product than studio-produced feature films these days. But network executives share one major addiction with their movie-biz cousins: They love a franchise. In development this spring are two dramas based on movie series: CBS's Shawn Ryan–produced take on Beverly Hills Cop (which will include an on-camera appearance by Eddie Murphy) and ABC's attempt to cash in on the success of The Avengers with the Joss Whedon–produced S.H.I.E.L.D. There are also three confirmed spinoffs of existing TV hits: NCIS:Red (an offshoot of an offshoot, since it was introduced on NCIS: L.A.), Once: Wonderland (from the minds behind Once Upon a Time), and The Originals (a prequel to The Vampire Diaries). NBC may also be mulling another edition of Chicago Fire, according to Deadline. But it's not just film and TV franchises exciting network development execs these days. ABC is looking to the Disneyland ride Big Thunder Mountain Railroad to provide name recognition for its Western-themed thriller Big Thunder, while the best-selling graphic novel The Sixth Gun is being turned into a drama at NBC. —J.A.

Supernatural Vibes
ABC's success with Once Upon a Time has helped fuel a frenzy of pilots with out-of-this world themes. In addition to the aforementioned Once spinoff and Big Thunder (which is filled with ghosts and curses), the Alphabet is also working on Gothica, a sort of Once that focuses on a melting pot of myths, from Dracula and Frankenstein to Dorian Gray. It's also developing The Returned, in which previously dead people live once more (but they're not zombies!). Over at Fox, Sleepy Hollow is exactly as it sounds (Tom Mison plays Ichabod Crane), while NBC's Believe revolves around a girl named Bo with a special power. And not surprisingly, the CW, which recently has only scored with supernatural-ish shows (including the long-running Supernatural), is trying to churn out more from the genre: a remake of seventies classic The Tomorrow People, the interspecies love story Oxygen, a post-nuclear-holocaust The 100, and the previously mentioned spinoff of The Vampire Diaries. —J.A.

House-Like Cranky Geniuses 
House ran for eight seasons, proving that America loves itself a misanthrope. So curmudgeony. So good at their jobs. The actors following in Hugh Laurie's footsteps by playing brilliant but self-destructive professionals (all lawyers or detectives!) are: John Stamos, as a high-powered divorce attorney with "a unique view on relationships" in NBC's I Am Victor; Steve Coogan, as a cunning, low-rent lawyer who's battling personal demons and an ex-wife in ABC's Doubt; Greg Kinnear, as a winning but spiraling criminal defense lawyer in Fox's Rake; Rainn Wilson, as an irascible detective who can't seem to change his self-destructive behavior in CBS's Backstrom; and Blair Underwood, as a tough wheelchair-bound detective in NBC's reboot of Ironside. —D.M.
Odd Couples 
From Castle to Bones to Homeland, mismatched partners banding together in the name of justice is — for some — must-watch. CBS has the aforementioned Backstrom (which co-stars Mamie Gummer as the sympathetic friend of Wilson's character) as well as Anatomy of Violence from Homeland's Howard Gordon, Alex Gansa, and Alex Cary. This stars Skeet Ulrich as a criminal psychologist who partners with a young female detective (Amber Tamblyn) with whom he shares a complicated history. Also in play at CBS is The Advocates, with Mandy Moore and Ben McKenzie as a lawyer and an ex-con who work as "victim advocates," charged with fighting for the underdogs. (Bonus: Possible will-they-or-won't-they tension!) NBC's got The Black List with James Spader as the world's most-wanted criminal, who turns himself in and agrees to offer up his colleagues on the condition he work only with an FBI agent played by Megan Boone. (Could she be his daughter?!) ABC, meanwhile, is working on Murder in Manhattan, starring Annie Potts and Bridget Regan as mother-daughter amateur sleuths. Mom's a sophisticated New Yorker whose second husband has been murdered, and daughter's a dedicated worker bee in community affairs whose personal life is a mess.
There's also the odder odd-couple pairings: The CW has the Roswell-esque Oxygen, in which a human girl (Aimee Teegarden) falls for an alien boy (Matt Lanter) at a time when aliens have been consigned to internment camps for years. And Fox is working on Human, set in a future where LAPD cops are partnered with humanlike androids. Karl Urban and Michael Ealy star. —D.M.
Famous People
Some shows turn their leads into stars. Others turn stars into leads. This year, we're looking at a ton of shows that fall into the latter camp.
CBS went for the big guns, grabbing Toni Collette and Dylan McDermott for the political thriller Hostages, while NBC has its own political thriller, an untitled show from Rand Ravich (the creator of Damian Lewis's Life), which stars Gillian Anderson and Dermot Mulroney. It, too, is about hostages! So get ready to be confused but also intrigued. NBC wrangled James Spader for The Blacklist, and Rebecca De Mornay and Virginia Madsen for Hatfields & McCoys (a present-day version). Fox also aimed high, snagging Felicity Huffman and Anthony LaPaglia for Boomerang, about a family of government-employed assassins, and Greg Kinnear, in his first TV lead ever, for Rake.
Christian Slater has had three failed shows in the last five years, but ABC is betting on him again, this time with Steve Zahn in Influence, the latest from Kyle Killen, creator of the praised but short-lived Lone Star and Awake. (Slater and Zahn play brothers who run a firm that uses psychological tricks to influence people.)
And here's an abbreviated list of other familiar people who are all in pilots this season: Naveen Andrews, Bess Armstrong, Sean Astin, Jennifer Beals, Sophia Bush, Emmanuelle Chriqui, John Corbett, James Cromwell, Hope Davis, Tate Donavan, Patrick Fugit, Jorge Garcia, Cam Gigandet, Michael Gladis, Bruce Greenwood, Greg Grunberg, Carla Gugino, Dennis Haysbert, Tricia Helfer, Marg Helgenberger, Josh Holloway, Jason Isaacs, Christine Lahti, Matthew Lillard, Delroy Lindo, Kyle MacLachlan, Jesse L. Martin, Audra McDonald, Ming-Na, Parminder Nagra, Sam Neill, Kevin Pollak, Annie Potts, Kim Raver, Emma Roberts, RZA, Pablo Schreiber, Tom Everett Scott, Kurtwood Smith, John Stamos, Jessica Szohr, and Isiah Whitlock Jr. And those are just the ones we thought you wouldn't need to IMDb. —M.L.