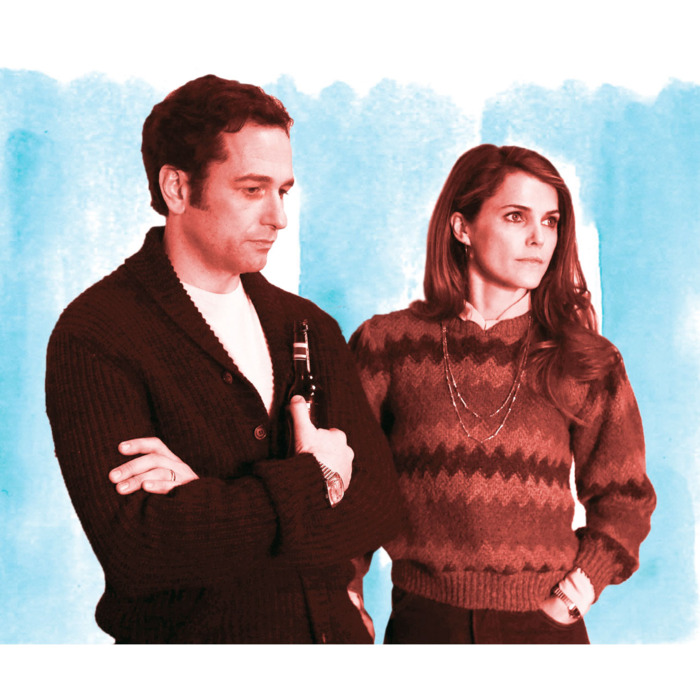 Photo: Craig Blankenhorn/FX
Advance publicity for the Reagan-era period drama The Americans, about Soviet spies Philip and Elizabeth Jennings (Matthew Rhys and Keri Russell) posing as married suburbanites, made it sound like a Homeland clone: a Washington, D.C.–set thriller about sinister sleeper agents eluding the Feds. Within a couple of episodes, though, the series (whose first season winds up on May 1) established itself as something more surprising and distinctive: a psychodrama about the role of secrets within relationships and the emotional complexity of marriage. Like The Sopranos, The Americans is not about what it seems to be. The eavesdropping, seduction, close-quarters fistfights, and bloody assassinations serve the same function here as the mob mayhem did on David Chase's show—adding generic pizzazz, or lifting certain situations out of their usual context so we can see them with fresh eyes and ask basic but essential questions: What does it mean to be loyal or unfaithful? Is it possible to compartmentalize infidelity just as spies compartmentalize their secret lives? Can you just make up your mind to be in love with somebody, or is a deeper, more mysterious attraction essential? Can a "sham" marriage turn into a real marriage if the couple commits? To paraphrase a Kurt Vonnegut line, do we become what we pretend to be?
The end product of all this soul-­searching and philosophizing is the best new drama of the year. Created by onetime CIA agent Joe Weisberg (brother of Slate Group editor-in-chief Jacob Weisberg), The Americans has sexual sophistication, emotional grace notes, and a keen grasp of core themes that throw Homeland's flaws into sharp relief. The latter was gripping, even powerful during its first season, but became goofy and desperate as it went along, clinging to the central soap opera of CIA agent Carrie Mathison (Claire Danes) and Marine POW turned secret terrorist Nick Brody (Damian Lewis) like a life preserver, and conflating creativity with an eagerness to shock. The Americans still shares a few traits with Homeland, including a strain of very dark comedy that sometimes plays like a perverse version of sitcom high jinks; in this week's episode, Philip, in disguise as an FBI agent named Clark, has to meet the parents of a woman he's been sleeping with. But scene for scene, it's a much more laid-back show and much wider ranging in its vision.
The show keeps Philip and Elizabeth—who were bred as spies in the sixties, taught to fight and seduce and speak fluent English, then paired off as ­spouses—at the center of the drama. Their marriage is a touching, hilarious study of matrimonial ebb and flow, each falling in and out of love with the other. In the pilot, Elizabeth, the colder and more detached of the two, seemed inclined to treat their ­married-with-children status as a cover story, one that she was ideologically but not personally invested in, her love for their children notwithstanding. They were, after all, fundamentally different people. She was ferociously loyal to the motherland, while Philip admitted to loving life in the States. (Like a lot of people, I became an instant fan of the show after the scene in the pilot in which Philip dons cowboy boots in a department store and boot-scoots to Juice Newton's "Queen of Hearts.") After Philip helped Elizabeth kill and dispose of a KGB agent who'd raped her during training fifteen years earlier, suddenly she developed deeper feelings for her husband, and their marriage of convenience began to feel like a great love story. Then Elizabeth's embittered early comments to a superior officer about Philip's being "too American" came back to haunt them. Both Jenningses were tortured at the order of their KGB supervisor, Claudia (Justified's Margot Martindale), during a mission to discover a mole in their ranks; Philip blamed Elizabeth, then slept with an old flame while in New York on a mission and admitted it. Right now, the characters are separated.
But as fascinating as Philip and Elizabeth are, with their just-a-job ­extramarital trysts and casual corrections of their children's anti-Soviet school textbooks, The Americans never makes the Homeland mistake of piling an entire series onto the shoulders of one couple. There are times when FBI counterintelligence agent Stan Beeman (Noah Emmerich) becomes the star of the show, and both the character and the actor are magnetic enough to hold the spotlight. Other times, The Americans takes us deep into the world of Stan's contact and mistress Nina (­Annet Mahendru), a Soviet consulate employee who got nabbed by the FBI as a smuggler, then converted into a mole; in this week's episode, we learn more about Stan's wife, Sandra (Susan Misner), who's buckling under the stress of her husband's secrecy and long absences. We also learn more than we might have expected about the show's gallery of supporting players, whose ultimate fates I would rather not spoil here. Suffice to say that The Americans could just as easily revolve around Elizabeth's ex-lover Gregory (Derek Luke), a former civil-rights worker turned Soviet spy; Stan's partner, Chris Amador (Maximiliano Hernández), a macho loner and ladies' man; or Elizabeth's mentor and father figure, General Zhukov (Olek Krupa). The last has a heartbreaking monologue about his dog in next week's installment that sounds like a manifesto. "He isn't particularly smart," Zhukov tells Elizabeth. "He isn't pretty. But I love him, because I take care of him. Every day. And he, in his way, is taking care of me. If you are taking care of something, Elizabeth, one day you will discover that you love this creature and your life will be empty without it."
The Americans. Wednesdays, FX, 10 p.m.
*This article originally appeared in the April 15, 2013 issue of New York Magazine.